Charlize Theron was born and raised in South Africa, has long dreamed of finding a single, I longed to feel like my mother, but before 37 years old and lived without exercising female dreams. And only recently, she came back to his native South Africa to pick up the crumbs with Jackson, who says Theron touching the first word "mama". On the biological children of the actress does not think, and once, in fact ahead of new projects, but rather a man she had never met. However, there is a blessing in disguise, because it adopted son Jackson made Charlize happy, let alone to raise her son worthy person she can, because she has a perfect example - her own mother Gerda.
"I want to be like her mother, a loving but fair, tough and at the same time supportive. My mother did not try to convert me, and let this be what I am. She helped me to keep its independence and become a personality »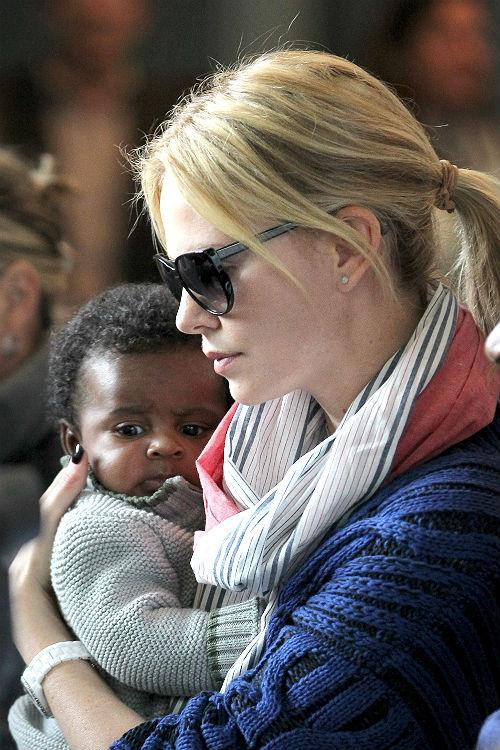 May 6, 2012:
Charlize Jackson carefully feeding bottle and looks around, so that no one interfered with either her to enjoy mothering duties, neither he, receive care and affection from his mother. Charlize has long wanted to adopt a black child is, following the example of Angelina Jolie and Sandra Bullock to show the public that skin color is not important and children need to be loved, not unnecessary anyone creatures.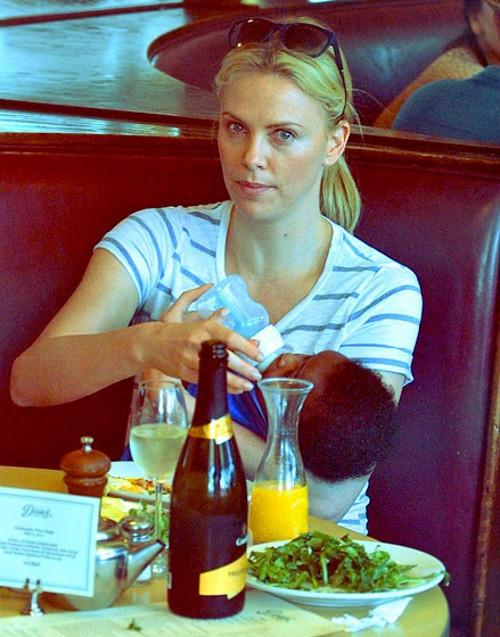 May 7, 2012:
Charlize always sunny days walking with his son, of course, at this time if it is not in another country.
"He - my gift from God. There is not a more wonderful child than he »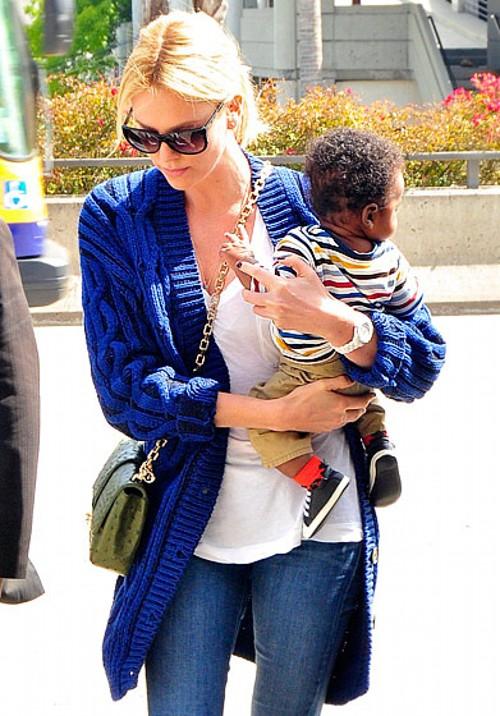 May 8, 2012:
Now the kid Jackson is a traveler, because now he flies with his mother to Paris and back. On that day, the paparazzi photographed them at the airport Charles de Gaulle.
"Jackson - the most peaceful of all the children I have ever seen»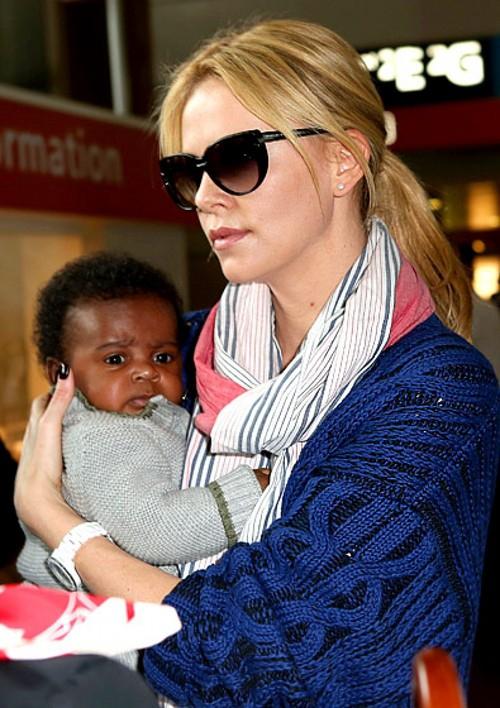 May 10, 2012:
Charlize and Jackson sent a plane to fly to London for the premiere of the film "Snow White and the Huntsman." Jackson definitely lucky with mom, but how do you want to have Charlize was a native daughter, as beautiful as she is ...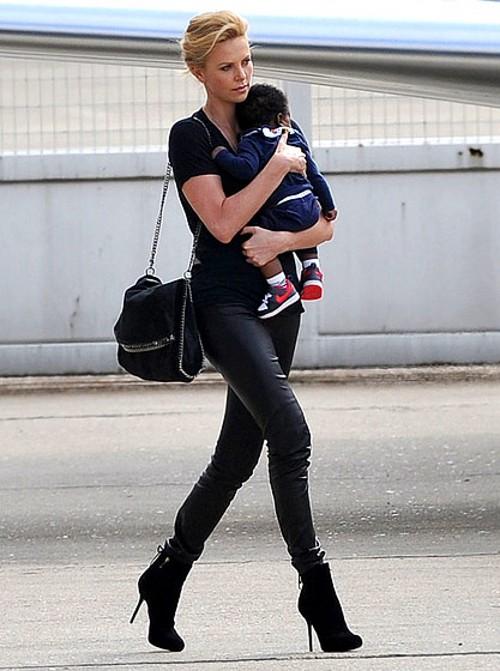 May 12, 2012:
"I waited for the hour when Jackson will be with me for a long time. The adoption process is not easy, but now it's back and it feels good »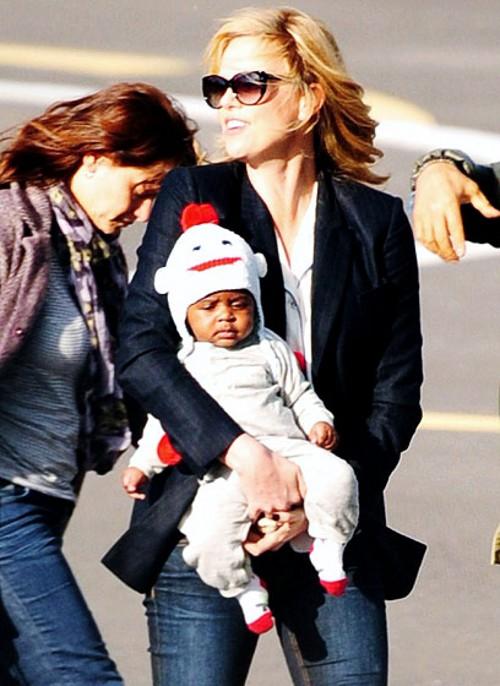 May 17, 2012:
Charlize and her son out of the Spanish restaurant. Where they are not only puts hope that Jackson brings good flights.
May 22, 2012:
Charlize and Jackson at the airport LAX (Los Angeles). Serious small!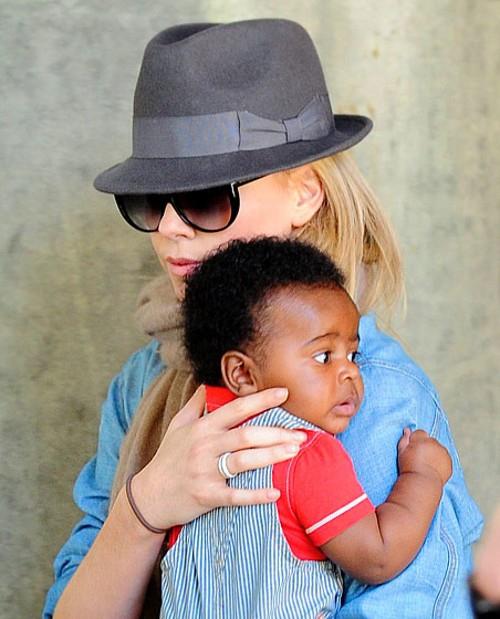 June 11, 2012:
Charlize shaved bald for the role in "Mad Max 4", but not to confuse paparazzi, baby and herself wearing a stylish hat. Theron lot of work, but even in the breaks between filming takes time for a child.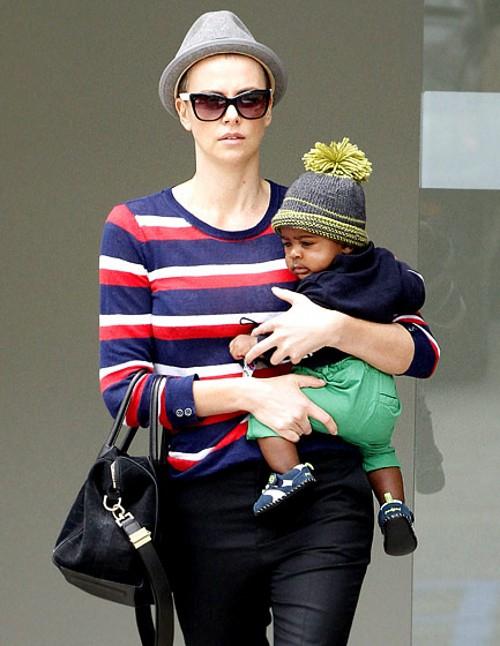 17 June 2012:
Caring little harbor Charlize Jackson rain.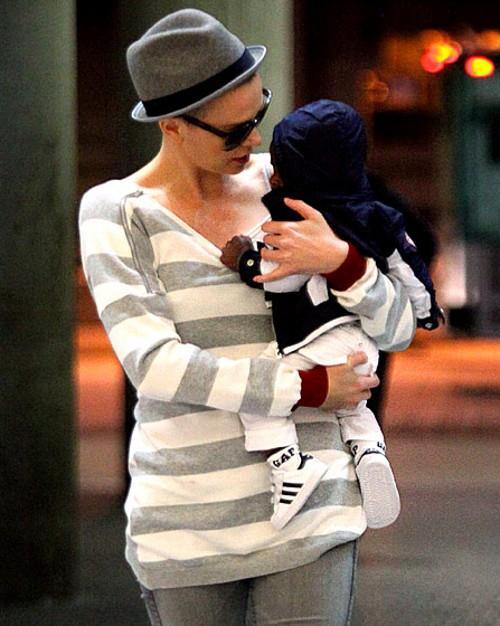 June 24, 2012:
Now Charlize in Namibia filming "Mad Max 4", well, Jackson, as far as I understood it, too.
"Every minute I repeat that I can not love Jackson more than now. But after 20 minutes say, "God, how is it possible?". Every day I realize that my life before it was empty »