Today, July 20, celebrating his birthday most charming villain, a real sex symbol of the show «LOST», and just sighs thing most beautiful half of humanity - Josh Holloway, or just Sawyer. I must say that fate has not always favored this handsome. Link to acting in it woke up in childhood. Before finishing university, he switched to the work model, which proved to be quite successful for him. But he beckoned Hollywood, where he eventually went. There he starred in several movies-through, and some clips ... all - as much as 8 years old, he attended all sorts of hopeless auditions and tests, but the directors did not seem to notice him. Then one day, completely disillusioned with his failed acting career, Josh told her friend that from now on he forgets about the movie and deals with serious business - real estate. For 4 days he was able to obtain a license to trade, and then the bell rang and he heard that Sawyer will be played in the series «LOST» ... And at this moment the old life with unfulfilled hopes sank into oblivion.
«LOST» instantly occupied the top ranks of the world's television ratings, and Josh brought worldwide popularity. Interestingly, Sawyer pretty quickly "pulled the blanket" pet telezritelnits with Jack Shephard (Matthew Fox) on himself, although initially this privilege is implied for super positive doctor-Maine. But in the dispute between the two alpha males show "who is steeper", according to numerous polls of viewers, especially telezritelnits, Sawyer won a convincing victory. So in 2005 the magazine «People» has made it among the 50 most beautiful people in the world, and after a year the magazine «In Touch Weekly» Josh named the sexiest star of the television, and as they say, and so on, and so on. So what is the secret of such a crazy attraction Sawyer? By the day of the birth of the star «LOST» we have identified 10 reasons.
1. blue eyes, the blue that throughout the series emphasized the blue sky and the ocean. Not surprisingly, they also took into service in its new advertising campaign «Cool water» famous brand Davidoff.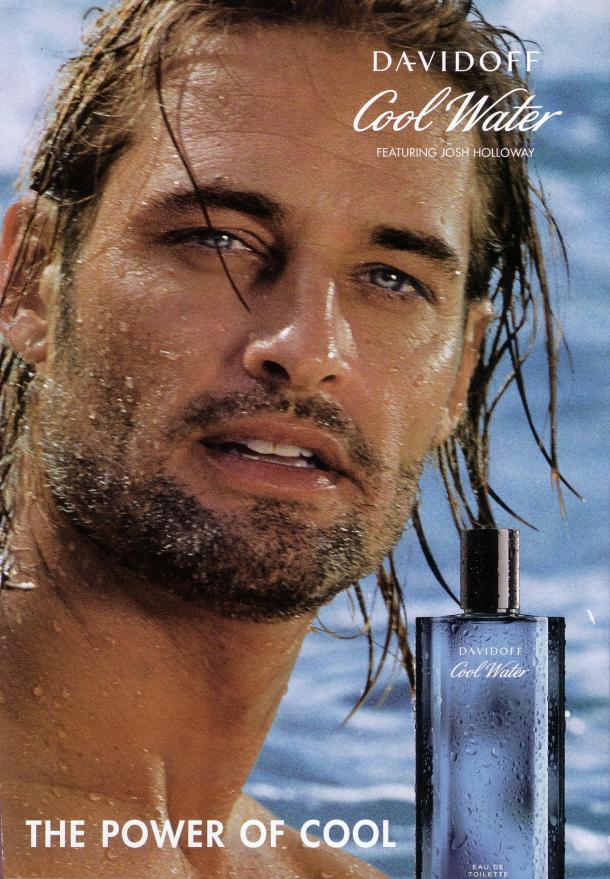 2. Brutal tousled hair and bleached hair. It is understood that the island paraded unshaven all members of the male half of a mini-public, but she gave Sawyer true sex appeal. As for the hair, a quick word chip producers and banned Josh haircut, although he wished it: The first thing I will do when I finish filming, - hair cut!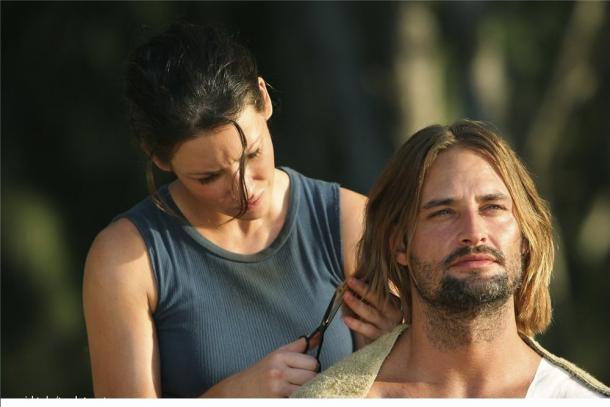 3. A smile and dimples. Dimples have severe men are always unexpected and very attractive, and if these men are more severe and sksapilno unshaven ... and no one has such cool dimples on the cheeks! You just can not resist his charm! - In one interview I could not stand even the series creator JJ Abrams.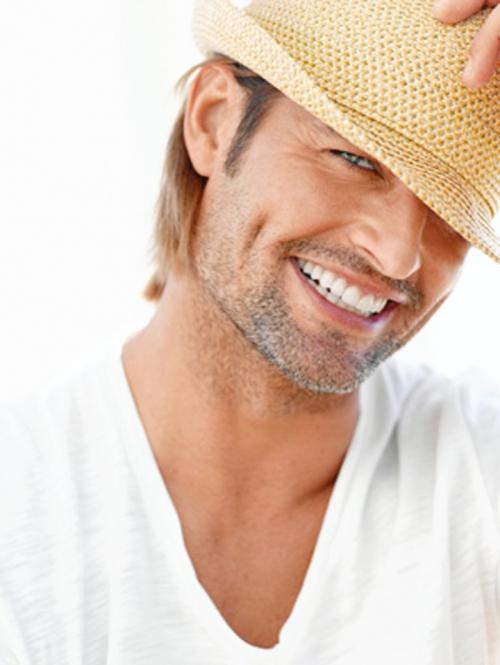 4. Beautiful powerful arms, shoulders ...- everything. This looks like Sawyer is not steep pitching, do not get out of the gym and brutal Apollo, nurture yourself in severe muscle adventures and heroic deeds. Josh Although he admitted that to maintain such magnificent form it costs a lot of work. Actor much involved in sports, adhere to a healthy diet, and to his great regret, limits himself in his favorite beer.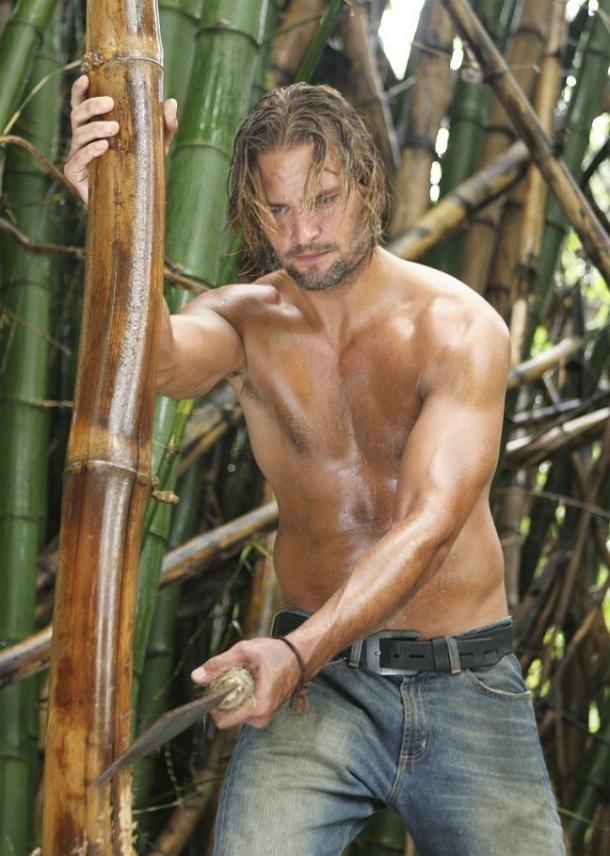 5. The image of the "bad guy." It is well known «women loves bad guys», and though you burst. And if this bed Guy would still proving good and noble heart, everything - write here propalo- not give up even the most criminal and demanding ladies.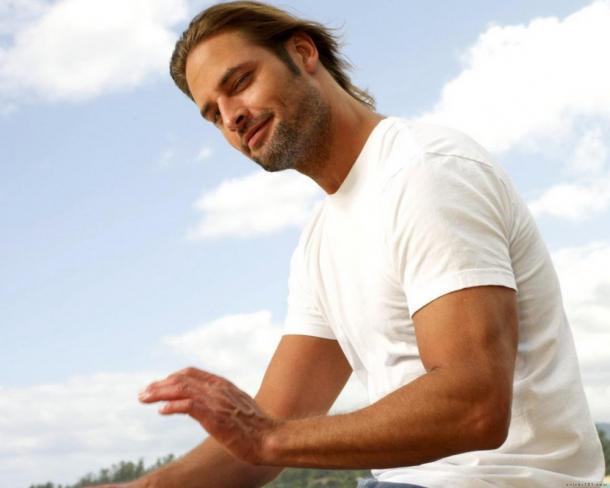 6. explosive. Yes, oddly enough. Of course, women like to be courted, cared for, courted again looked after ... and, finally, how to crack fist on the table or on a tree, grabbed and dragged off into the forest, cave, three nine lands ...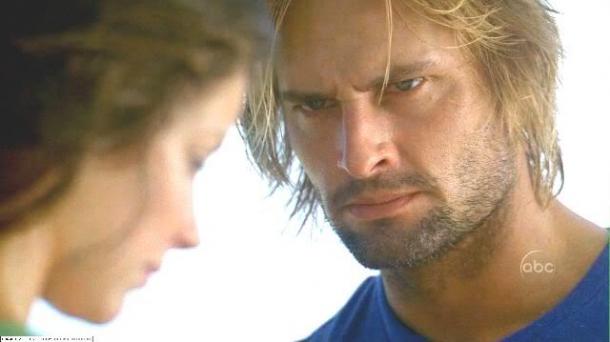 7. Sense of humor. In principle, one of the best human qualities, and in extreme conditions and at all priceless. Most of the jokes and pranks is going on Sawyer, which inimitably discharged any sinister atmosphere. And what nicknames he gave other heroes, and how warm and gentle sound of his "Freckles" to the heroine Evangeline Lilly.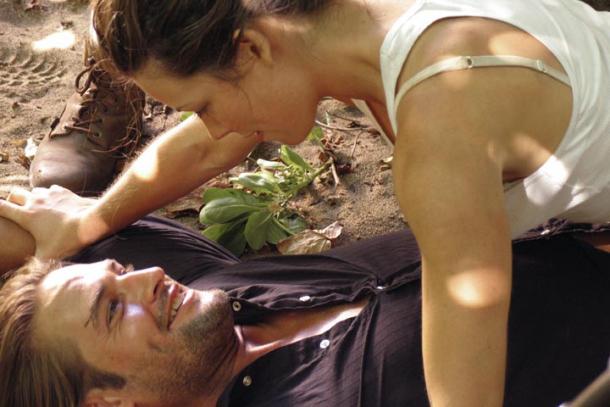 8. Book. Surprisingly, Sawyer was the only character in the series who almost never parted with a book. It is worth noting that his passion he maintained throughout the time of their adventures on the island. And if a brutal handsome dream of all the girls, then a brutal handsome intellectuals dream of actually all the girls.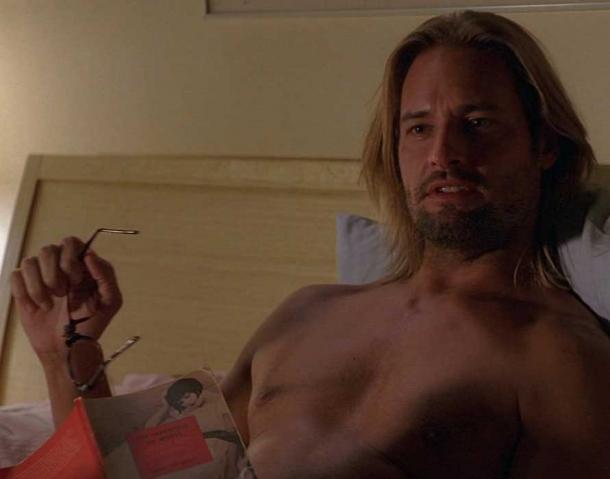 9. He likes women in fact. Or rather on the series Sawyer often other men heroes happened with women. That is not applicable to the type of boring men who "first thing in the planes" and simply takes the girl with him on board the raft ...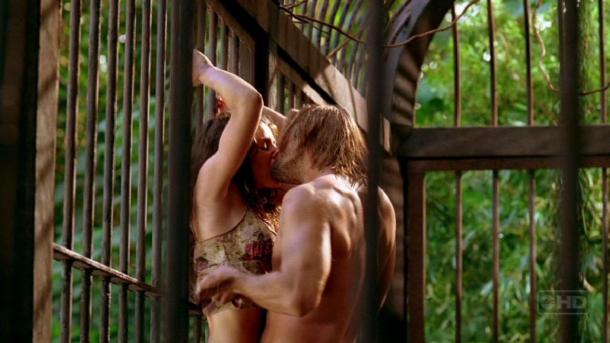 10. The Jack. Oddly enough, but when there is one more prominent guy - it just spurs competition. Yes, and besides that of the unconditional and constant positive doctors began to reduce the cheekbones, Sawyer just did is a breath of fresh air grubiyanskoy.