Fans rest in unusual places dedicated. We offer you the pictures and addresses of the places of interest for tourists in the city of Kiev, which you probably will not find in guidebooks.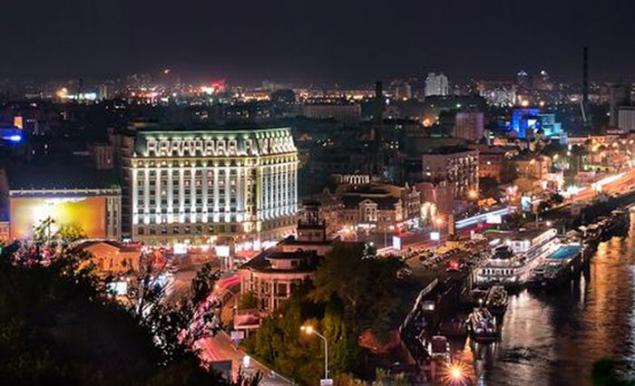 Monument Hedgehog in the Fog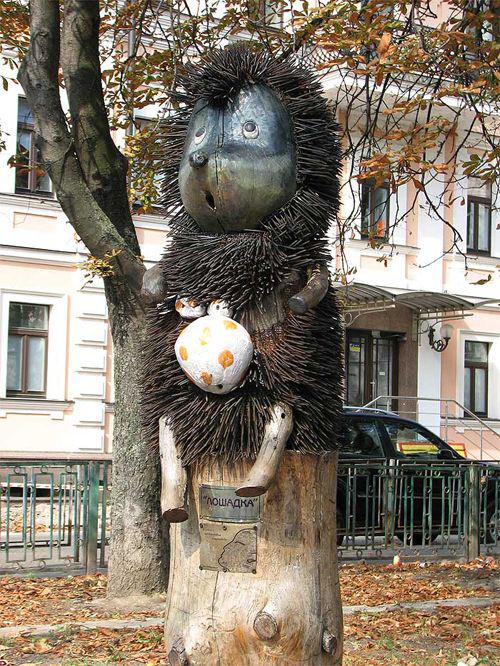 Who has not watched the cartoon "Hedgehog in the Fog"? And in 2009 in Kiev, at the intersection of Zolotovorits'ka Reitarskaya and St George's Lane this living forever in the memory of the character was a monument. See live hedgehog with a bundle in her hand and aspiring up look - it is very nostalgic.
Address: street intersection Zolotovorits'ka Reitarskaya and St George's Lane
Cemetery tanks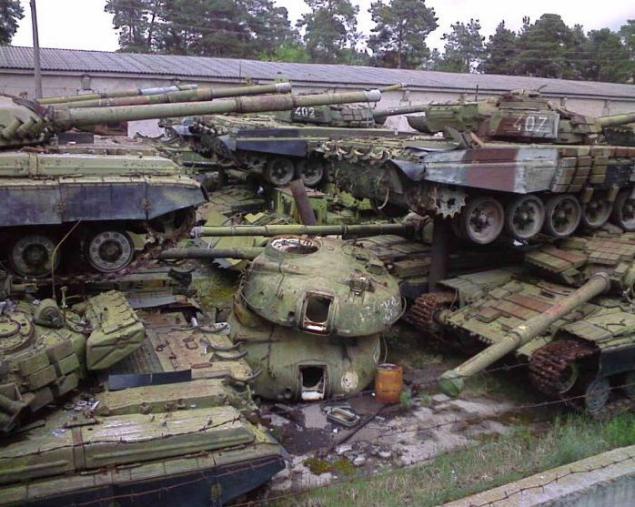 Have you ever seen the cemetery of this military equipment? Multi-ton monsters of iron, once instilled fear and terror, failed to win an eternal companion of man - irrationality. The majority are placed pieces of equipment are in working order, but still worth a lot of money. However, this does not prevent them meaningless rusting under the open sky. According to witnesses at the sight of this army unsorted machines created the impression that they are only asleep waiting for something. Lovers look at everything with the minimum distance is not like the fact that the object modal: it is guarded by the military with weapons and dogs, so enjoy Tanchico and other machinery have to through a short fence.
Address: Darnytskiy district, housing estate "Repair Base»
Kofeybus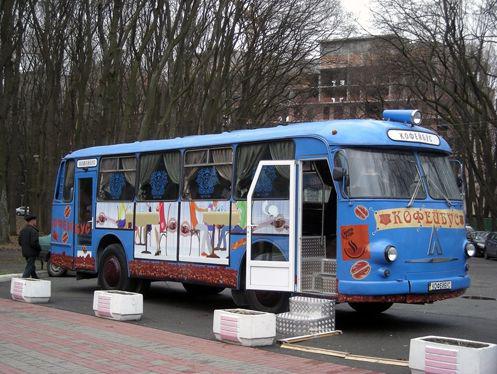 The atmosphere is retro and fragrant coffee - that's the secret of the unusual Kiev coffeehouse called "Kofeybus." The institution is located in bus 1963 issue, whose walls are plastered with old newspapers and decorated with postcards and badges with Soviet symbols. In "Kofeybuse" sounds of jazz, and his menu - all kinds of coffee, lattes to ice-coffee. All this creates a welcoming environment so that even in an institution acts tradition of "suspended coffee."
Address: ave. Victory, 52/2
Flying deli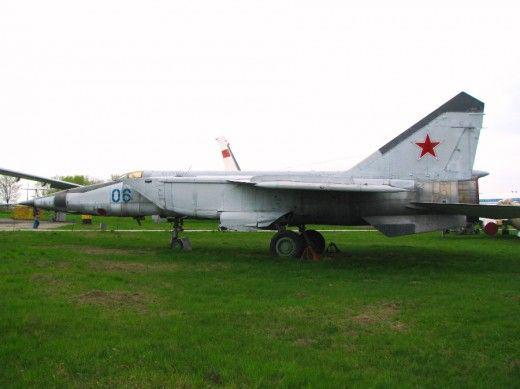 In Kiev, there is a museum of aviation, not only a remarkable number of exhibits presented in it, but their uniqueness. For example, here is the first built Tu-104 with serial number 001, and still in the museum's collection is the record for gain height - the MiG-25. His record of 37 kilometers is not beaten to this day, and all thanks to the applied design solutions tricky. As the cooling system (in flight at a height fuselage heated up to hundreds of degrees) used construction works on 200 liters of water-alcohol mixture. It is for this feature called the plane flying gastronomy.
Address: Honey, 1
Trolleybus Museum coupons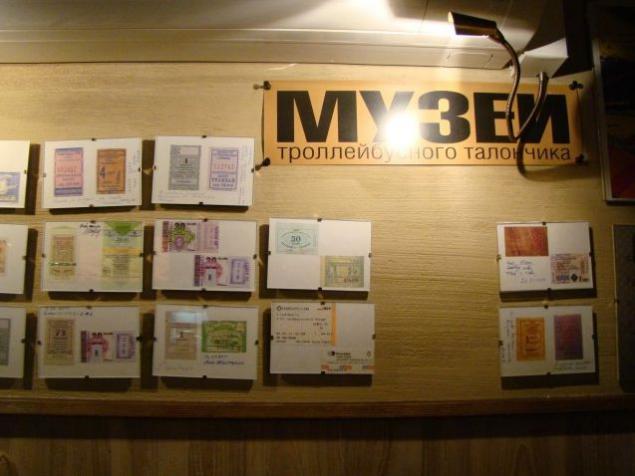 This is probably one of the most unknown Kiev museums, although its uniqueness question is simply impossible. The fact that this is, in fact, the only museum in which the collection of tickets for travel from 27 countries. For all future visitors is important to know one interesting detail: if you bring a ticket to travel, which is not yet in the collection, you can get 0.5 tasty beer :)
Address: Proreznaya, 21
Pinchuk Art Centre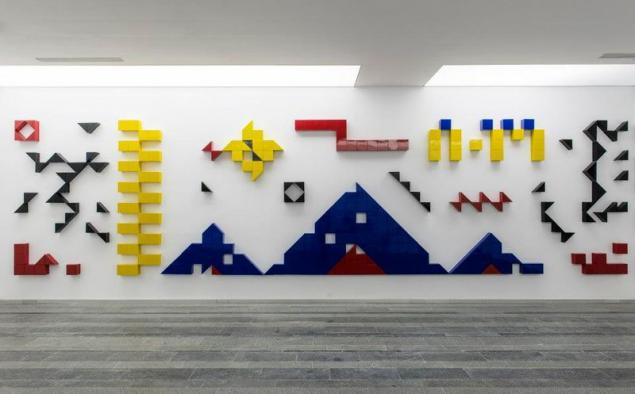 In 2006, the efforts of the Victor Pinchuk Foundation was founded an international center of art of the XXI century - PinchukArtCentre. The museum is located in the historic district of Kiev - Bessarabian quarter - and covers an area of ​​over 3,000 sq.m. Pinchuk Art Center - a place where the connected youth and talent. A new look at our lives reflect the work of young (and sometimes is unknown) artists. Each year the museum is visited by thousands pochetateley art and curious tourists.
Address: Bolshaya Vasilkovskaya / pool 1 / 3-2
The museum park Pirogovo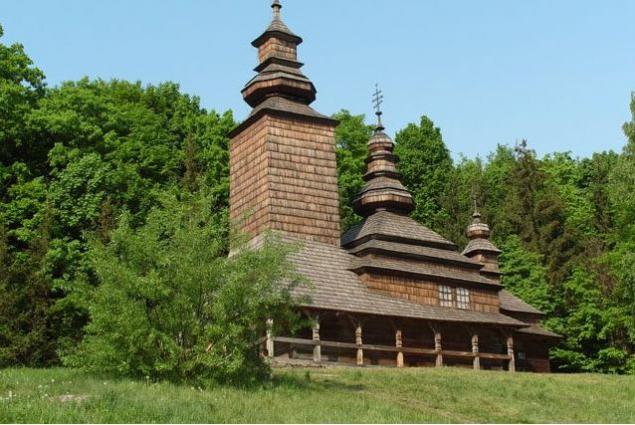 National Museums of mandatory attendance for all who are interested in the culture and life of the country in which they arrived. Of course, we love to look at something beautiful, fascinating, exciting, unusual, but if you do not know the history that is behind another object of history, familiarity will be superficial and incomplete experience. The National Museum of Folk Architecture and Life "Pirogovo" just one of those places where you can not only see, but also to learn the features of formation and development of Ukrainian culture.
Children's Art Park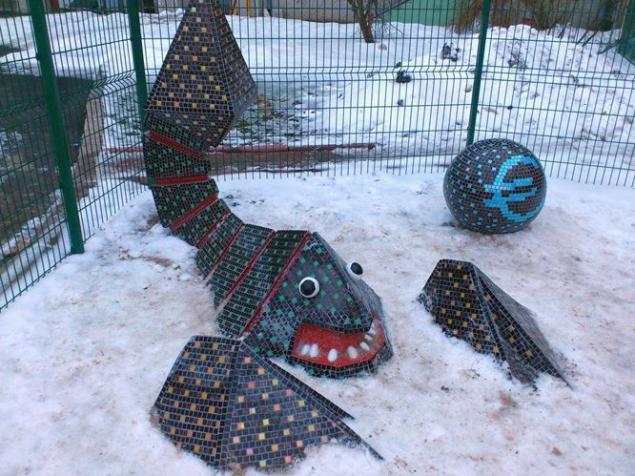 Landscape alley - one of the most unusual places around Kiev, and the reason was the discovery of an extremely original playground, dubbed Art Park "Two Worlds". This is a composition of sculptures, divided into two categories, bad and good world, with the idea turned out so metaphorical that even adults are not always easy to understand what the world refers to a particular object. As a hint here is placed at the entrance of a poem that explains the meaning of the sculptures and the entire fleet as a whole.
Address: Landscape alley
Mamaev Sloboda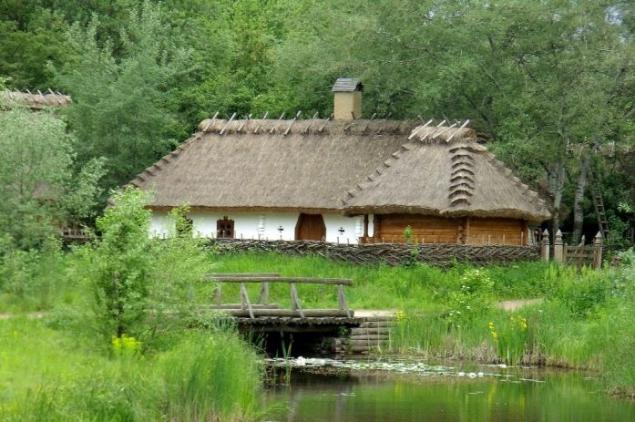 All objects "Mamayeva Sloboda" are designed for use in the reconstruction of living history, that is the most priblezhёnno to its functional purpose - namely, to promote the revival and original folk traditions, customs, rituals, forgotten work skills and crafts. Ukraine - the country of the Cossacks, so "Mamaev Sloboda" - in fact it is the installation of the Cossack settlement of XVII century. It is no coincidence one of the first buildings that occurs there - hvigura, signal tower of drums filled with resin. And this is just one of the interesting objects - a total of about 100 in the museum is not a place to visit just can not.
Address: Michael Donets, 2
Pagan idols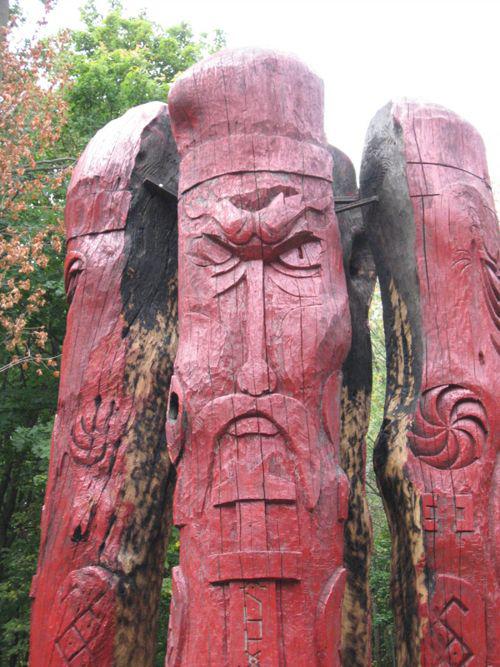 The largest pagan temple is located deep in the Bald Mountain, near the metro station Vydubychi. The four three-meter idol decorate the clearing, which gradually acquires other objects ancient Slavonic decor, threatening to escalate into a temple complex. Carved benches, animal heads and improvised column made surprisingly soundly. According to local all of these attributes of the pagan faith are built by volunteers, mainly from the existing Ukrainian pagan communities. Also pagan idol can be seen on Old Kiev Hill.
Kiev bird's-eye view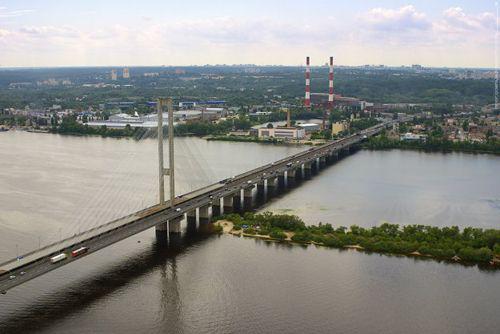 Every tourist wants to see the city they visited all at once, that is, with a decent height. In order to capture on camera an impressive panorama of the city people are looking for any significant elevation with a good view, and the capital's high-rises here can be very useful. Address avenue Krasnozvezdny 4 and is 25-storey building (90 meters), which is working on the roof observation deck with tables, Wi-Fi and binoculars.
Address: Ave. Krasnozvezdny 4 and
Source: marv.livejournal.com