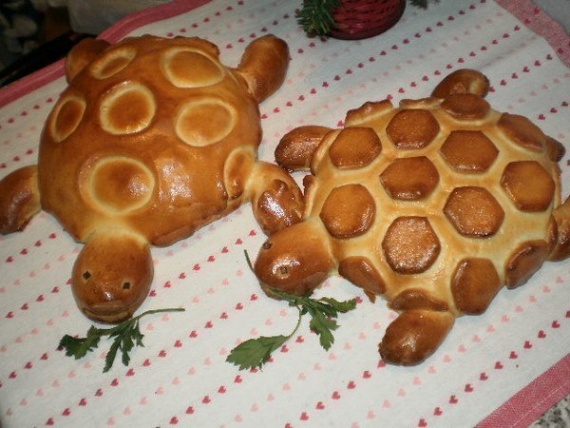 Ingredients:
 - 500 g flour
 - 2 eggs + warm milk - 325 g (eggs are different, so the weight of milk and eggs together)
 - 50 g soft butter (cut into thinner, do not melt)
 - 30-50 g sugar (depending on the filling)
 - 10 g of salt
 - 7.8 g of dry yeast
Preparation:
Filling any, in this case cabbage with eggs.
Knead the dough, let go. The dough turns out very soft and perfectly molded - not torn, a pleasure to work with him.
Then divide the dough into two parts - we will have two turtles.
Make torso, legs. Put the stuffing.
Next you need to take Pelmennica, posypat it with flour and roll the dough seam - Get pyatiugolnichki dough.
Lubricate pyatiugolnichki on one side and a little water to stick on the bug.
Eyes have bugs - cloves, and to be seen after baking mouth - Make a cut and put it folded several times a foil.
Turtles give the distance under a towel for about 20 minutes, brush with egg and milk and bake until golden color at 180 degrees.
Do not forget after baking turtles cover with a towel and allow them to cool a little. Bon Appetite!