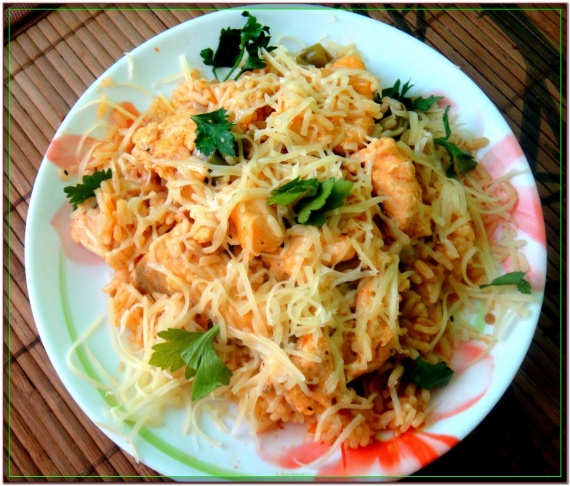 Ingredients:
Figure - 1 stack.
Water (maybe a little more) - 1.5 stack.
Salmon fillet (or arc of red fish) - 300 g
Pepper - 1 pc
Onion (medium) - 1 pc
Garlic - 3 tooth.
Tomato 1 piece
Tomato paste - 1st. l.
Salt
Pepper
Spices
Lemon
Cheese
Greens
Fish fillets with salt and pepper, sprinkle with lemon juice and leave to marinate while preparing the rest.
Finely chop the onion.
Garlic peel and cut into four pieces
Pepper cut into thin strips.
Tomato pour over boiling water, remove the peel, add the tomato paste and 2 tablespoons of water and grind into a puree.
Pan heat the oil, put the garlic and fry for 2-3 minutes, then remove the garlic.
Throw the onions and fry for 2-3 minutes, then add pepper, fry for 3-5 minutes, add the rice and fry rice with vegetables for 3-5 minutes, stirring constantly.
Then add salt, pepper, spices and tomato puree, simmer until almost all liquid is absorbed (about 8-10 minutes).
Then pour 1 cup of water, cover and simmer until liquid is absorbed, stirring occasionally Fig.
Fish cut into small pieces.
In Figure add the remaining water, lay the fish on top of rice, cover and simmer until cooked rice, 13-17 minutes. After adding fish rice is not to interfere in order to remain on top of the fish.
Turn off, let stand for 3-5 minutes.
Spread gently with a spatula, trying to figure remained at the bottom and the fish on top.
Sprinkle with grated cheese and herbs.
Bon Appetite! Fish get very tender and tasty.