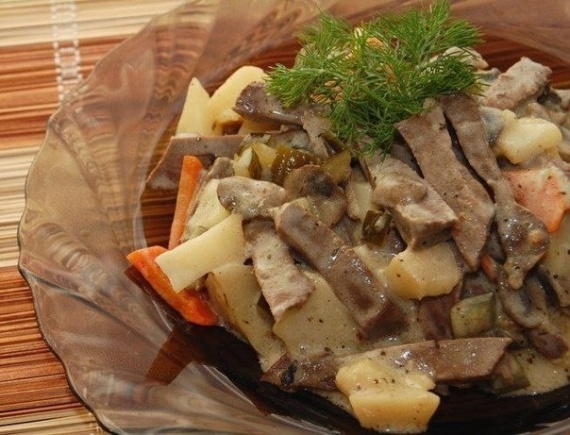 Ingredients:
heart 800 g
cup sour cream
medium-sized potatoes 6 pc.
Carrots 3 pcs.
pickles 2-3 pcs.
mushrooms 300g (original missing)
onion 1 piece. (For soup)
bay leaf
black pepper and allspice
salt, herbs
2 cups of sauce, codenamed "Red»
Preparation:
Sliced ​​heart must soak 2 hours in a cold water.
Then drain the water, pour a new one and put to cook with carrots, onions, greens, allspice and bay leaf.
Beef heart brewed 3-4 hours, pork 2-2, 5. I had the beef. 1 hour before end of cooking salt.
Pre-cut vegetables.
I still found the mushrooms, I cut them and lightly fry in vegetable oil.
Preparing the sauce. Melt 2 tablespoons in the pan. tablespoons butter, add 2 tbsp. tablespoons flour and fry over low heat until brown. Well, I have not turned this color, honestly roast for about 20 minutes then you need to gradually pour 2 cups of broth or water and simmer until thick, stirring constantly.
Heart is cut into thin slices and pour the sauce.
Add the sour cream, chopped vegetables and mushrooms.
Mix and fall asleep slices of raw potato slices or well, there's the way you like.
I have dried herbs sprinkled on top and black pepper for flavor.
Simmer on low heat for 20-30 minutes, and in the process of trying to straighten on salt.
Serve with greens.
Bon Appetite !!!