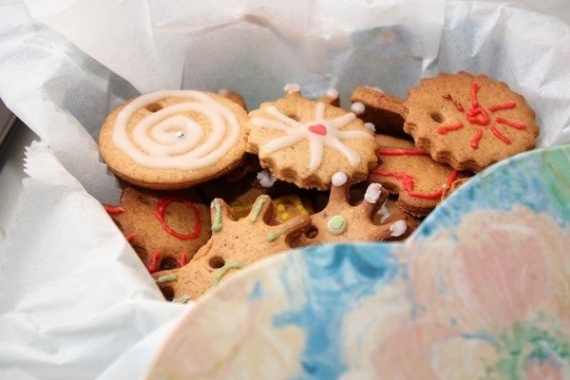 Ingredients:
 - Butter 100g
 - Brown sugar 125 g
 - Honey 250 g
 - Wheat flour 500g
 - Ground cinnamon 2 tsp
 - Carnation 20 pcs.
 - 1.5 tsp Cardamom
 - 1.5 tsp ginger powder
 - Egg yolks 3 pcs.
 - Powdered sugar 50g
 - Lemon juice 15 ml
 - Chocolate 100 g
Preparation:
In a saucepan, combine sugar and butter and stir, heat until a homogeneous syrup. In a bowl, sift flour, add spices and egg yolks. Cloves need to grind or pound in a mortar, and then sifted through a sieve.
Add to the flour mixture and honey knead the dough. When the dough is smooth, it's ready. Roll out the dough layer of about 0, 5 cm and cut out any figures using molds for cookies.
Spread on a baking sheet figures, laid by the confectionery paper.
Since cakes should hang on the Christmas tree, do not forget to do them in the holes. Convenient to do this by using the tube for drinks.
Bake at 190 degrees gingerbread cookies for about 15 minutes. Make sure that they do not burn. Cooled decorate gingerbread patterns of icing sugar, for which combine powdered sugar and lemon juice until smooth thick paste.
You can cover the cakes with melted chocolate and then decorate. To this milk chocolate is melted in a water bath or in a microwave oven.
Ready decorated gingerbread cookies to cool to harden chocolate and icing sugar, and then threaded through the holes ribbon and hang on the Christmas tree.