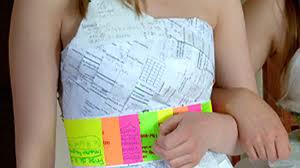 Remember one of the most quoted phrases from the "brothers"? "What is the force, brother? Is the money? "After that available explains why it is a profound mistake.
Hardly seventeen Canadian graduate Kara looked Koskovich Russian film epic (though you never know), but definitely holds the same view as the main character. Money, of course, it's great, but the power - not in them. And to my own graduation dress has built seventy-five notebook sheet. And it is just as creative girlfriend Dorothy Graham made dress shopping bags. That is, as you know, dresses for bridesmaids were treated in a purely symbolic amount. Excluding personally applied forces and the time spent, of course.
On the final evening came together in a traditional, probably the confrontation, fantasy and finance. Since the vast majority of the girls were masterpieces of tailoring cost from several hundred to several thousand dollars.
Creativity and imagination have won a clear advantage. Kara and Dorothy were in the spotlight.
That's twice as nice. Although such a small faktik against vsesmetayuschego statement "money talks." Not always. Not all. And thank you for this.