In Indonesia, the noodles in the country occupies the second place in popularity, after rice. And not always make it on modern lines. Today we will visit the family of Yasser Ferry factory for the production of noodles, founded by his grandfather.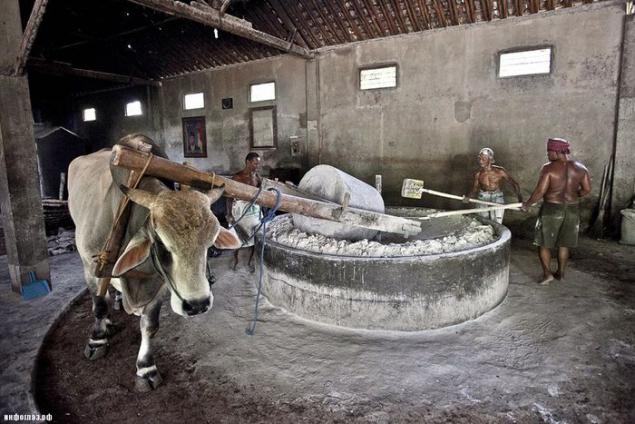 There have not heard of robots and packaging machines, and make flour using a monochromatic stone cylinder propelling using cows. This was an amazing sight go to remote places, 30 kilometers south-west of Yogyakarta. Such technology traditional noodle rarely seen today. The factory employs 40 employees. 1 kg of noodles sold for 80 cents (about 25 rubles). Shooting May 22, 2013. (Photo by Ulet Ifansasti | Getty Images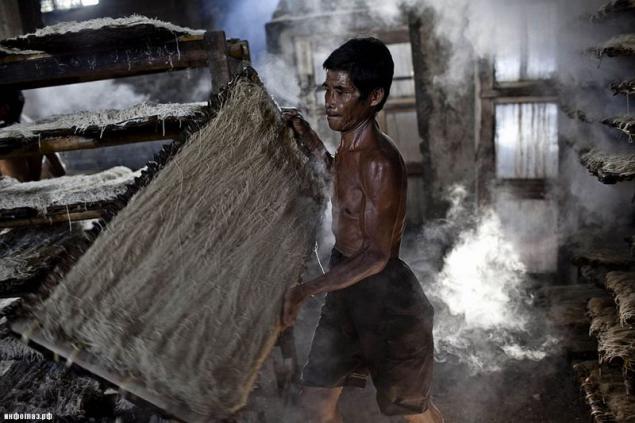 Noodles - originally a Chinese dish - established itself in Indonesia. Sauces and spices give it a distinctive taste. Here, just as in China, believe that noodles - a symbol of a long and happy life.
Of course, the most spectacular stage of the production - cooking flour. (Photo by Ulet Ifansasti | Getty Images):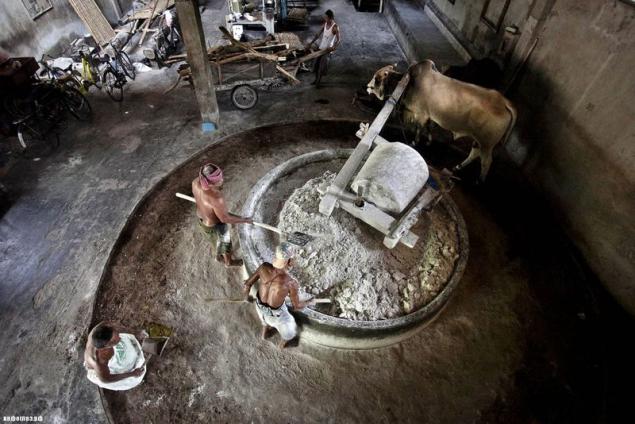 As a milling machine in a factory using a huge bowl, monophonic cylinder and cows, carting around this cylinder in a circle. (Photo by Ulet Ifansasti | Getty Images):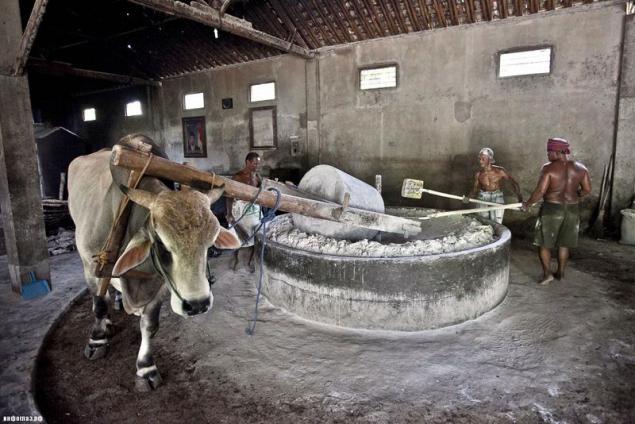 Workers are constantly aligned with shovels raw materials in the "milling machine" to make it even pressure. (Photo by Ulet Ifansasti | Getty Images):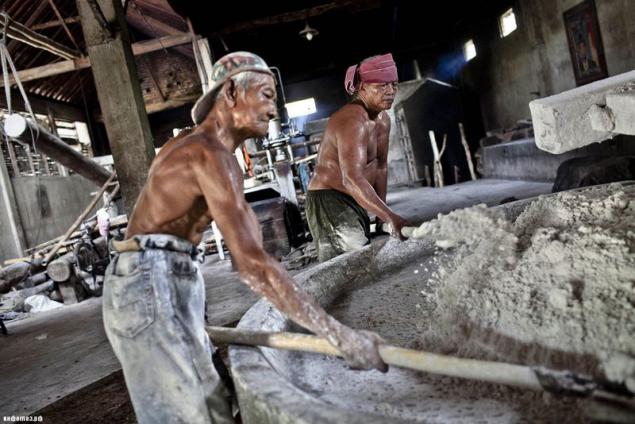 In Indonesia fry noodles made. That worker brought wood for the stove. (Photo by Ulet Ifansasti | Getty Images):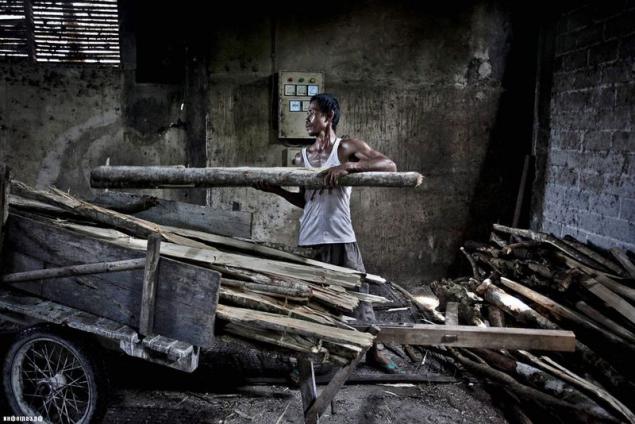 Work carries on the heat treatment of semi-finished product. However, some machines in the factory is still there (to the left in the picture). (Photo by Ulet Ifansasti | Getty Images):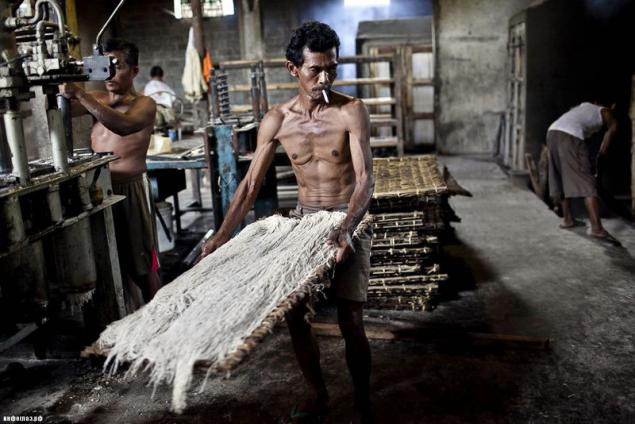 And here is the wood-burning stove. Do not say, and the products coming out clean. (Photo by Ulet Ifansasti | Getty Images):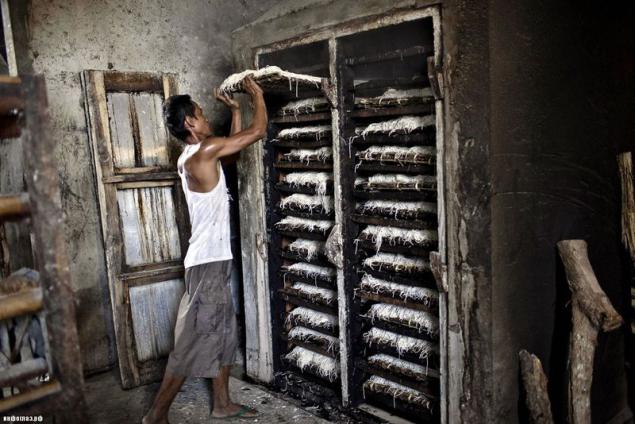 Cloven-hoofed factory worker (right). On the left - the 65 workers who work here for more than 20 years. (Photo by Ulet Ifansasti | Getty Images):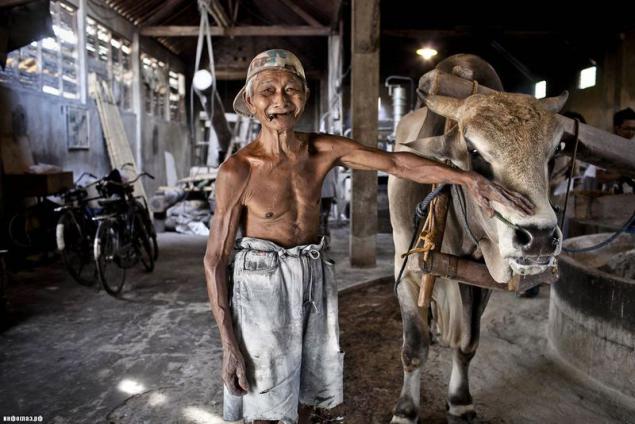 Wood-burning stove in action. (Photo by Ulet Ifansasti | Getty Images):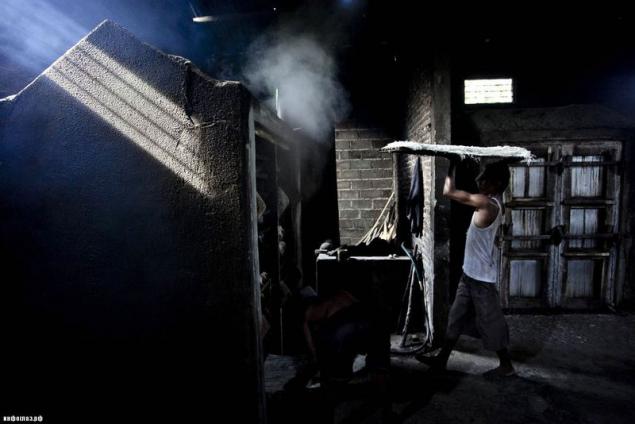 Noodles of the steam oven. (Photo by Ulet Ifansasti | Getty Images):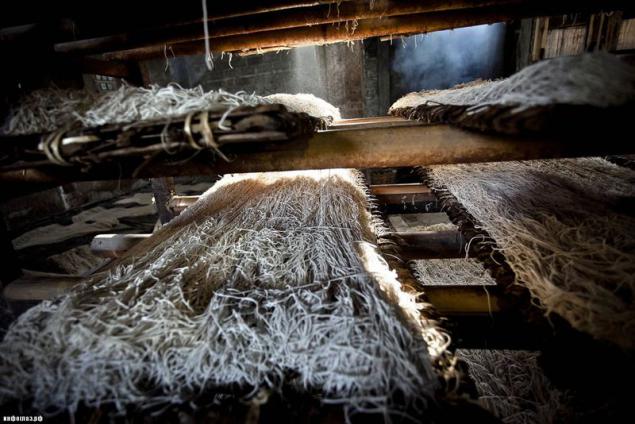 Smoke break. In the factory, almost all smoking, Russia's new here are not there yet. (Photo by Ulet Ifansasti | Getty Images):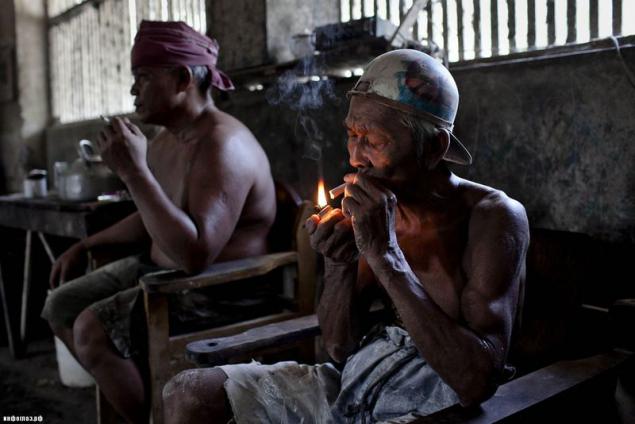 Here it is, a real manual labor. (Photo by Ulet Ifansasti | Getty Images):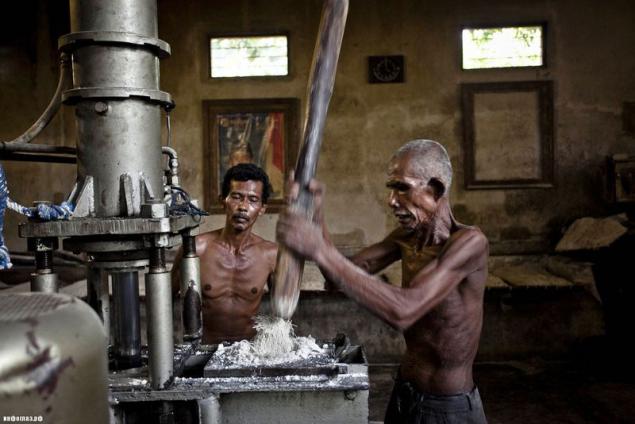 Yet no technology can not do. Hands noodles not sformiruesh. Work is watching the local working extruder. (Photo by Ulet Ifansasti | Getty Images):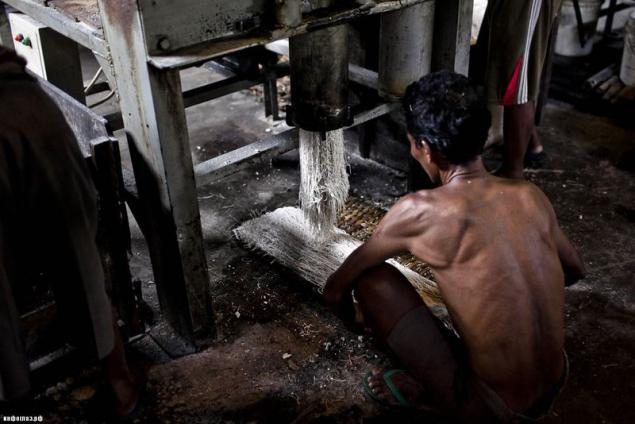 Break. (Photo by Ulet Ifansasti | Getty Images)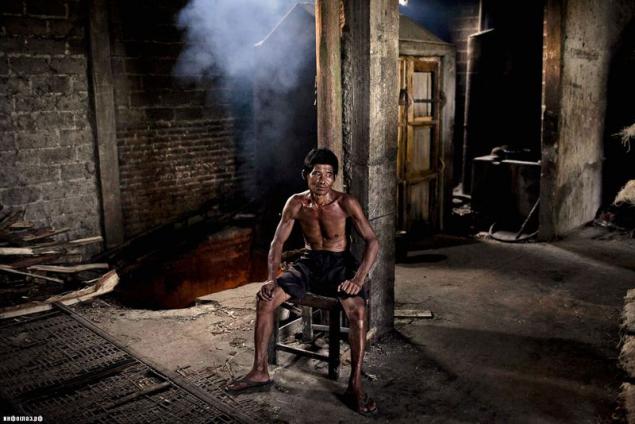 And back to work. Pour the flour milled cows in a basket. (Photo by Ulet Ifansasti | Getty Images)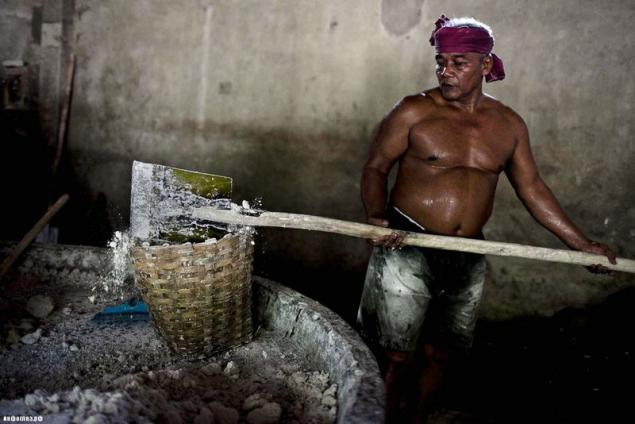 Noodles, ready to go into the steam oven. (Photo by Ulet Ifansasti | Getty Images):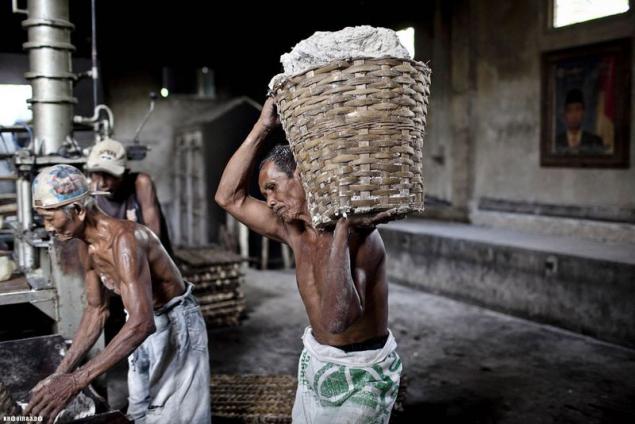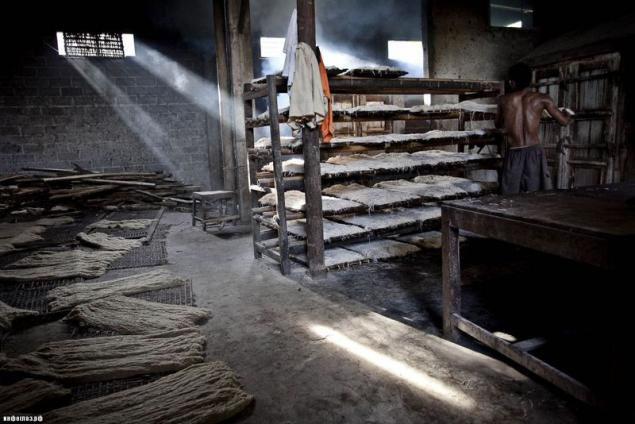 This eco-friendly production: the cow - millers, wood-burning stove. (Photo by Ulet Ifansasti | Getty Images):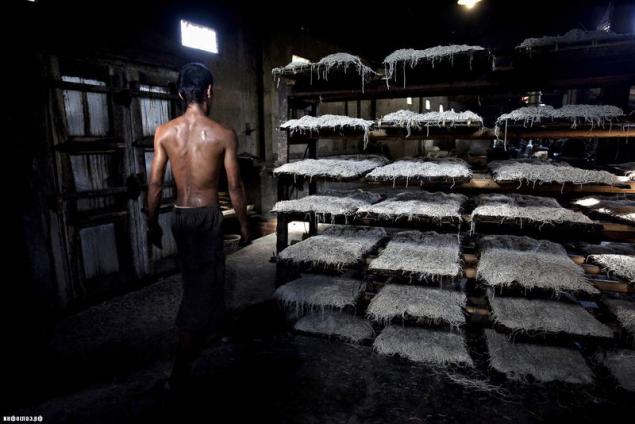 And here is the finished product after drying. It is worth about 25 rubles per kg. It was a small excursion to the unusual for our time production in Indonesia, in a traditional cooking noodles. (Photo by Ulet Ifansasti | Getty Images):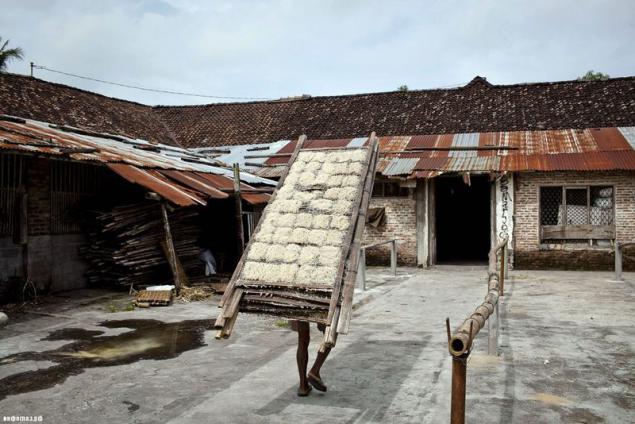 Source: masterok.livejournal.com