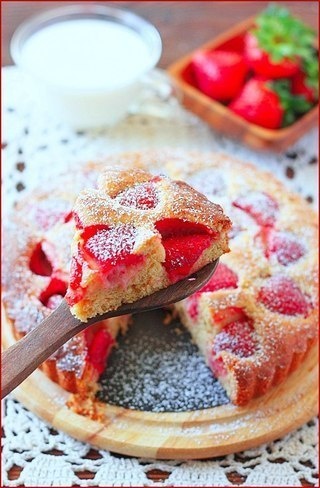 Preparation:
1. Preheat oven to 180 ° C. Mix in a bowl the sifted flour, baking powder, cinnamon and salt.
2. In a separate bowl, beat the butter with a mixer and sahar.Dobavit eggs and milk, and a little more vzbit.Dobavit in oil-egg mixture dry ingredienty.Peremeshat wooden spatula.
3. baking dish greased with oil, spread the dough. Strawberries cut in half and put in a circle, good crushing her to the test.
4. Bake for about 30-35 minutes. Willingness to check the wooden skewer.
Cool slightly Tartu and sprinkle it with powdered sugar. Serve the tart warm with whipped cream.