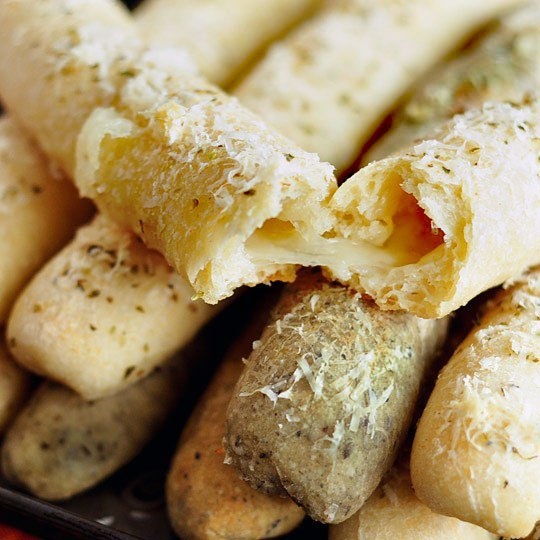 Preparation:
1. Heat the oven to 220 degrees. Cover the pan 2 baking paper.
2. mozzarella cut into thin strips, sticks in. Cutting board sprinkle with flour and roll out half the dough (450 g) in a large rectangle 20 by 40 cm. Cut the rolled dough into strips 5 cm and a length - to 20.
3. In the middle of each strip Put a stick of mozzarella and close her test. Each wand roll on the board to tightly secure the dough.
4. Put all the sticks on a baking sheet and leave for half an hour to climb.
5. While the dough is rising, get a second portion of dough and repeat the same procedure.
6. Sticks grease with olive oil and sprinkle generously with garlic powder, oregano, salt and grated cheese. Place the pans in preheated oven and immediately reduce the temperature to 175 degrees. Bake for 15-20 minutes until the dough has risen, and not podzolotilos.
7. Cool and serve warm with tomato sauce.