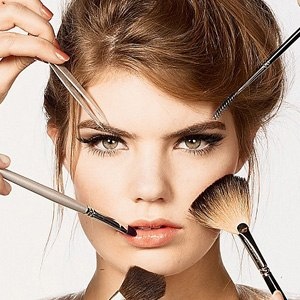 There are some rules for a perfect makeup.  
1. The first, and perhaps the most important rule: before applying makeup, thoroughly clean the face. This can be done in two ways. Or a good wash, or make a special facial cleansing lotion. Next, using wet wipes remove cleanser to avoid unnecessary effect of "oily" skin.
2. Basis for make-up - another important element of a make-up. Foundation - the best option. Choose foundation is quite carefully, taking into account your external features. Selected key basis should apply not only to the place where we usually do it (the forehead, chin and nose), but also on all the mobile eyelid. With this step, our shadows and pencil will hold much more longer than on oily skin without tonal framework.
3. Tone cream also needs "fixing dry." Therefore, in any case, do not neglect the powder, but do not overdo it. Using a sponge or special brush for powder, apply a minimum layer of powder on the fattest parts of the face.
4. After the facial skin has become a relatively monotonous, it will give natural light blush. The choice of color powder also requires special attention.
5. Impose eyeshadow. For this is perfect eye shadow palette, which is always possible to choose the appropriate. Carefully plot the selected shade on the upper eyelid using a fingertip or brush. Play shades, but in any case, not colors, unless you want to, of course, look much older than his years, and at the same time quite vulgar.
6. eyeliner along the edges of the eyelids. Must be tightly closed eyelids, and very carefully apply a thin line close to the lashes as possible. Make sure that that would be the tip of the eyeliner was always sharp.
7. A little focus on the eyebrows for "white man." Touch up eyebrow movements shtrihoobraznymi special pencil semitone darker natural color of your eyebrows, and then comb their special brush. In this case, the main thing is not to overdo it!
11. Mascara. Select the desired ink, spin eyelashes, paint brush and comb for eyelashes.
12. Paint our lips. It is necessary to relax the lips and mouth slightly open slightly. Next, you should apply lipstick on the edge of the lips and the lips stretch into a small smile, in order to properly distribute the lipstick. Lipstick is best, apply a thin brush.
Be irresistible in any situation! A perfect makeup you this will help ...