While Amber Heard Napara Johnny Depp is actively promoting the film "The Rum Diary" we look at this beautiful blonde little closer than before. 25-year-old American actress Amber was totally unknown to me until this duet with Depp, who, I think, would be (if not already become) her lucky ticket holder in Hollywood, but it is still the same "hot stuff". The attraction she adds that it is very similar to the dream of a good half of the male - actress Scarlett Johansson. I do not notice the similarity, but they say that it is, so be it. Amber atheist lesbian (frankly I was shocked when it learned) and just megaseksualnaya person. Heard fully justifies its origins (she was born in Texas), and I can easily imagine it in the mini-shorts, cowboy boots and hat. Hmmm, something I did not climb to the Steppe, so look at this beauty makeup and talking about other things.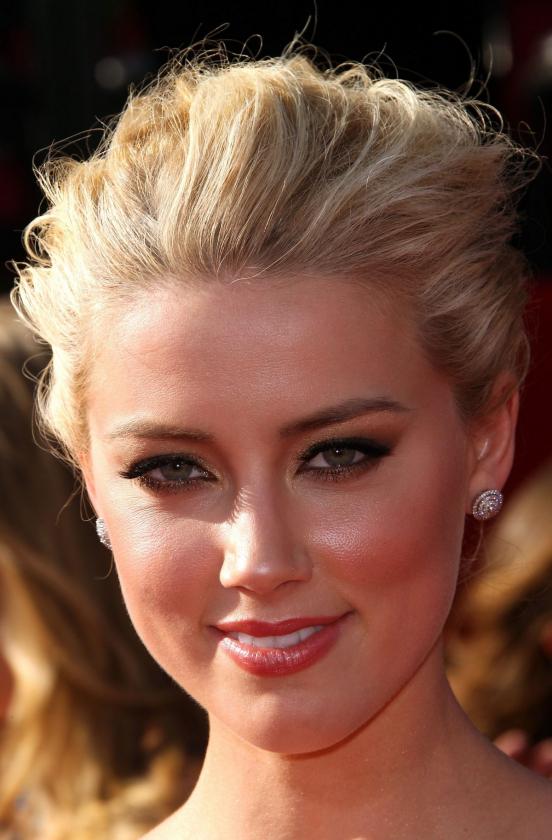 1. Ginger? With green eyes? It is generally Amber? The question is not rhetorical frankly, because it's really it. I never thought that her life was in such experiments, but what surprised - Amber kind of girl. As soon as I saw her in the photo, and it happened recently, I found it pretty conservative, but about any conservatism can not be considered. Amber visited and blonde and a brunette, and even the red-haired. Makeup in the photo is perfect for her pleasant face. Silver tone, smooth complexion ... it all looks great on Amber, but to go to the ladies' room Hurd still worth it - gloss on the lips is almost gone.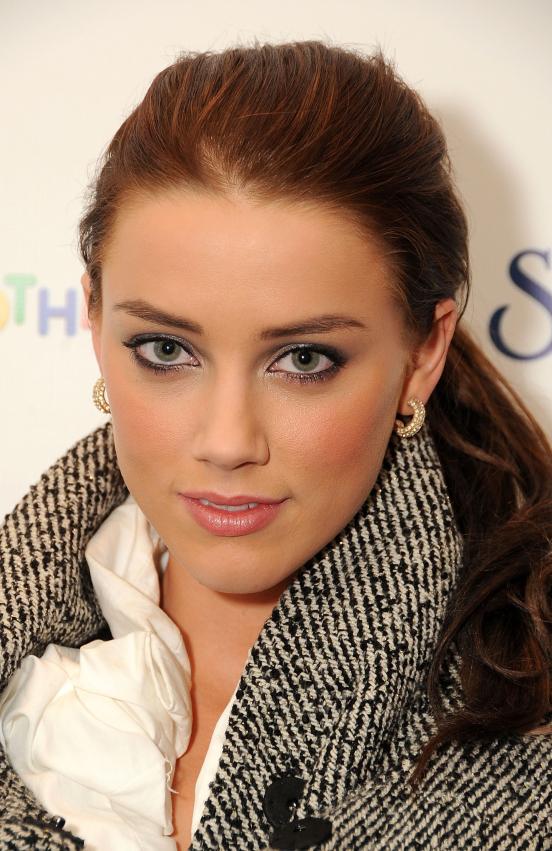 2. But in this picture similar to the polygamous Johansson still trapped. Look at the recent photos from the set of the film with Scarlett and you will notice it. Black color as something not to face a pretty Amber, so I'm all arms and legs of the Heard-blonde! Make-up in the best tradition of burlesque shows, but then again everything is pretty bleak, although it may well have been originally intended.
3. "I am my mother's a fool." Chito It is, huh? This form is not something that can not appear at social events, but also in general to go out. Seeing this night - not an ax had covered. Meiko hilenky, Amber turned spotty as a giraffe, and if so given last walk on this mortal earth, Hurd sure this is not given. And I do not like these lip after them (especially in windy conditions), all lips are "hairy." Or maybe just because Amber bad weather, the frying pan into?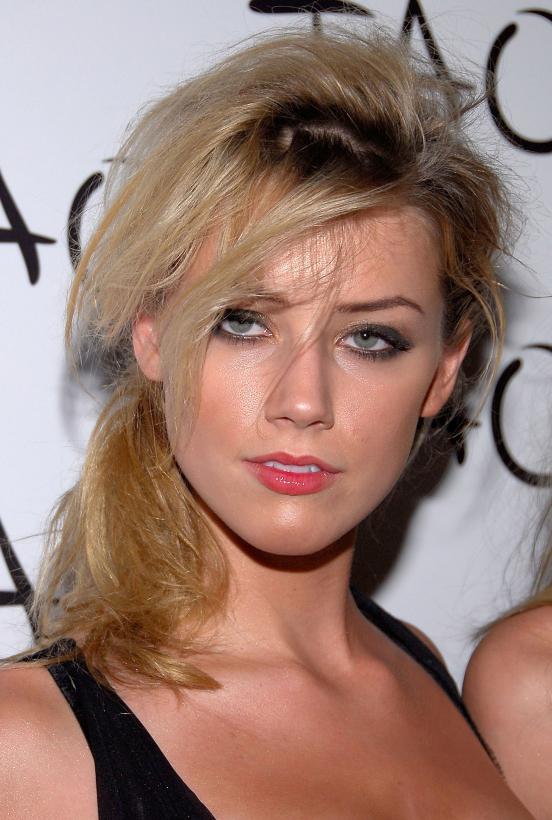 4. One word "good!". Masha is good, but not ours. Makeup is simply unrealistic steep, hair color is also very suitable Amber. I love like these "golden blondes».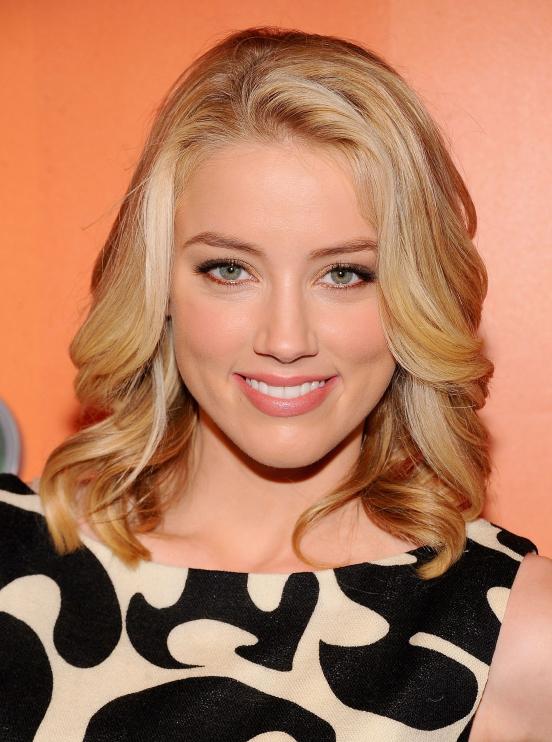 5. The game of contrasts. Bright red mouth immediately stands out from the lightening of the skin, but it's not a bad thing for brunettes, blondes and about the doubt. Not all blond Mademoiselle can effectively teach here such mejk. It seems to me that Amber did not work, although it is Scarlett goes to the 5 plus. Why is that? I do not know.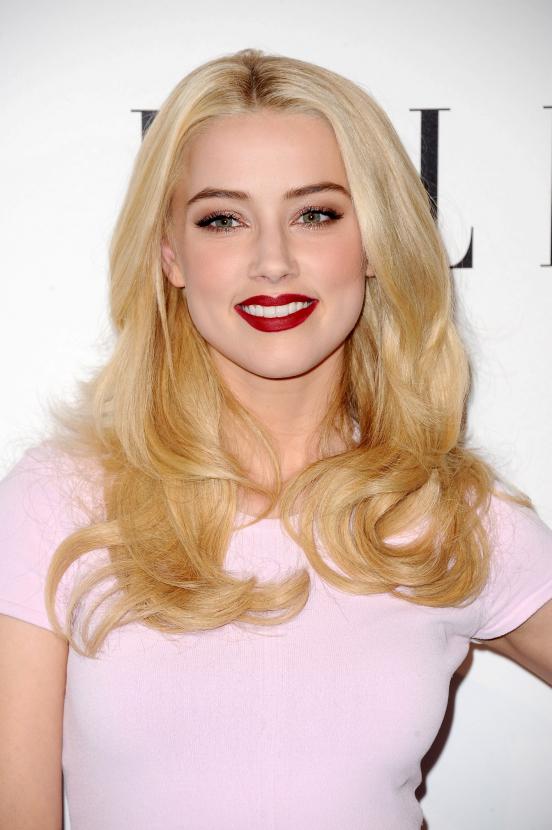 6. I think the one that this photo looks like Amber Laetitia Casta? The life of me, but I never knew such a combination of peach shades of shadows and matte red lipstick. This is how you have to be an idiot, so to make up an attractive girl, make her do not get one? My "phi" make-up artist.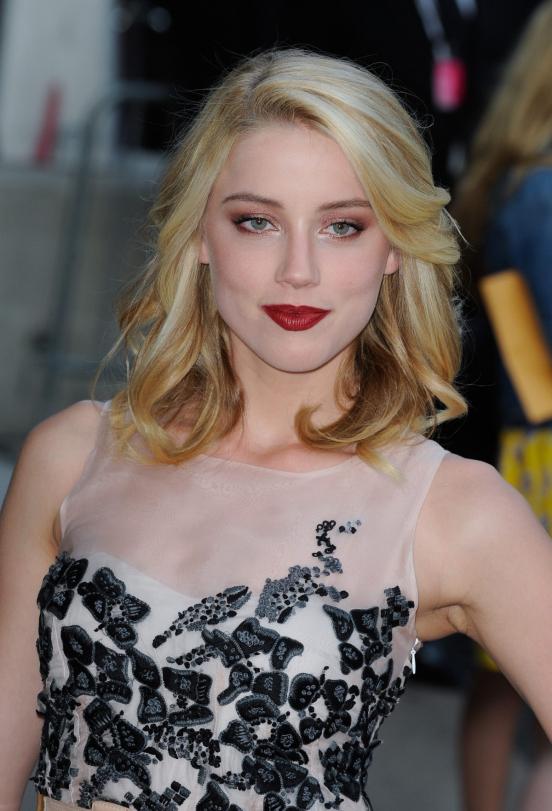 7. Here Amber I like more than the fifth picture, because retro style - a sort of fad of the actress (she is very much suitable clothes and makeup in those years). Black arrows, red lipstick, and you're pretty curls beauty, which is not enough. Option №5, of course, more modern (the vampire theme is now rules the world of cinema), but the make-up I like the most.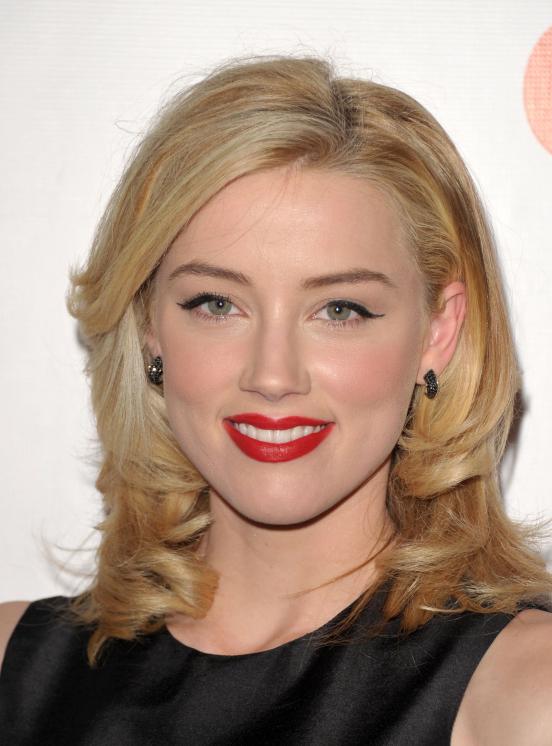 8. I love these "fall" colors in make-up play, especially now that this time of year. Amber really are such nuances, it becomes softer or something ...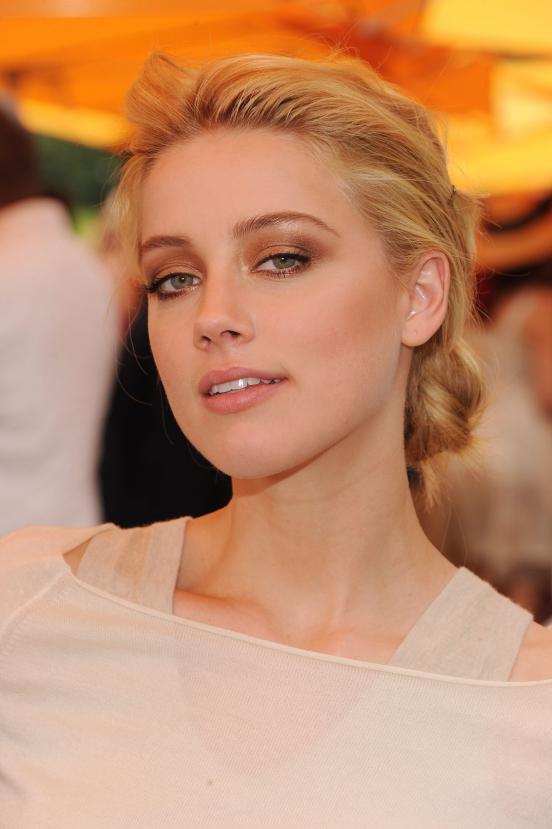 9. Amber definitely better with long hair. Perhaps this is all that can be said about this photo. Make a good, good harmony with the rich purple dress Amber (by the way, why she always wears black or white dresses, but these dresses with "juicy" colors bypasses?). I think she needs to revise its look and feel, and addiction to bright colors.
10. The disadvantages of the skin, at a glance, but who has not in the end? All of us are imperfect, so enlarged pores and fine lines do not have to embarrass any of the young lady, all natural. Make-up in gold tones chic hairstyle too much. Again Amber who she reminds me something. Can Kaley Cuoco?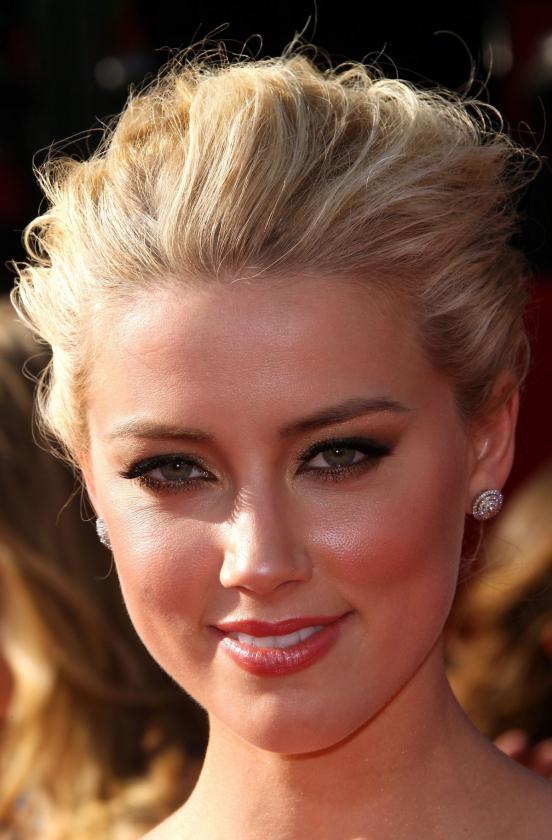 11. "Tanned option" Amber Heard. Just incredibly beautiful woman! If I were a man, I would certainly have fallen in love with her. Grey silky eye shadows emphasize the great Amber pink gloss lips good stresses and white and without white teeth, and blush give a flirty, playful appearance. One is bad - the eyebrows, although the fashion-fashion ... nowhere on it does not go.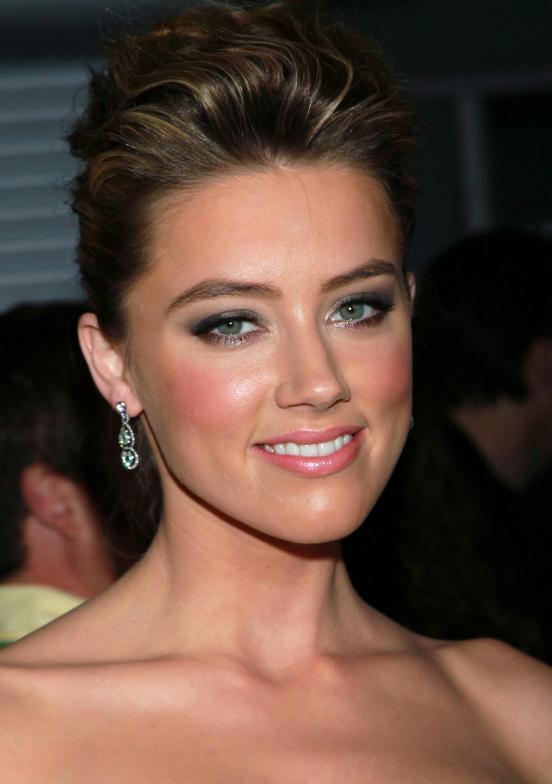 12. The make-up artist who did this need to retrain in makeup artist, very much he loves to paint. Eyebrows just prohibitively wide and unnatural, Brezhnev turned over in his grave to know that Hollywood beauty are almost the same, though not real, but still ... And nalachili it too. The rest make up a decent, I like.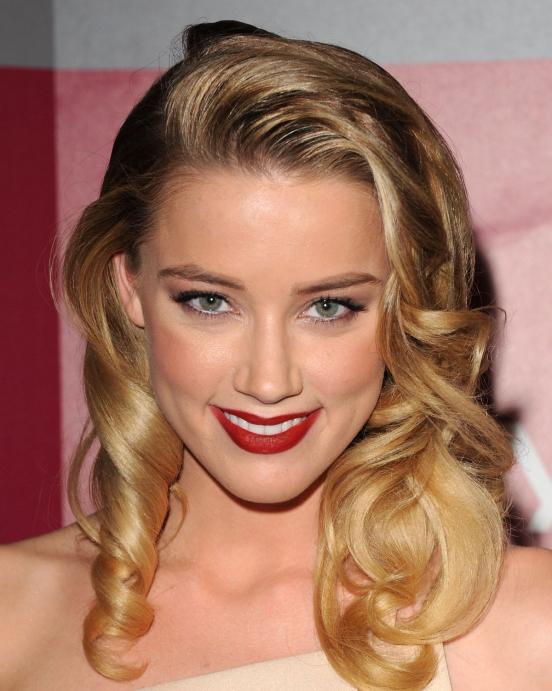 13. Young, inexperienced ... That is to say, youth brightens everything. Make some kind of bad, to be honest. Lips do not make up, blush regret ... Well, God be with him, but why should this neckline when you're a lesbian and you have a girlfriend? Hmm, and show something nothing special ...
14. I look I see pictures of Amber and I think - if she had real teeth? I understand that the majority of stars veneers, but Hurd just like false porcelain. Although not essential, a beautiful girl. I like here is a mejk on blondes, photograph well, but doubt that this makeup will not look as well as an option №5 (and I clung to it?)))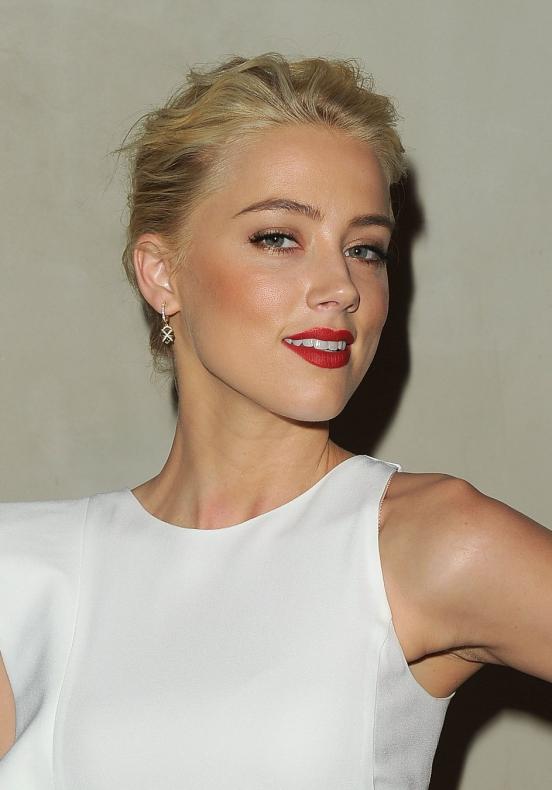 15. What beautiful eyes! Respect personal makeup artist. And what is her face and ears! Neat girl.