After decades of bloody conflict between the British government and Irish nationalists capital of Northern Ireland, especially unattractive industrial city and port of Belfast, he changed his gloomy image and even claims the title of "European Capital of Culture 2008". In addition, according to Reuters, he entered the top ten fastest growing cities in the world.
Learn more about the history and culture of the city can be in the Ulster Museum near the university. Available to visit Stormont - Parliament of Northern Ireland and Belfast Castle, which was built in the XII century (extant version was built in 1870). And for pleasure you can go to a suburban Cave Hill Park and the zoo.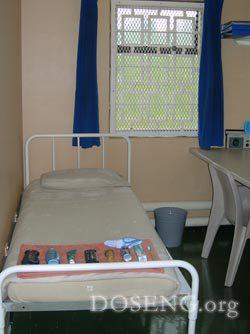 But there is in Belfast and not less interesting sites to visit that can only be by special invitation - we are talking about a local prison. Interestingly, what some 10-15 years ago, a criminal offense in Northern Ireland could be counted on the fingers of one hand - this part of the UK has been the military-police state. Armed patrols were the main sign of Belfast, and yet activists of the Irish Republican Army (IRA) relentlessly terrorized the capital of shootings and explosions. Those who managed to catch the British imprisoned in the suburbs of Belfast. Today the peace process completely changed the balance of power in politics and the situation in the streets, but the prison was empty. In place of the terrorists came criminals.
Having been in a British prison for a cozy title Haydbenk Wood (Hydebank Wood), I experienced culture shock. That their prison even with lattices like a three-star hotel - true. And, most likely, this "accommodation" can be awarded, and more and more "stars" because such "clever" gyms, four soccer fields, a dozen of their own canoes, artificial terrain for climbing, and we have the best hotels. Who I thought - and yet our mediocre hotel resemble a British prison. Add to that their own teachers in art, garden design and English language. The prisoners are not required to wear a uniform.
In Haydbenk-Wood contains 237 prisoners, 33 of them - women. Basically sitting for theft, robbery, there are several killers. For the maintenance of the prison government allocates 23 million pounds per year. Simple arithmetic: in terms of rubles per prisoner per year spent 4, 8 million!
Prisoners sleep in single cells "semi" bed, toilet, sink, a spacious desk with a hinged bookcase, television, wishing to have - CD and DVD-players. The walls are all painted in bright colors, the camera - barred, but normal windows with wide sills and curtains.
Female body in repairing: ladies will soon live-in apartments, like a small apartment for one. That's because the prisoner complained about the presence of a toilet bowl in a sleeping room, and according to the rules of the European Union, their demands must be met. Similarly, behind a screen or wall is now hidden in the toilet chambers medical insulator installed the latest plumbing, automatic faucets.
The organization of life within each body reminded me of student hostels. The two upper floors are reserved for camera body, on the floor - two wings of ten cameras. The shared kitchen each unit has a microwave, kettle and electric. In the laundry room - a couple of washing machines, dryers, irons, ironing boards. Personal belongings convicted wash and iron itself. Youth, never before did not do anything like that, like in the army, he learns everything.
Do not think that a prisoner from morning till night sticks in his dungeon-sized hruschebnuyu kitchen. Getting around the block during the day free. Mode is as follows. Up at 7.45 (on the weekend, you can sleep an hour longer), shower, breakfast. 8.45 The prisoners who go to work, who are at school, someone still "on the farm" - cleans, washes, irons. Three hours later, all back and have lunch. While having lunch Guard prisoners "quiet time": they are locked in their rooms and relax. In 1345 all over again diverge work, study or train. At 17.15 dinner is served, and before the evening curfew, that is, to 20.00, inmates can roam the block, watch a movie on the big screen in the main hall, read or play on the computer.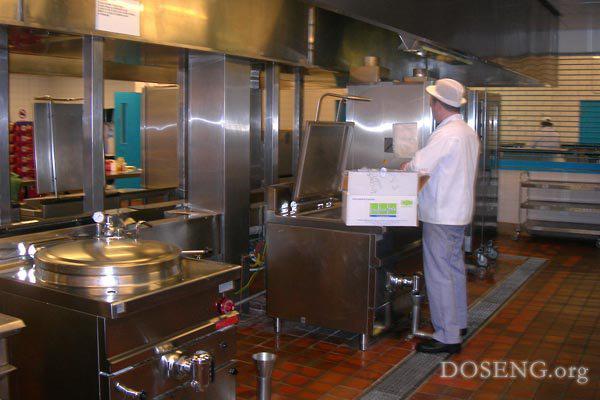 On the power of the state prisoner released 16 pounds 39 pence (a little more than 800 rubles) per week. It seems a little bit, but by British standards simply negligible. But prison officials buys products wholesale, and a menu that is offered, is no different from the restaurant. A prisoner has the right to choose 2-3 kinds of hot and two kinds of dessert.
I feed me dinner, which put convicted. Since the soup here is unpopular, I was offered the choice of two large sandwich with tuna or meat casserole, besides other additional annexed potato fries, tea or coffee. I tried for polportsii both - not only satisfying but also very tasty. Menu different every week, daily fresh fruit, desserts (pies, cakes, ice cream).
Here is a sample menu. Cornflakes with milk and toast for breakfast. At lunch meat casserole in a rural or pasta with cheese and onions, or fried potatoes with chicken steak with spicy mayonnaise sauce. Garnish all the same - boiled vegetables. Snack: cherry cupcake. For dinner served chicken breast with onions and peppers or grilled fish or ham salad or stuffed beef. As a garnish - fried potatoes and beans, for dessert, you can choose an apple pie with cream sauce or fresh fruit.
Talk with your family or friends on the phone booth can be daily, write and receive letters - at least every day. Due to the prison you can send one email a week, while others have to pay. Only one out of ten "outgoing" reads the letter inspection, total censorship of letters there.
In the week of the prisoners who work are paid 20 pounds, their home and send the money (70 pounds) are permitted to spend on food, personal hygiene items, cosmetics, telephone. Money in the hands of the prisoners, and there can not be, sent to relatives and salary bills introduced in the special account, like a bank. Like all behind bars, a waste of money ceases to be a private matter, it should be controlled.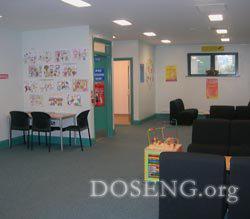 The bright rooms and drawings on the walls have been associated with a kindergarten. Interestingly, the guards Haydbenk Wood believe that their wards are not far removed in the development of children.
You can finally finish school, go to college, the university and, theoretically, even in graduate school. "Advanced" exemplary behavior of students are willing to carry beyond the perimeter of classes at the university. Twelve teachers work directly with the prison. Sport daily, for two and a half hours. Foreigners (koi are mostly immigrants from the Baltic states) offer free English language course. Only four of the eleven current residents agreed to acquire new knowledge.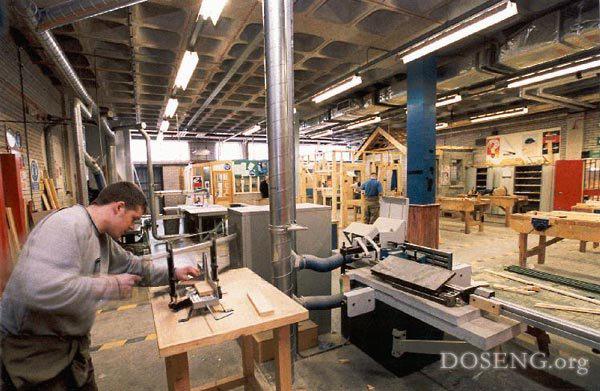 One of the application areas of prison education - courses, ending that convicts receive a state certificate (diploma) in the field of cooking, hairdressing, crafts, painting, practical psychology. The walls of many rooms decorated with paintings by students, will depart regularly on fashion handbags, leather belts, stuffed animals. Prison art is a combination of sentiment and conservatism. Strange phenomenon: performing any work on the model, the prisoners, even in the little things do not want to deviate from the original. In Haydbenk Wood 20 years sew cushions in the form of heart. Changing teachers, changing and prisoners, but the last with a strange obstinacy refuse to sew other things, change the color, shape or size of their works.
In Haydbenk Woods no TB patients, HIV or other serious diseases. For Russian prisons is fantastic! However, the medical isolator always ready. He mainly plays the role of clinics - here regularly check the health of prisoners, kept their cards, implement preventive measures. This year, for example, developing a pattern of behavior in case of "bird flu". Five days a week, opened his own dental office. In severe cases, the patient being taken to the hospital a normal hospital.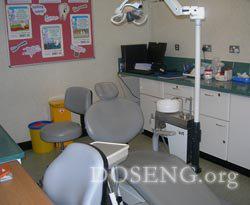 Suicides in the prison there. Probably because, noticing signs of depression at the prisoner, the warden shall immediately inform the authorities. Not to the extent of sad man examining doctor, and sometimes make a decision to place him in the detention center, where the regime is easier, chambers are large and bright, has a private garden, designed in the English style.
Female and male contingent is actively helping the sick "perimeter." Last year alone, knitting scarves, manufacture of leather belts and bags earned and transferred to the center for training guide dogs for the blind 1000 pounds. 250 pounds of homemade greeting cards sent to the fight against cancer, a thousand of garden work transferred to the fund to combat AIDS women.
By our standards Haydbenk Wood - a heavenly place, a kindergarten for adults. Not for those who are sitting there. They are like little - because their freedom is restricted. It's kind of gilded cage for the birds: beautiful, but not to be envied.