For a pop star paparazzi hunt long and not without success. After reports that Spears has lost mother's rights to bring up their sons Sean Preston and Jaidev James, who went in favor of her ex-husband Kevin Federline, reporters once again began to hunt for Britney.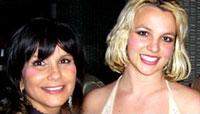 About 16 hours a singer through the backdoor left a recording studio Sunset, until 40 photographers waiting for her exit from the main entrance. Once the white convertible Spears started, but has not yet had time to go to Melrose Avenue, the pursuit began. Paparazzi drove through a red light and scare passers-by on the pedestrian "zebra". Britney parked his car at the store. Administration of Crazy Pink Shop immediately closed the door on reporters and put guards. Later, the singer came out under police escort.
Yesterday in the local mass media headlines appeared that after a long period of cooling in relations, Britney reunited with her mother Lynne Spears. "Britney really needs his mom," says the magazine "People". Mother and daughter fell out in June, when Britney wrote her a letter, which fell on the pages of the press. In it the singer urged his mother to stay away from the grandchildren. At the airport, Lynne Spears met reporters. She said: "I love my daughter." On Saturday, the mother along with his other daughter visited Britney at her villa in Beverly Hills. By evening, the whole family moved to a new house in Malibu singer.
According to the British tabloid "Sun", the pop star met there with his sons. Late at night the two sisters saw Spears in the car at one of the cafes for motorists. Through half-closed side window singer trying to make an order for his sister. Lady, take orders, could not understand it and pointed to the menu hanging outside. Britney and Jamie giggled incessantly. Asked by a reporter how soon Britney will return to the children, the singer said: "I am to them for a long time back, darling!»
Source:
* Www.dailyshow.ru *