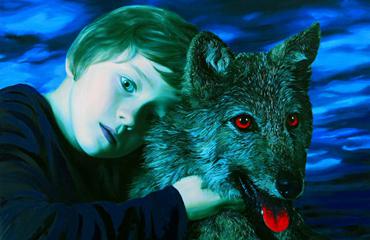 The story of the girl-wolf of Midnapur was first recorded gullible American Dr. Gesell and published by the magazine "Harper's Magazine" in 1930. According to Dr. Gesell, he found that far from Midnapur, India, the wolf took the education of a human child, and sheltered him in his lair.
Being a meticulous researcher, Gesell did not leave without attention to any details. He tearfully told readers that in the wolf den was no furniture, no books, no carpets, no dishes, and that good manners at the table completely absent. To enlighten the reader about the lack of culture in the Wolf's Lair, the author talked about leaving the child has learned, picking up food by mouth and chat while munching ugly. The child learned to run on all fours, says the enlightened doctor, but was eventually caught by the Reverend Singh from Midnapur and lived in the house until 1929. Every night at ten o'clock in the girl-wolf howling at the moon.
Her death was only physical, because the story itself Kamala, the wolf girls from Midnapur, continued to live.
It was published in the pages of many American and British newspapers, which did not bother to check the most basic facts. All of them believe Dr. Gesell's word.
Unfortunately, the facts refute the story of Kamala. In this part of India has never been a wolf, and the child was not caught the wolf pack, and found asleep at the mound. The whole story of Dr. Gesell's far-fetched, especially when he says that all this happened in tiger-infested jungles of northwestern India. In fact Midnapur located in the opposite part of the country, just seventy miles from Calcutta.
Kamala, the wolf girl, apparently, was just thrown the baby, but it should also have at least a drop of reason, before writing an article in a magazine, without checking the scene on the map.
A source