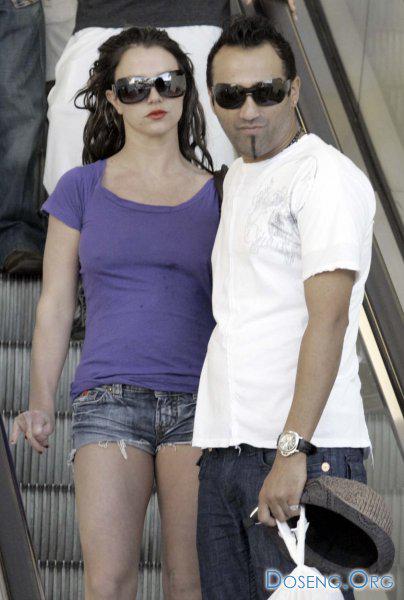 Britney Spears threatened to commit suicide if the parents try to send her for psychiatric treatment, the newspaper Daily Mail.
This warning 26-year-old singer expressed in a telephone conversation with his friend last week. Talking on a cell phone, she drove. "They will not send me to a psychiatric hospital! See? Once again, I drove through a red light. Look what you did to me. I have someone here cripple. I'll kill myself before they will lock me again. So give this to Mom and Dad, "- said Britney.
In recent days, Britney continues to amaze his unpredictable behavior. Over the weekend in the company of his new friend, the paparazzi she decided to take a stroll in the old wedding dress she wore when she married Kevin Federline.
They say that after a two-week romance with Ghalib, Britney is ready to marry him, and even to convert to Islam. "We care about each other. He is the only one who understands me. This is serious, "- she said in a conversation.
Meanwhile, a source close to the Birmingham-born Ghalib painted a very different picture of their relationship: "He (Ghalib) said he found a gold mine and is going to keep it as long as possible. He just wanted to get closer, to make exclusive photos. But he does not dare to even raise the camera, otherwise it will throw it. So he quickly changed his tactics, saying it plans a serious relationship and even marriage. But he is married and can not do anything until they divorced. Perhaps he has already engaged in this ».
It is also claimed that during the affair with Britney Ghalib met in parallel with another woman, some Jessica Dwyer, which is filled with love messages.
A single mother, Jessica said: "My advice to Britney - run away like mad, because Adnan deceiver and a liar and break her heart forever destroy. It is no exaggeration to say that he is the most dangerous, the most evil man I have ever met. He vlyublinet a women, and when they no longer needed him, throws ».
According to Jessica, she met Ghalib in New Orleans in November 2006. But then she came to him in Los Angeles and saw that he was addicted to Britney. "He said," My God, what is it delicious, what her ass and she'll make me rich. " And so I could barely put up with his wife, but when we were four, I was gone, "- says Jessica.
A source