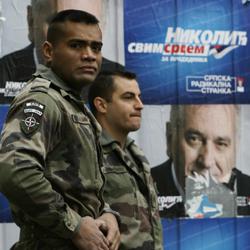 The world's media is not the first year actively seeking options for decoupling the Kosovo stories, look out for loopholes in international law. Appeals to the self-determination of the nation to democratic freedoms. Squeeze out a tear, telling about the atrocities of the Serbs and the unfair treatment of the long-suffering Albanians. The strange thing is that almost no one focuses on the obvious, it would seem, on the surface, namely, the strategic interests of the US in Europe.
So, get acquainted - "Bondsteel". It is the largest American military base in Europe. The most equipped and most closed. On the "Bondsteel", that takes place in and around it, the press knows very little.
Territory "Bondsteel" - is the whole state. Shops where products come directly from the US, cinema, library, its wireless internet network, apartment buildings, hotels, bars, gyms, swimming pool, garage, repair shops and much more. In general, there are so many thousands to the American military contingent lived at home. This, of course, not counting the large number of military vehicles, airfields, training range. It's obvious that the Americans, his arrival in 1999 to save Kosovo Albanians from Serbian genocide settled here a good long time.
But the biggest mystery associated with the "Bondsteel", shrouded in all that relates to the production of a mythical, supposedly an established at the base. It was possible to find out a little bit - Albanians from neighboring villages, with some clearly frightened and reluctant to talk about it. We know for sure that all able-bodied Albanians tend to hook or by crook to get a job at the base. It is said that there is even a competition for employment, and the competition, as they say, rabid. This is not only and not so much wages as the prospect obtain a residence permit in the United States just two years continuous "time" on the basis of work.
Why would Americans so easily distribute eligible for citizenship? It is known also that the procedure for obtaining a green card can last for many years if you stay in the United States. Apparently, this is such a payment for his silence, and silent, seems to have something.
In Italy and then organize mass protests demanding the withdrawal of US bases from the territory of the country. With the deployment of missile defense in Poland and the Czech Republic, too, not everything is running smoothly. But even in Kosovo do not have to convince anyone - come, post install. You do not have anything against the fact that not say, on the contrary - will be a hero, to fulfill any condition, and even every day to say thank you to be.