Asus has demonstrated a mini-computer with dimensions of 29x20x8 centimeters and a weight of 3, 4 kilograms, reports DailyTech. The manufacturer claims that Essentio CS5110 is the smallest desktop PC in the world. Dimensions of the computer a little bit higher than the size of two stacked bricks.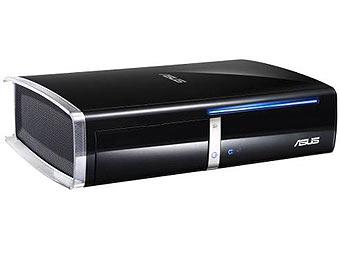 The main purpose of Essentio CS5110 - work with HD-video. To do this, your computer is equipped with optsialno drive Blu-Ray, instead of classical DVD. To connect high-definition television in Essentio CS5110 provides HDMI-port. Viewing of qualitative video is promoted by support for multi-channel sound.
The computer is based on chipset Intel G35. Depending on the configuration, in the CS5110, can be installed Processor Intel Core2 Duo, Pentium Dual-Core, Pentium 4 or Celeron D. The maximum amount of RAM your computer is four gigabyte hard drive - one terabyte. As the graphics used GeForce 8600M GT with 256 MB of memory.
In addition, the Asus Essentio CS5110 there are modules Wi-Fi 802.11b / g / n and Bluetooth 2.0.
Date of commencement of sales of the device and its cost is not disclosed.