Russia cancels visas for
English fans who bought
tickets for the Champions League final
between "Chelsea" and "Manchester United».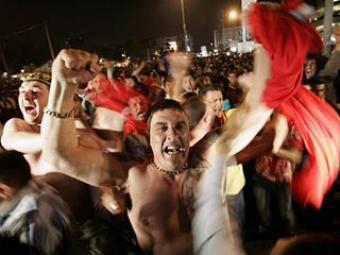 Russia cancels visas for English fans who bought tickets for the Champions League final between the "Chelsea" and "Manchester United", which will be held May 21 in Moscow at stadium "Luzhniki". It is reported by Reuters, citing a statement by the organizers of the corresponding match.
"Fans will be able to travel to Russia without a visa - a ticket to the match. This is an unprecedented decision by the Russian authorities ", - said Alexei Sorokin, the agency in charge of preparations for the match.
It is expected that the match in Moscow will visit more than forty thousand British football fans, famous throughout the world for his temper. Each of the clubs in the Champions League finalists were granted 21 000 tickets.
Preparations for the finals has been going on for two years. The organizers have prepared a number of facilities for the English guests. Thus, the three Moscow airports to the stadium, as well as in the opposite direction, the fans will deliver 700 buses.
Previously, the limit visa facilitation informed Mayor Yuri Luzhkov, but then the Russian Foreign Ministry refuted the statement of the mayor of Moscow, and questioned the appropriateness of such a step. The Department of Information and Press of the Russian Foreign Ministry then announced that British fans will still have to obtain Russian visas.