85-year-old former scout came to meet with brother, and his inebriated, robbed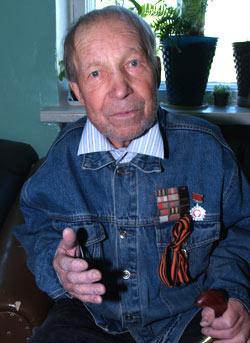 Previously, the regimental intelligence officer 328 Regiment 68th Guards Division, a veteran of the Great Patriotic War, from Ekaterinburg Peter Popov trip to Moscow was a cakewalk. But the years take their toll. Health is not something. Now the former intelligence officer for 85 ...
But how can you stay at home, when in May and again on the eve of the Victory Day? When you do not miss a lifetime of any one meeting with brother? I flew at this time. May 5 was already in the capital.
In Moscow, a veteran disaster struck.
This body of Peter N. aging. The soul is still - as in 16. In the area of ​​three stations came up to him unknown. Proposed a toast "for the victory." How not to drink? ..
 - I'm 45 years old do not smoke, but from wine glasses never refuse - guiltily says Popov.
What happened next, the veteran remembers. From his trouser pocket disappeared 3,000 rubles, with a jacket disappeared Service Ribbon.
But the veteran adventure is not over. Petr Popov woke up, began was to find out where in Moscow are going to all veterans. Getting lost. As a result, he slipped and fell.
Good people to cause "fast". ... Medics took him to a psychiatric hospital. Because Popov hard of hearing and could not explain who he is.
There we found him.
 - Come and Take - offered doctors - it is not our 'client'. The friendly and helpful grandfather, but his bad memory. Just do not release - again lost.
Pyotr Popov was released on receipt of our correspondent.
 - I served as the regimental intelligence officer, dragged across the front of languages ​​- told us Petr Popov - Germans, Romanians, Hungarians. What exactly did not even remember. We sometimes their entire platoons took! And what to do now, I'll never know.
We caught up with the City of Moscow. A dozen or so calls - and Peter Popov officials booked a private room in a hotel. The house veterans were given food stamps.
 - I just want to go to the Poklonnaya Hill - told us goodbye Petr Popov. - Perhaps one of the still-living comrades meeting - a glass of drink with them ... But now I will be careful, of course. On the parade still would like to, but after all there are not allowed.
Lost the second time the veteran will not give. City Hall officials promised to take care of Pyotr Nikolayevich while staying in the capital. In addition, contact with his family in Yekaterinburg.
Alexander Boiko, KP.RU - 08.05.2008