The next generation of Windows
relieve users from the mouse.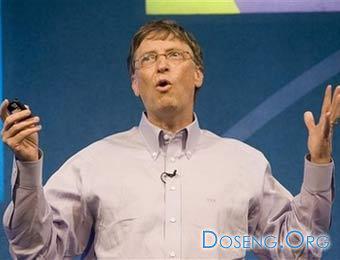 Microsoft has decided to radically change the usual way of interaction of the user with a personal computer. At a conference in San Diego (CA), the permanent director and founding father of the software giant Bill Gates talked about some fundamentally new features of the upcoming operating system Windows 7.
In particular, participants of the event demonstrated the multifunctional "touch-screen» (touch-screen) - the screen responds to touch. With its help in the upcoming operating system will be controlled by the fingers literally everything that happens on the screen (this is now used primarily for the manipulator of the "mouse").
The user, for example, will be able to draw on the screen with your finger, zoom and flip the finger image, move objects, and more, that he is currently doing with the keyboard and mouse. It is expected that the need for the mouse, as such hereinafter generally unnecessary. "Your way to interact with the system will change dramatically," - Bill Gates promised, presenting a novelty.
Microsoft provides a touch-screen technology is much more advanced compared to those used in standard PDAs with a stylus. Compare it can be except that the touch screen used by Apple - the main competitor of Microsoft - in the popular smartphone iPhone. However, at the level of a personal computer or laptop such a principle has not yet been implemented, the Corporation Bill Gates is going to be a pioneer in this field.
Waiting for the Revolution, about which so much said Bill Gates, in general, it has little time - the release of Windows 7, which does not replace the most successful Windows Vista, scheduled for late 2009 - early 2010. In the meantime, we can only guess how the application will be fit reality.
It should be noted that the industry analysts, commenting on the new product, expressed cautious optimism. So, Jamie Collins Bichinor of Electric Pig notes that Microsoft is very time picked up the trend we've tested Apple. However, the main issue remaining after the presentation is a way to implement that the software giant will to this new technology, and how well it is done. After the unsuccessful Vista, which came more than a year ago to replace Windows XP, for Microsoft is now crucial issue debugged next generation operating system that will return the user confidence in the new products of the company.