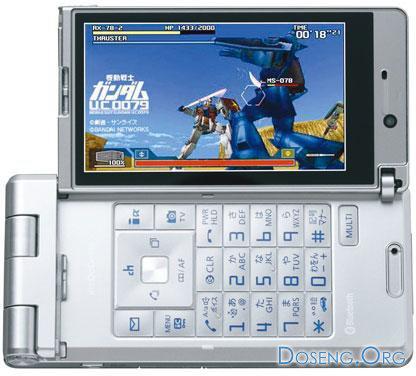 Mobile phone P906i, manufactured by Panasonic, which was presented a few days ago the Japanese operator NTT DoCoMo in the framework of the presentation 906i series of mobile phones, is essentially an updated version of the previous model - P905i in a similar form-factor, where the disclosure of the phone was possible in two planes .
And upright disclosure phone might automatically.
Additional updates which underwent P906i compared P905i manufacturer notes the presence of a new display, which was twice the contrast (4000: 1), the playback speed television increased from 15 to 30 frames / sec., And was an opportunity to record them. In addition, the 5.1 megapixel camera with autofocus acquired AntiShake system and automatic determination of up to 5 faces in a frame with auto focus on them, which also added points of the images as compared with the same P905i.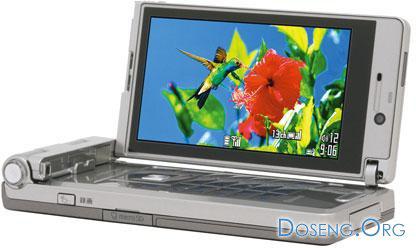 P906i has audio / video output for connecting to external displays and televisions, support of wireless technology Bluetooth, and a standard for the entire series 906sh support for 3G / GSM roaming, GPS navigation, high-speed data transmission technology HSDPA, possibility of receiving digital mobile TV programs «One- segment », service« 2in1 »(two phones), wireless payment systems DCMX (credit card) and iD (credit payment), features text-to-voice for Chinese, Japanese and English.
As a biometric authentication system is used check face of the phone owner.

Brief specifications Foma P906i:
Dimensions: 108h50h17 4 mm
Weight: 123 gr.
The duration of standby time: 580 hours (3G) / 260 hours (GSM)
Running time during a conversation: 200 minutes (3G) / 190 minutes (GSM)
Running time during video calls: about 110 minutes
The duration of the work while listening to music: about 54 hours (WMA files) / 76 hours (SD Audio)
Main display: 3, 1-inch wide VGA (480x854) LPTS TFT, displaying more than 262 thousand.
Colors External display: size 0, 9-inches with a resolution 128h36 points, monochrome OLED.
External Memory: microSD / micro SDHC memory card
Main camera: 5.1 megapixel (effective - 5 MP), CMOS auto focus
Camera for video calls: 0, 33 MP (KP 310 - effective)