June 7 night, was tragically killed the son of Alexander Domogarova.
On Friday evening, the street Dubninskaya driver of the car "Hyundai»
I lost control and flew into the side of the road. Jeep several times
overturned, resulting in seriously injured six people.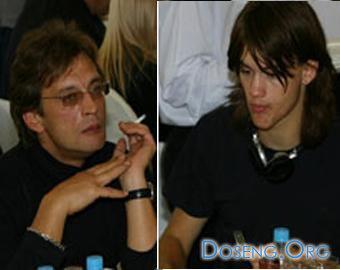 One victim was unconscious. Later it turned out that the young man is the son of Alexander Domogarova from his first marriage.
23-year-old Dmitri was in serious condition, and the doctors of "first aid" have decided to urgently take him to the nearest clinic. In the fourth city hospital where they brought Dmitry, it turned out that he had fractured the base of the cranial vault and intracerebral hematoma. The victim required emergency surgery.
"We have no neurosurgeons in the state, so it was decided to transfer him to another hospital - said one of the hospital doctors.
In the fourth hospital doctors registered Domogarovu broken vertebrae and a coach "ambulance" was transferred to a specialized clinic. In the second half of the night, doctors thirty-sixth Moscow hospital has operated Dmitry. The operation was performed the best neurosurgeons. Some experts have even been called from home to work, to save the life of his son Alexander Domogarova.
"His body was almost no damage - said the doctor. - However, a fateful role played by severe traumatic brain injury & quot ;.
Dmitry died on the operating table.