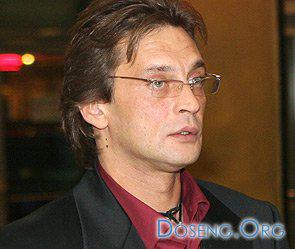 Last weekend, the eldest son died actor Alexander Domogarova. On Monday the funeral of 23-year-old Dmitry, who died from injuries received in a car accident.
The tragedy occurred on Friday night. On a wet road after rain one of the drivers lost control. Taking off the pavement machine literally covered a group of young people. Brunt Dmitry Domogarova, he was seriously injured. Other guys alive.
"From the open craniocerebral injury he died on Saturday night - said the hospital №36, which brought Domogarova. - The doctors did everything they could, but the damage was too severe. He had a broken nose and frontal bone ».
The father of a young man to hold his son on his last journey can not, write "New news". - He went on tour to Israel and may appear in the capital only on the ninth day after the death of his son. Care of the funeral arrangements are borne by the mother of Natalia Dmitry Saghoyan.
"Due to life circumstances, we did not communicate with either Natalie or Dima - on the phone said Alexander Domogarov. - I am now very difficult ».
On the question of whether he will fly to the funeral, the actor replied: "I will do my best to get to them ... If it does not - and will in fact 9 days ...»
"For us this is a huge mountain, - says Dmitry mother Natalia Saghoyan. - We can no longer say anything ».
The guy never showed off his eminent father. He recently graduated from the Moscow State University of Economics, Statistics and Informatics, worked in a bank. As they say, Dmitry friends in August he was going to marry his girlfriend.
According to "Komsomolskaya Pravda" Dmitry brought his mom. Alexander Domogarov left the family when the first-born was only a year. Relations with the family first actor is not supported, the more quickly in Domogarova married to actress Irina Gunenkovoy had another son, Alexander, who is now 19 years old.
* Pv days *