In the Dagestani town of Derbent during a shootout between police and militants came under fire from passers-by. Murdered woman, a child and a policeman.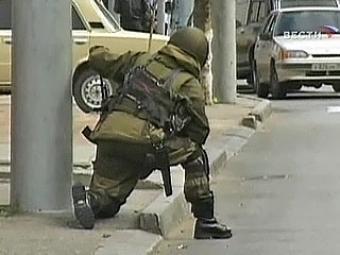 As reported by "Interfax" the press service of the Interior Ministry of Dagestan, a skirmish occurred between police officers and a group of criminals. As a result, they killed two members of an illegal armed group.
The duty of the Derbent city police department earlier said that a group of militants was blocked in a private house on the street Mamedbekova. On offer to surrender they returned fire.
According to other reports from law enforcement agencies, the bandits were blocked in a private house on the street International and armed resistance. Trying to escape, they ran into the street and opened fire, which resulted in was fatally wounded woman, a child and a policeman. Soldiers of special forces and police return fire killed two militants, according to "News».
According to preliminary information, the two gunmen may have been involved in the commission of a number of terrorist crimes on the territory of Dagestan. These data are checked.
According to recent reports, the militants killed were residents of Derbent, cousins ​​and Mansour Haji Velibekovy. According to operative data, they were active accomplices of the militants.
The active phase of the special operation is over, a place belonging to the militants seized a Kalashnikov rifle, a TT pistol and a Makarov pistol. On-site work by investigators.