From the memoirs of George Vasilyevich Prusakova, sanitation 100- th separate ski battalion.
Our battalion was mixed, half working, half youth.
Then I worked at the Central Institute of boiler and turbine, here, across from the Polytechnic Institute.
I was invited to a committee of the Komsomol.
Was there such Celia Donder, secretary of the Komsomol committee, said that organized ski battalion to fight with the White Finns - so it is accepted then to speak, and asked if I wanted to participate.
I accepted immediately ...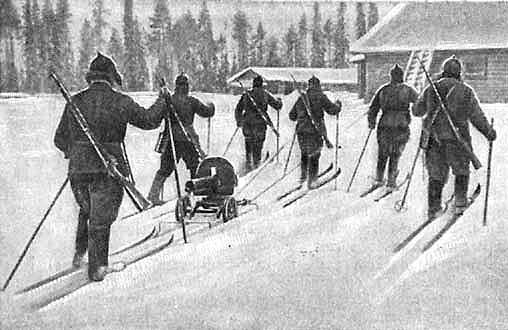 And we turned on the boiler and turbine of the institute, I Kohl Ryabinin, Boris Deurin not come back, by the way, from the war - it is not clear what happened to him - went missing, and Vasily Sidorin. Yes, we had four guys. And Bob Sidorin was a former student at the School of Artillery Foundry.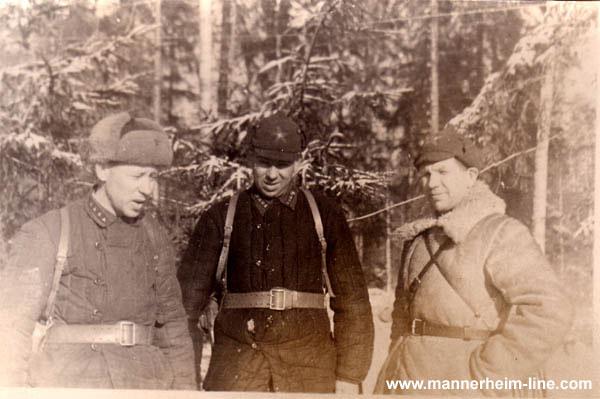 For some reason, perhaps related to his family - the time was something he was demobilized from the army. Briefly speaking, we went. And three - I, Ryabinin and Deurin, were in a battalion, and Bob Sidorin to another, perhaps even one battalion Toivo. A whole battalion had a dozen, probably. Naturally, the number they had and do not correspond to the order. I am a local, St. Petersburg, was born at just 50 meters away, there was a two-storey wooden house. All my life up to the time I spent on the specific, Sosnovka near, and accordingly I owned a nice skiing. By nature was a frail man, and in short, was enrolled in the ski battalion.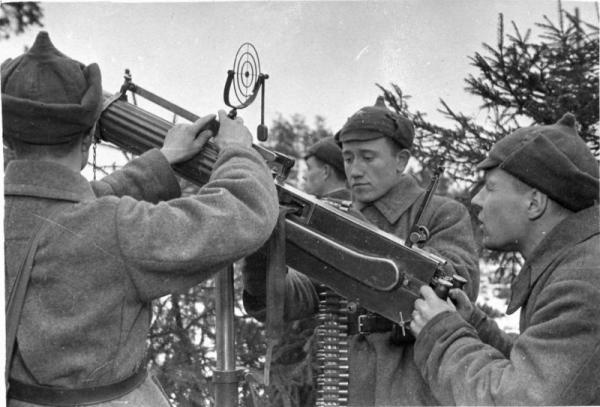 Our battalion was formed on the basis of engineering school, which was stationed while in the Engineers' Castle. Management and classrooms were then Sadovaya, near the cinema, do not know how it is now called, and then he "Forum" was called, like. A barracks, warehouses and all the rest were on site Mikhailovsky Castle. By the way, my bed was located in the former bedroom of the first Paul, where he was strangled, there was a back door. But this is not the case for war. We had theoretical classes, familiarization with weapons. And then we were armed with the latest technology. We have until the squad had TT pistols, then it was still a novelty, compared with revolvers. The rank and file were provided with rifles SVT desyatizaryadnymi, semi-automatic.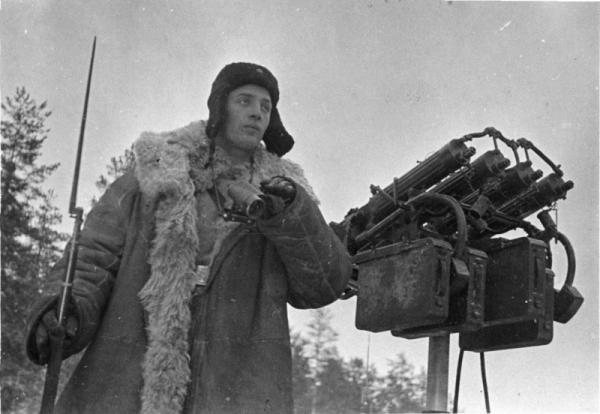 It was first applied to them are not tetrahedral, dagger and bayonet. There were machines PDP without PCA, and PDI, with round discs. There were machine guns, Degtyareva. And there were guns Maxim. There were light mortars, of minimum size. All this was behind or scraper. And the only thing we are doing in the barracks, was familiar with weapons. Disassemble collected. It took probably 60 hours of training. Fire training we had, fire training was on the territory of the Karelian Isthmus, we got there and five days he was shot. Charge, discharge, and so on. But before going to the front left our battalion here, on the specific, in the area of ​​Sosnovka. And there was a kind of military ski training. Constructing, rebuilding, on the ground prepared. That's our whole preparation before going to the front, and then, as I said, we have about a week in the area Raivola practiced shooting.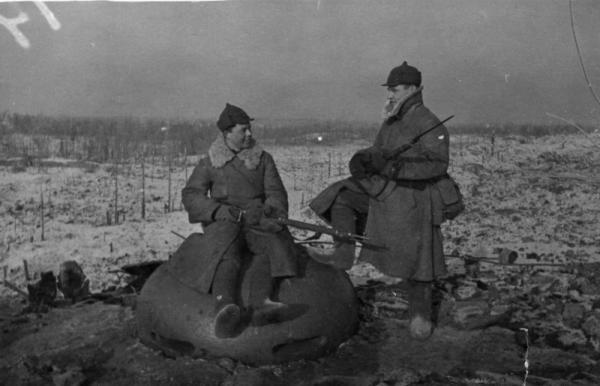 When we formed, I was enrolled in the battalion reconnaissance platoon. And when we went to Sosnovka, in this day, when practiced, I was a scout in the place of sanitation. And why? I had a pre-war dog, a German shepherd. By the way, I have during the war these dogs he trained. In 1933, the year Hitler came to power, our nursery NKVD purchased in Germany, the party dogs. And my father, through a friend who worked in the nursery, in my opinion, in the 33em year and bought a puppy. The girl. Lotta was. Gorgeous, beauty was still tearfully recall. Clever was amazing. And as she grew up, as I was getting older and older, I was in the camp, which is based here in Sosnovka based Osoaviahima camp, then there was Osoviahimovsky camp for periodic replenishment of the practice and knowledge of those who already served service personnel. We collect, how I think, and is now going for the people to remember their specialty. Here in this osoaviahimovskom camp we had a normal life of pioneer, tents were strung as well as all of the camp Osoaviahima. And there we have trained their dogs.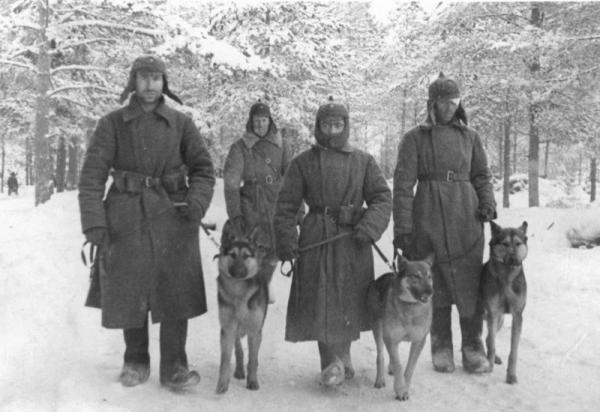 This camp was organized through the club's service dog, which acted as a patron of this summer camp. The dogs were divided into escort-guard, sanitary, then, in my opinion, a patrol and search dogs. And I'm with my dog ​​was in a group of guys to train dogs in the health service. They had two saddle bags across the back with straps and their task was to detect the wounded crawl to them and provide them with the opportunity to take medicines of the bags. Well, that's when we have been training here in Sosnovka, I showed their sanitary knowledge. In the camp, we always practiced all the time - the evacuation from the battlefield, dressings and first aid. And my misfortune, I bandaged the eyes of our chief sansluzhby. And the chief sansluzhby ours was a student, more precisely not a student, and student of the Military Medical Academy, 5th year, in my opinion. Unfortunately, no name, no last name I do not remember it. He saw and asked:
 - You're from a division?
 - Reconnaissance!
 - Well ...
After that, when he returned from Sosnovka, he found me immediately to the battalion commander - give it to me, and it is not necessary to teach. And I was in that same part of the sanitary and sanitary unit have consisted of five members, and the physician sixth, this student of the Military Medical Academy. We had three children from the Institute of Civil Aviation, is also on the Foundry, I fourth, then gave us a personnel officer sergeant medical service of Vsevolozhsk. Andrew Tomb was his name, I remember for a lifetime.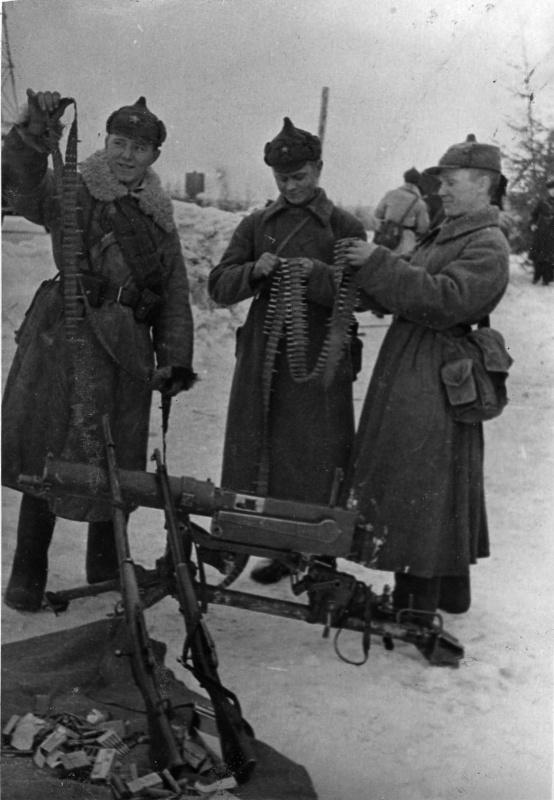 That's all of our medical unit. Four guys volunteer staff employee and physician. Just like everyone else, we were with guns, so we pulled scraper, which dragged the wounded and evacuated. And when we came to Finland, the main type of ambulances we had two wagons - sledge. Our task was to deliver them to the available health services, and there have been evacuations machines and all sorts of other means. Our task was to evacuate the wounded from the battlefield. And imagine what a nurse - in combat formations, while the injured is not around you have no one to help, no one to dress, shoot, if there is anyone to shoot.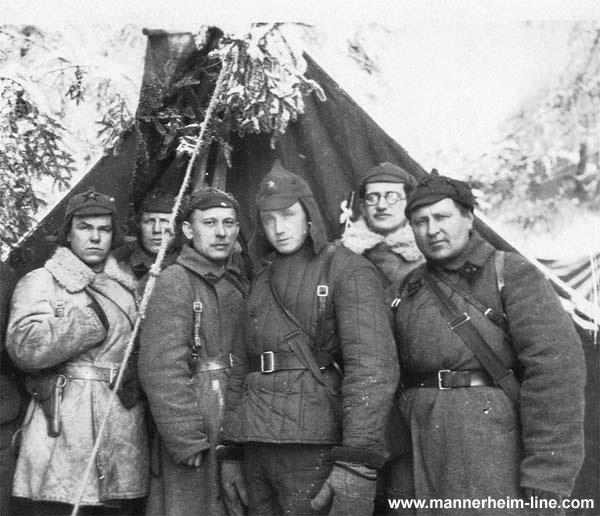 That is the most normal service without any benefits associated with the stay in the rear, right rear, and we do not like this was. I do not know Toivo probably I have said that they have the situation was exactly the same as ours - the Finns, leaving, all burned, were different cellars, on the ruins of post-fire - that this was the place of our overnight stay. That's how we moved from Raivola, the village Vanhasaha. It's not even a village, and hamlet likely - only a few houses, a large, wooden, but the double-decker. It was our home base before the outbreak of hostilities. Then we walked toward the Vyborg Bay and along the coast Nizhnevyborgskogo highway, the railroad was to the right of us.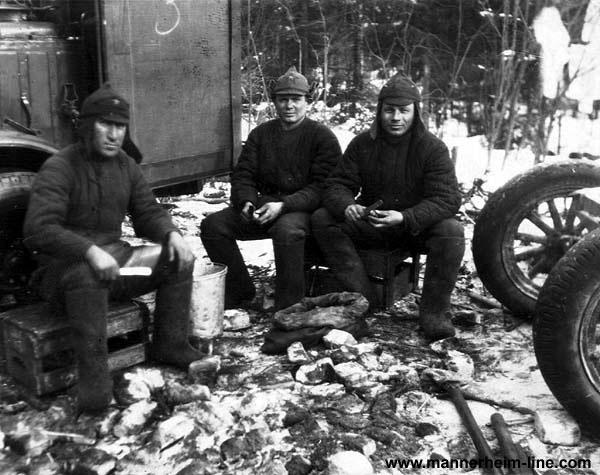 We had special clothes. Alpine costumes for wool batting. Duplex. On the one hand the white camouflage, and on the other side of a dark blue daily - when we did not have to hide, on a march somewhere. White tissue was dense, but soft enough not to tarp. Hoods were snap-appropriate. It was outerwear. Then, boots and boots, and boots are not ordinary, and sewn on special order. Boots provide for the possibility of mounting hardware to the ski bindings. They had an elongated rectangular sock, a welt, so that you can have hooked a heel, slightly inclined, in order to be able to fasten the back belt. Then, on the rise was the strap with a buckle to the foot does not hang out, it was possible to tighten the strap on the rise, and that, too, could be tightened. So much for the boots.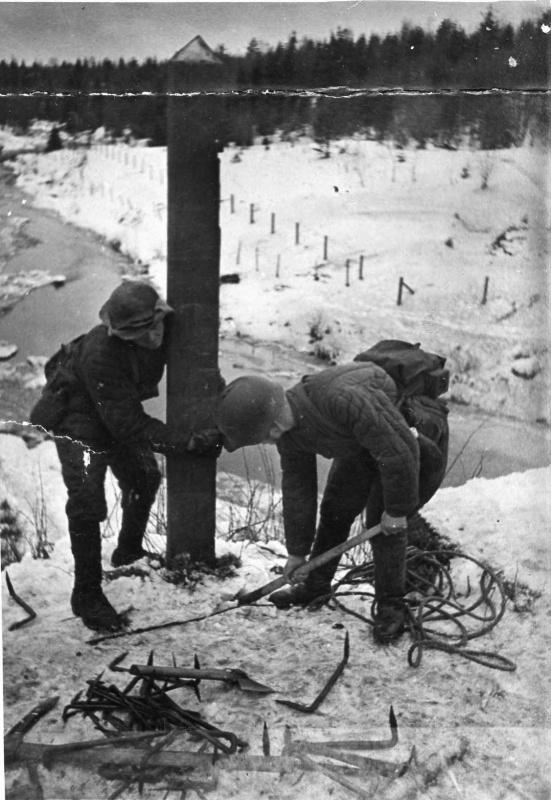 Then issued by two pairs of socks, then some were more than two pairs. Conventional cotton socks and wool socks, and are quite solid, thick, in the boot, too, it was warm. What else? Coat, I told him. Underwear was lower. The costumes were not ski, but the type of ski. Wide trousers with a jumper, and sweatshirts, but it's not really a sweatshirt and shirt, long sleeve knit cuffs, collar such, but short, both of camel's hair. At the head liner knitted, I have recently been moth eaten, I threw it away. Knitted balaclavas, and we, in warm weather, although there was almost no heat - all the time under 40 degrees - they are rolled, and kozyrechek released. Budenovok not. Only balaclava, helmet and hood.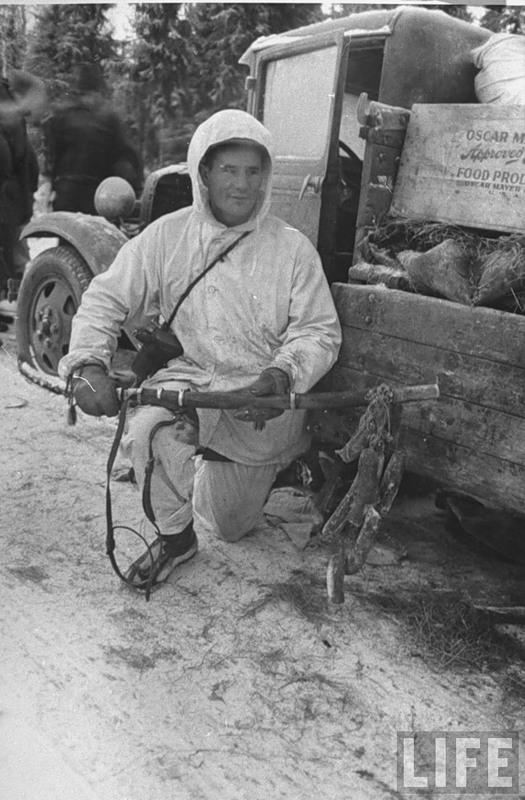 In addition, we had tunic and trousers, like everyone else, shape, after all. Some were buttonholes, I do not remember, did not pay attention. Pouches were in my white, and we have some of their bags were more drives for FEED. On the one and the other side. On two discs breaks. They rolled over the shoulder strap was still not to loose. Grenade bag I had. And the rest were hand grenades bags. Protivogaznye bags were not. We had a normal Sidor. Vatnikov we did not have, cotton suit we had. Helmets were round, usually without scallop. Some helmets were painted white. There were gloves with finger for firing, and gloves. Bottom was thin tarpaulin, and the top brown, hairy. Inside was batting. Commanders had no particular insignia, everyone knew each other in the face, as I recall, were all dressed exactly alike.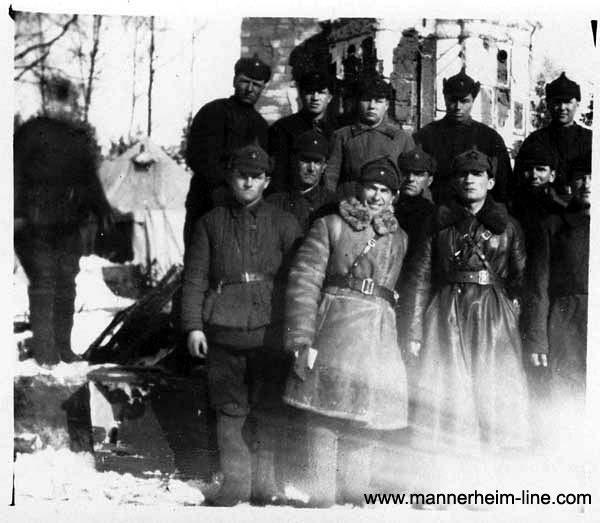 We like the nurses were not dressing with a red cross or any other insignia. But we also had five people, all of us in the battalion knew by sight. The only thing we had - a sanitary bags. However, we were they are usually not cross outwardly and inwardly stitch.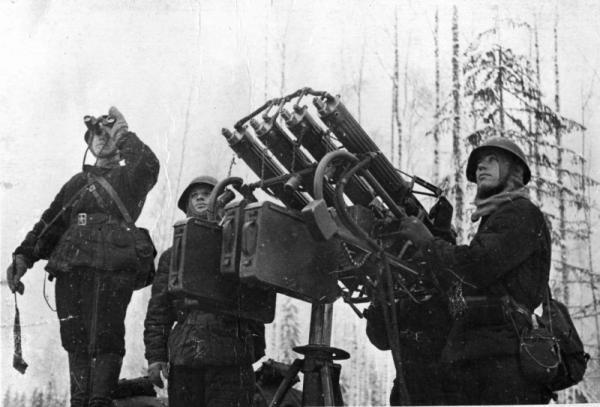 Our battalion was 764. That is about this place, here on the map a group of islands - Esi-Saari, beverage-Saari, Lacy-Saar. So in these islands and we lost people. At this point, we had to deal with a part of the Swedish volunteer corps. Here is exactly what we got. We basically stormed the island at night, and no tanks or something was not like this. While walking along the foreshore were tanks, but not in terms of interaction with them - alas, had seen lined our tanks. By the way, the tanks were still the days before the war - the T-26, betushki. So looking at these machines, unwittingly somehow got the desire - if you have to serve on, anywhere, whatever the infantry, but God forbid in the tank unit. I'm aware that volunteer service only for a while. And what do you think? A year later - the year was given a rest, called me. In April, even three or four days before the birthday did not give to live - and I went not just anywhere, but in the Western Ukraine, in the city of Lviv, only in that it was formed armored division in 32yu. So I end up in armor and served. We interacted with the infantry, but this was not much interaction, as in the Great Patriotic War - the infantry with tanks, infantry and tanks. We mainly act as polurazboynoe division, you know.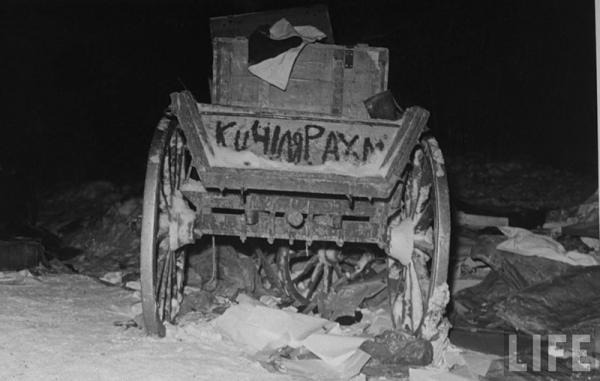 And here in these islands, from 764 people, we lost most people. We returned to 136 people. Of course, some were wounded. Many were frostbitten, although fat goose was against frostbite. And many are guilty, that freezes in the legs - came to a halt, pulled the boots of the haversack, clothe them. No, go boots! So many and frost. The snow melted in kettles, biscuits were were canned, and canned meat were, then what else? Crackers were black. Condensed milk was ours, not American, my dear, sweet. Vodka do not remember. I just do not remember. Because piteyschikom while I was not. We spent the night in different ways. We try to use the conflagration, or rather, the remains of fires, cellar. Part of spruce branches. Sometimes, in windy weather pits dug themselves. Cape we did not, and knapsacks they were in my opinion. Fire is not diluted, it was forbidden us to do.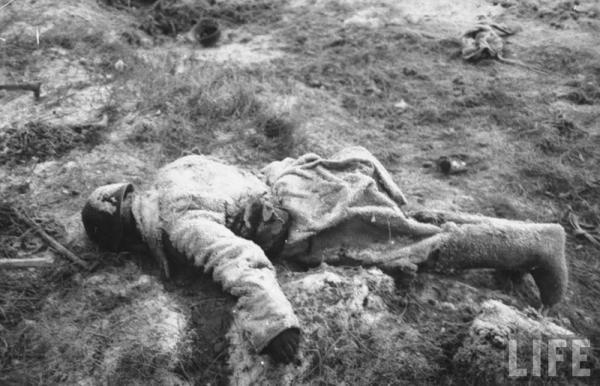 Cuckoos were not many, but they were. And we have not seen on the forehead, and operated from the rear. But I do not know, they were few, and were not decisive. They had a few people. A certain number of people mow them, but they were few. Firstly, they were beaten by those who went ahead, assuming, obviously, that this command structure, then, if they had seen walking with Maxim machine-gun, killed them, and then killed, heavily loaded, with drags. That is, they act selectively, but it was not a mass phenomenon. Regarding the machine Suomi - we do not perceive it as something extraordinary, as we ourselves have been equipped with automatic weapons. CBT, we do not throw discarded, but tried not to acquire them. Machines kept with him, and instead of guns - rifles. If you managed to get a snap, we felt it was a great success - it is convenient. A rifle SVT really breath-taking. Summer - a weapon rather weighty, and in the Finnish war in the cold - not lubricated. All the same, something freezes, some moisture gets there, and neither there nor here - it is self-loading, semi-automatic.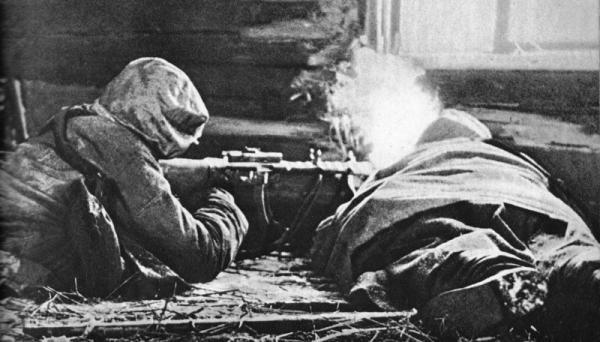 In the battles on the Mannerheim Line, we did not participate, but passed. Directly behind the Mannerheim Line was our village Vanhasaha. What else was there? Vanhaniemi something. Mannerheim Line just broke through, went troops, and we are stuck in this economy. The main fight we had over the island, although we have been involved in the fighting, and on the way there. But in these islands "fortunate" to us. Personally, I did not have any hatred for the Finns. The prisoners? Surrendered themselves, with arms raised, I did not see any. Some of them moved away, those who are unable to move, and there were many broken. Lots and lots. Our laid down there a lot, and them too. Under the coastal artillery fire on the ice, we did not fall, because basically we moved at night. That's when they came to the borders, moving only at night. No war propaganda, I do not remember any leaflets or oral transmission. The political leader, first conducted the relevant work with the Komsomol, but especially in those conditions is not accumulated. Instead Komsomol we had all been members of the Komsomol.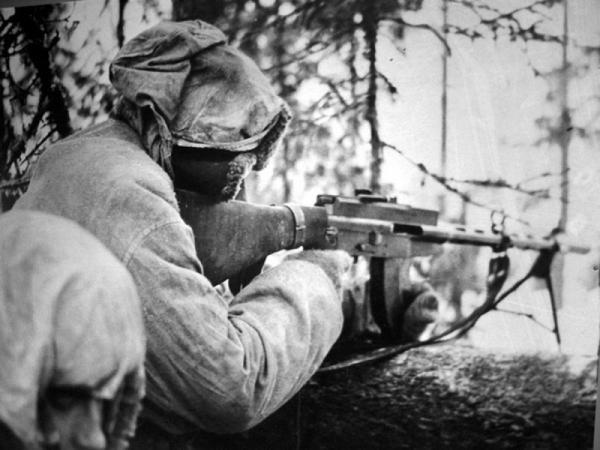 The last days of the war. We already came directly to Vyborg, once gone from these islands. We were already in sight of the city, we have already seen some city buildings on shore. I do not remember the time, I think, early in the morning, but I remember that it was dark. Maybe it was the evening, maybe early in the morning - by department, Chain, staff had a team - at 12 am on March 13 should be a cease-fire. And this morning, the cannonade was - both ours and the Finnish side! They thrashed as they could. At 12 o'clock - a pin drop, it would be heard. Not a single shot. Dead silence. I can not believe that this could be. And then they began to rebound, who started I could throw up. With Finnish soldiers after the armistice volunteers from our battalion met. From our battalion was nothing left - a handful of people and everything. Nearby pieces were, of course - have the front edge. I personally have had some indifferent state. It seems everything was broken, like it was all over. There was some dissatisfaction, and like it should be. Full uncertainty.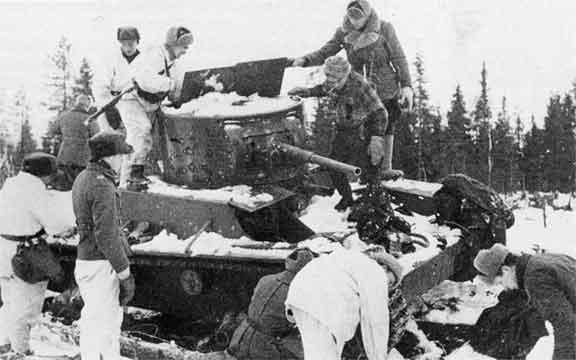 My service as a volunteer has been accounted for military enlistment office - because I was called up to 1940m and was called in 1941 - was a year of delay. But in addition, since returning here, I received a ticket in one of the resorts of Crimea, by the way, there is also met another guy ours wounded. There he was treated. And last month I was there to enjoy the warmth of the Crimea after the winter. During the Finnish War I represented a reward, but it then all poher.
What's the most memorable in the war? Most of all remember the failure of our army, because with such a handful, as a hostile country we have not been able to settle accounts properly and on time. All things were gentlemen, prevention, back and forth. We were shown how to fight. And for us it turned out to be significant battles over the island. However, then, in the Great Patriotic War, Finnish War echoes through, maybe we showed how to fight.
Interviews and processing Bair Irincheev.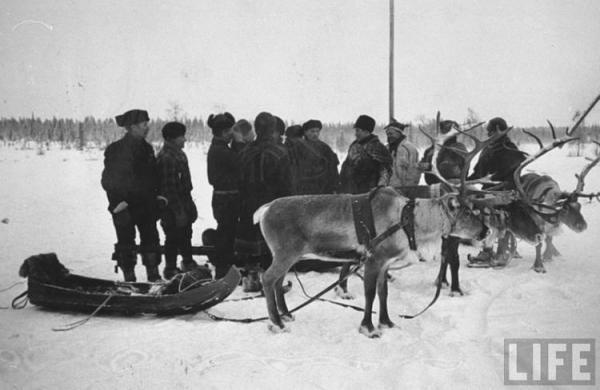 From the memoirs of sergeant Aaro Heikkinen. (Abridged)
Fort Ravansaari located in the northern part of the island of the same name about 12 kilometers south-west of Vyborg. It was the closest to Vyborg fort. Armament of the fort was dvuhpushechny gun platoon of six-inch guns Kane, with a range of 20 kilometers.
I lived with my family - wife and two children - on the island and the fort served as a sergeant. The commandant of the fort at the beginning of the war was Fenrick reserve Hartman and his deputies - Fenrick reserve Panula and Júcar.
Source: