The Peugeot 308 was very elegant and worthy of the grandest premiere was in Paris!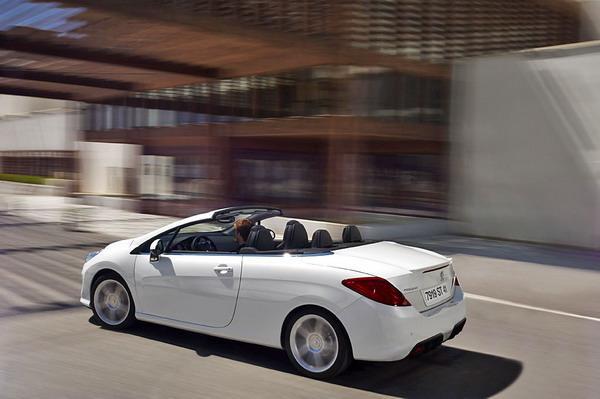 The technology, if it is compared to the "first-born" - model 307 CC, has acquired significant features of their older counterparts - 308th sedans and wagons that are clearly manifested in the front part with a deep cut headlamps and a powerful trapezoid cooler. The tail section, in turn, acquired a brand new LED-optics and excellent door chrome edging.
As for the roof, there is the French left the same concept - steel, capable of being opened automatically close in 20 seconds. Of course at the same time will be lost and useful area of ​​the trunk, which is reduced from 403 to 226 liters, or vice versa (at closing).
Actually plenty of room here, if we take as the standard capacity of a young man and his girlfriend, who left for the wonderful Sunday denёk out of town for a picnic - the most it. The front of the cabin due to the extended wheelbase and a "large" body increased significantly, thus providing more space in the legs. More comfort and promises as well integrated with the front seat heating system air. So in the fall or spring, the most it - jumped and went to open the season Kubrick. The instrument panel is very elegant and includes everything you need - without unnecessary kitsch and blestyashek. Right in the center of the front panel - a big navigation monitor. Under it three chrome "vozdushki" successfully combined with round and elegant with white instruments, as well as the three-spoke steering wheel. Leather shift speeds - aluminum, which is present also in the beadle, doors and a couple of applications. In other words - everything for the people, in a kind of soft and rich style of the brand Peugeot.
Of course, everything here is in their degree pretty safe - a couple of typical Convertible arcs (now triggered using pyrotechnics), a comprehensive system of airbags and ABS system with ESP always protect you from all sorts of emergency situations, of course, if everything is valid within certain limits your drive.
And finally - on the power panel, the new Peugeot 308 CC, which will be represented by two engines - a 150-horsepower 1 6 THP and dvihlitrovym 140-strong turbodiesel. Super drive - provided!
The price - is a word.