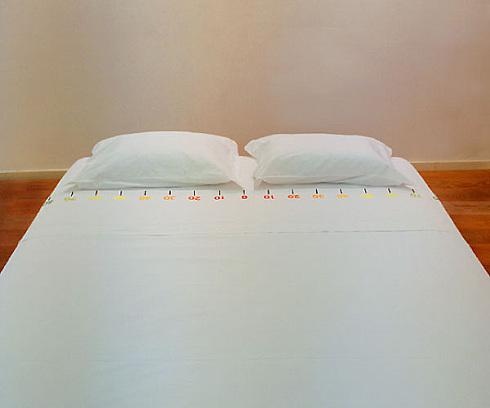 No matter how huge or was married bed, someone still does not have enough space. On one side of the blanket slips, with the help of someone of the spouses, huddling together pillows, eventually the entire soft area possessed one person - the second has to huddle in a narrow corner of conquered territory.
By myself I know how uncomfortable sleep is not by choice huddled in a corner. Not a sigh nor turn over or shifted, settling comfortably ... and show strength of character, and share a common bed for "yours" and "mine" somehow did not have the strength.
Therefore, for us it did the designers. And provide "double" bed linen marking, applied directly to the sheet. Although this layout - not a stone wall which protects the bed of the halves of night attacks, and now share a bedroom airfield will be much easier. While I personally would have preferred a vertical layout. But the designers decided that the vertical "splitter" will look better on a shared matrimonial blanket. Well, well - they are creative people, they know better ...