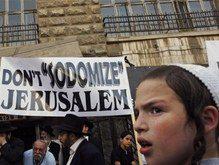 In Israel, a student of the religious institute has been bitten by a snake cock on the night of Saturday in the closet hostel.
Because of the sanctity of the Sabbath, which begins at sunset on Friday and prescribes to refrain from any activity, the light was turned off in the dormitory, which prevented the 25-year-old student to notice the threat.
This was reported by the Israeli newspaper Yedioth Ahronoth.
When a student sat on the toilet in the dark, he felt a slight prick in the area of ​​the perineum. His sexual organ became swollen, and he appealed for help to the rabbi, who called the hostel yeshiva doctor.
The doctor immediately warned the rabbi that, most likely, the housing dormitory snuck a snake, which bit the guy.
The Yeshiva decided not to break the Sabbath by lighting the light and lock the dressing room until the morning.
When in the morning, it was opened, it showed up on the toilet colorful coiled snake, a meter long.
Fortunately, the victim is not the runner poison is deadly. By this time the student has been given the necessary assistance (Poison was rushed to suck nurse Gauvreau - she even got carried away). Well, the snake was caught zmeelovom, and released at a distance from residential areas.
Recall that in May of this year, the Australian was a hair's breadth from death due to similar cases. Mastering need on the roadside, he was bitten by a poisonous snake, too, for the sexual organ.
According to the materials MIGnews