Living in the country Armenians and Azeris threaten his request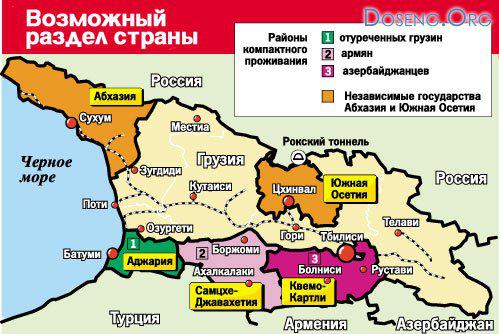 In the Georgian leadership seems to increased headaches. A few days ago about the infringement of the rights claimed by Armenians and Azerbaijanis, living in Georgia historically. Diaspora threatened that if Saakashvili does not remedy the situation, they are willing to raise the issue of the independence of their areas.
At stake - the fate of two quite fatty lumps on the territory of Georgia: the region of Kvemo-Kartli, which have historically lived about half a million Azerbaijanis, and the region of Samtskhe-Javakheti (by the way, famous for its mineral water the town of Borjomi is also included in this area), inhabited by two hundred thousands of Armenians. Both insist that Georgia constantly violates the rights of minorities, including making it impossible to learn in their native language. World Azerbaijanis Congress in the near future is ready to move from words to action and to seek assistance from international organizations. Use national problem to solve their problems can and Armenia. Yerevan long been dissatisfied with the economic relations with Georgia, which is not in favor of Armenia. And, according to some political scientists, the Armenian region of Georgia can become very serious trump card in the negotiations.
It is logical to assume that if the parties fail to agree, after Armenians and Azerbaijanis on independence could put one more region of Georgia - Adjara. This brings to mind one of the prophecies of Vanga, who at the beginning of perestroika the question of Georgian emissaries about the fate of their country said: "Georgia? I do not see such a country ... »
Alex Ovchinnikov