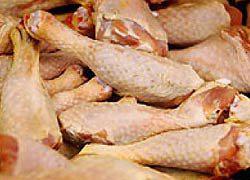 Russia from September 1 2008 excludes 19 US companies from the list of poultry suppliers. The reason - the only economic: quality overseas chickens - beneath criticism. As explained in the Rosselkhoznadzor, "in poultry meat imported from the United States, repeatedly identified the excess of the permitted level of residual amounts of arsenic, salmonella, E. coli and other harmful to human health of micro-organisms." According to the Ministry of Agriculture Alexei Gordeyev, some enterprises do not meet the requirements for ante-mortem inspection of poultry and do not observe the temperature regime in the technological operations of processing poultry.
About break trade relations with suppliers of poultry meat reported earlier, Prime Minister Vladimir Putin. In an interview with CNN, he said that the claim by the Russian health experts are still 29 to the American "chicken" for exporters. If Rosselkhoznadzor does not soon receive information about how the meat could be found arsenic, the production of these 29 companies would also be banned.
Total in Russia supplying poultry 272 American companies. Until now, Russia has been the largest importer of US poultry, the volume of purchases was $ 741, 5 million.
Today the Russian market of poultry meat is 3, 4 million tons ($ 8-8, 5 billion in wholesale prices), of which 2, 1 million tons - domestic production ($ 5, 4 billion in wholesale prices), 1, 3 million tons - imports ($ 2, 5 billion in wholesale prices), 70% of which comes from the United States (about 900 ths. tons, $ 1, 75 billion in wholesale prices). This is a real need in poultry meat in Russia is on the strength of 2, 8 million tons per year, which is already supply exceeds demand.
Therefore, Russian Agriculture Minister Alexei Gordeyev rightly believes that the exclusion from a list of 19 US companies (and, perhaps, another 29 companies) does not affect the internal market of poultry meat in Russia. According to forecasts of the Minister, in 2008, "the volume of production will increase by more than 300 thous. Tonnes compared to 2007". In domestic poultry industry sufficient capacity for growth - it is still holding back the development of the industry is just a cheap US imports.
Russia's decision has sparked strong criticism from the United States. In particular, the rigid position on this issue has taken a candidate for US vice-president of the Democratic Party, Joseph Biden. According to him, Russia has demonstrated its ban its unwillingness to comply with trade rules. According to the head of the Service of Public Relations USDA Chris Connelly, Russia's claims do not meet any standards and policies for food safety United States or the International Standards Organization Codex: «Poultry meat produced under the control of the federal government to provide its security».
Perhaps the American government and controls their chickens, but, as you know, almost 75% of US exports to Russia account for chicken legs, while a meat diet is the domestic market. That is, the Americans are not too favor its frozen-peremorozhennye notorious "Bush legs". But the active marketing of completely useless for health products help to maintain lower prices for chicken meat diet in US stores. Now the Americans are waiting for a growth spurt in prices.
Facts:
In 11 of the 19 indicated in the message of American companies - suppliers of poultry meat, according to the posted on this site FSIS (Safety and Inspection Service Food USDA) register of accredited providers of August 15, has previously had problems with Rosselkhoznadzor - they got permission for delivery to Russia only in 2007-2008.