In the center of Moscow for attempting to hold an unsanctioned "March of Dissent" 31 July 2009 were arrested 47 opposition activists.
In the area came about 70-100 alleged participants in the meeting. Police dispersed the protesters very tough. The audience, many of whom are pensioners, women and adolescents, dragged up the steps to the underground. Also, police officers seized passersby with cameras. According Gazety.ru, all were detained about 40 people. Among them, three correspondent edition. The journalists were detained without explanation. The police said that the submitted documents are not a journalistic identity card.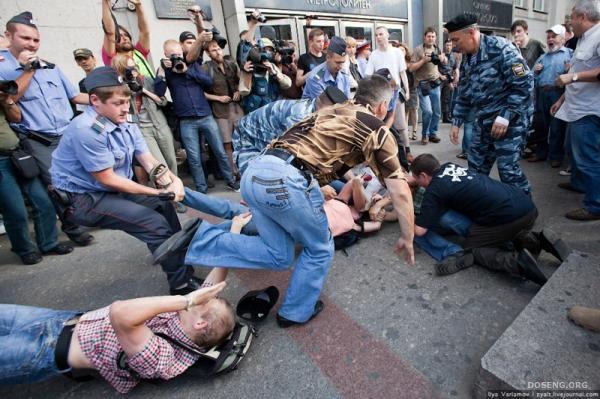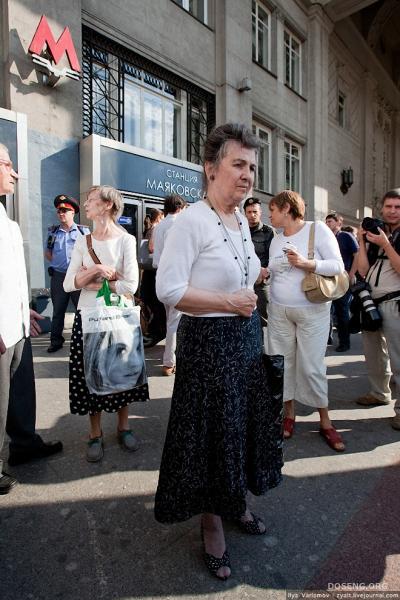 1) As it was stated by 18 people began to gather.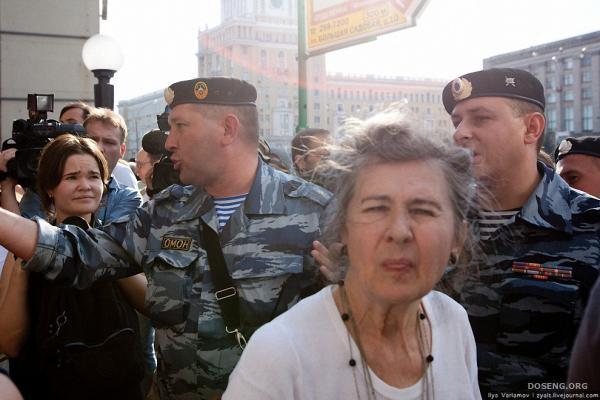 2) riot police were trying to detain them, but at the beginning of the forces were unequal, and very rude with pensioners did not apply.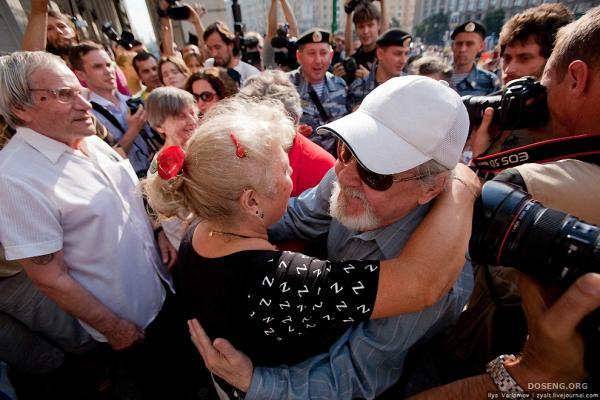 3) The meeting of old friends. Riot police puzzled.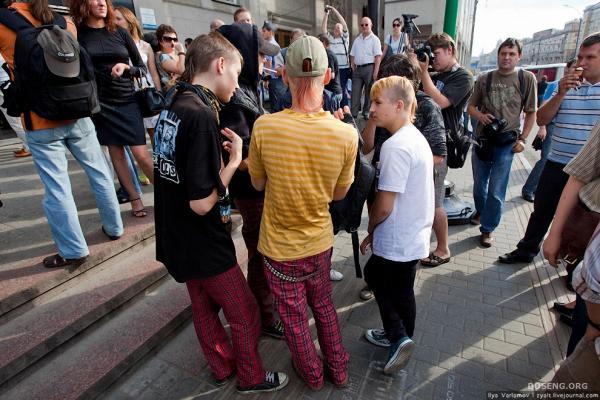 4) Here in the arena were young guys who were getting shaky masks covered their faces with handkerchiefs, generally prepared.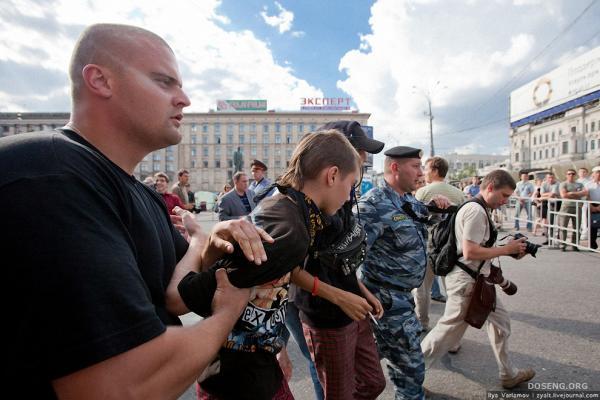 5) Some of them are taken quickly.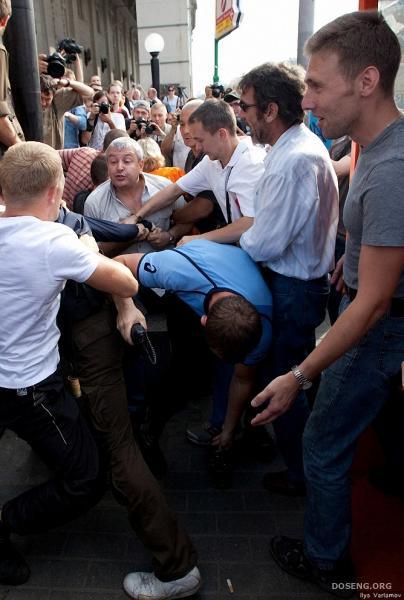 6) Feeling the beginning of the show, police, riot police and plain-clothes officers began to turn the suspicious young men.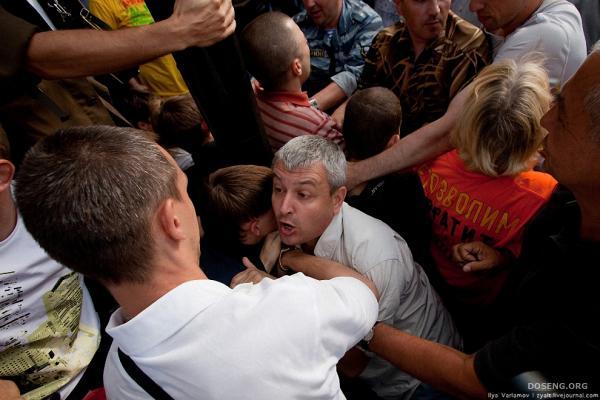 7) The crowd did not give the guys a long time offense.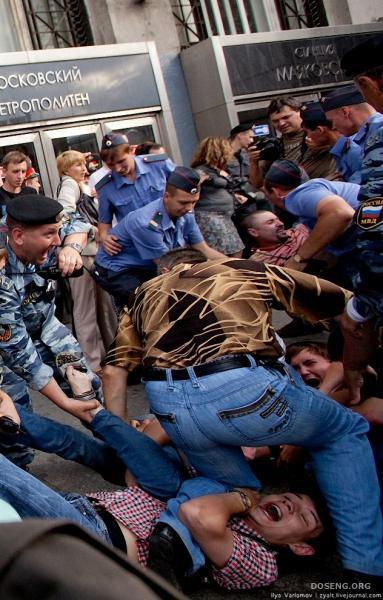 8) All they placed on the ground and tried to drag the cell. Those who disagree fiercely resisted.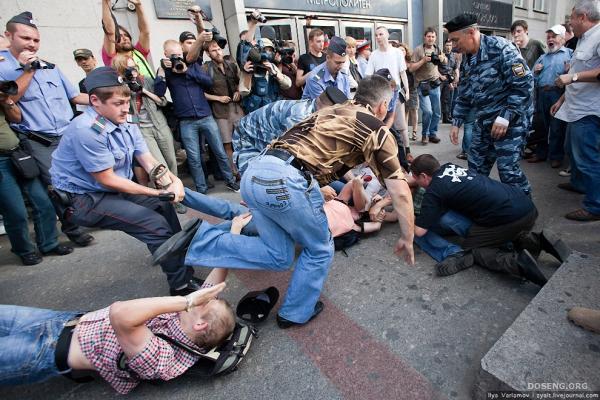 9) Like this all happened.
10) However, as usual, on the one dissenting, 20 photographers.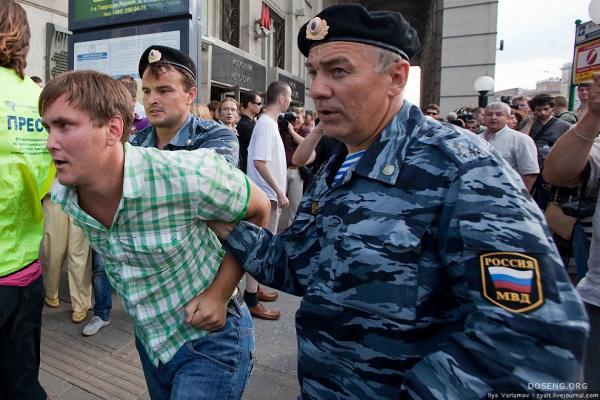 11) leads the SWAT gathered for a rally.
12) At about 18:20 started being rude to photographers.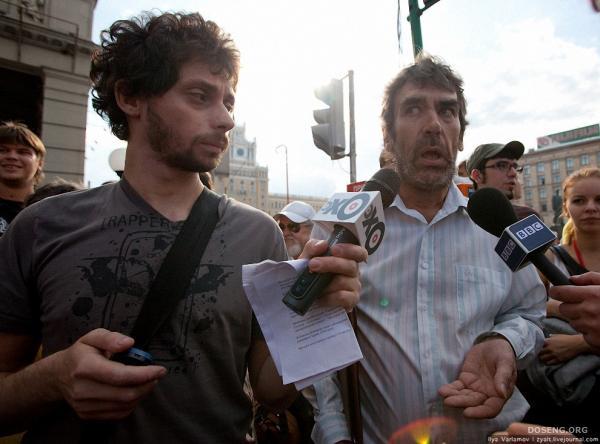 13) Journalists tripped passersby, trying to interview.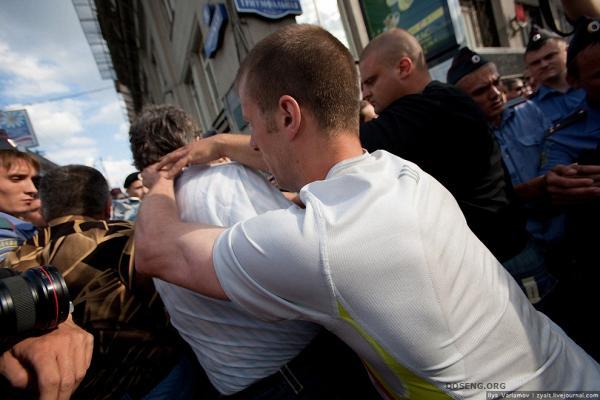 14) Normally, the fifth word talkative passer rigidly threw in a paddy wagon.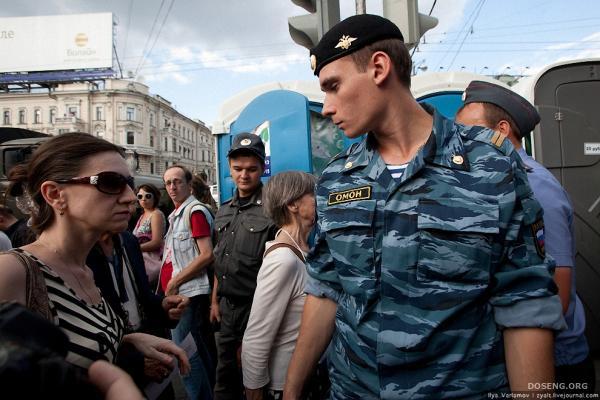 15) A small lull, it's time to make new friends.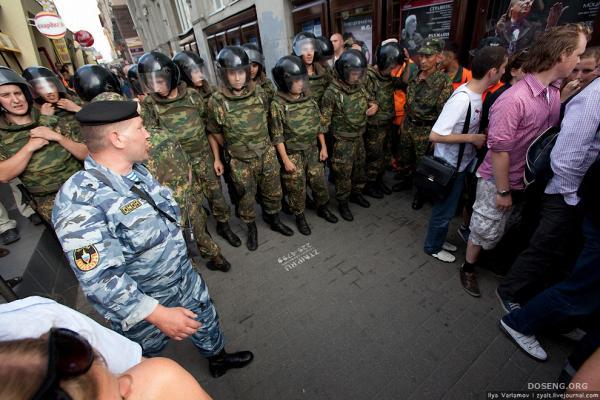 16) In the radio to call for backup, to cram all the press in the subway.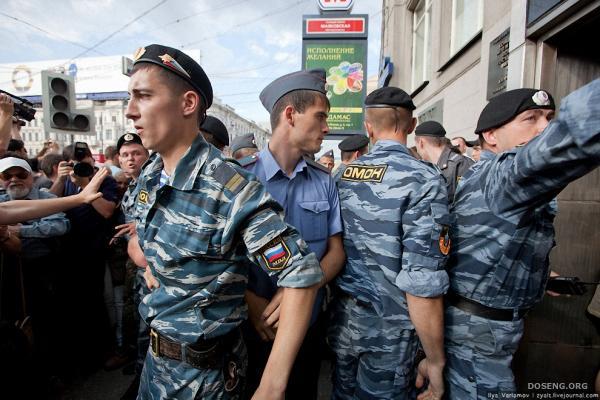 17) SWAT tense.
18) All the fun went into the lobby.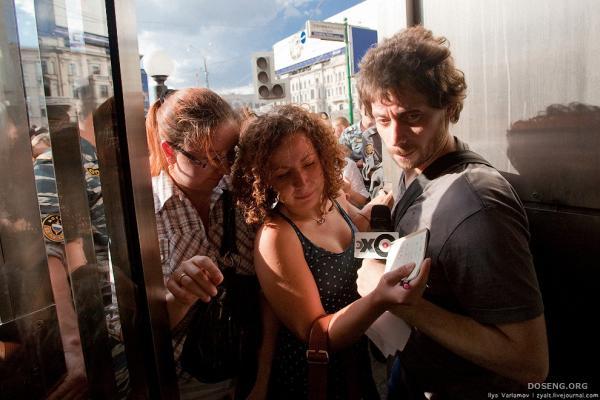 19) Reporters go to the lobby metro.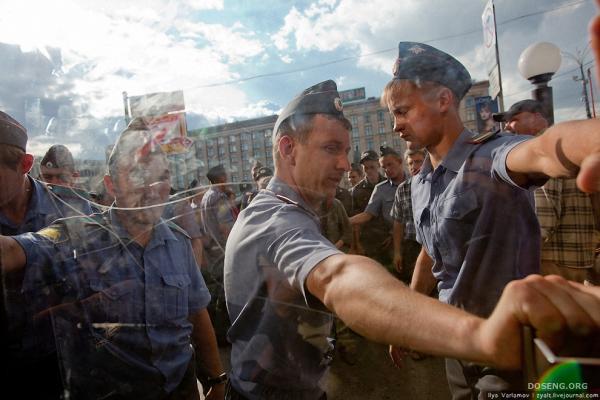 20) photojournalist closed the glass door to the subway.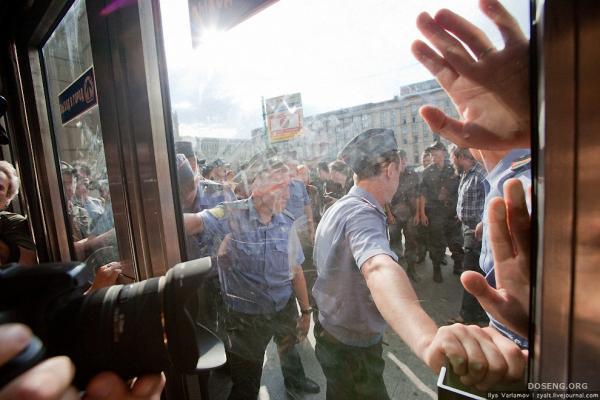 21) Photographers languishing behind glass.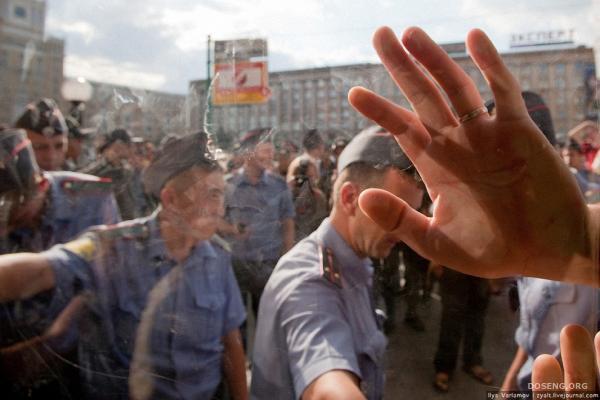 22) Despite the protests the police did not open.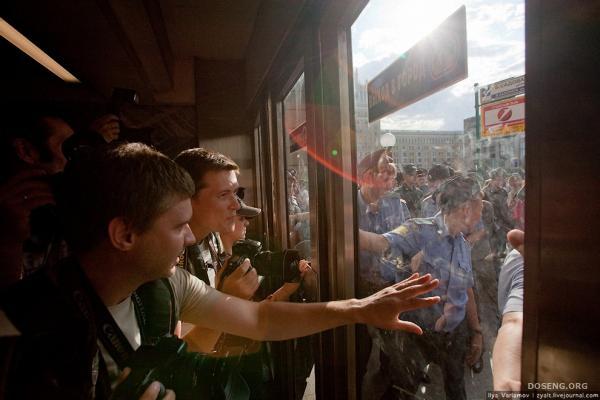 23) A great light, good nature, no one interferes, push, you can safely shoot.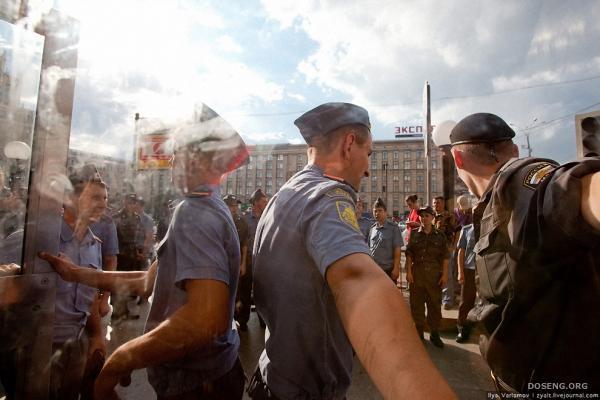 24) Unfortunately, no one knew what to do with a crowd of journalists in the subway, so everything came together through the next door.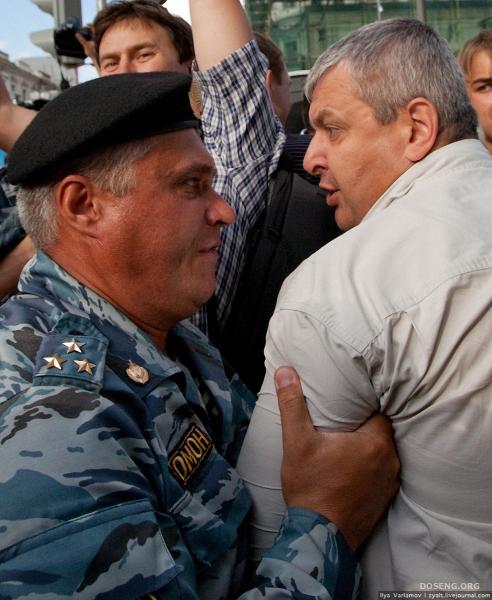 25) Here they are real men.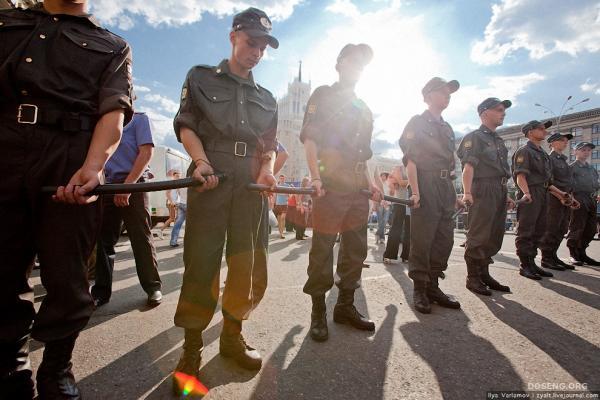 26) Next started demonstrations with batons.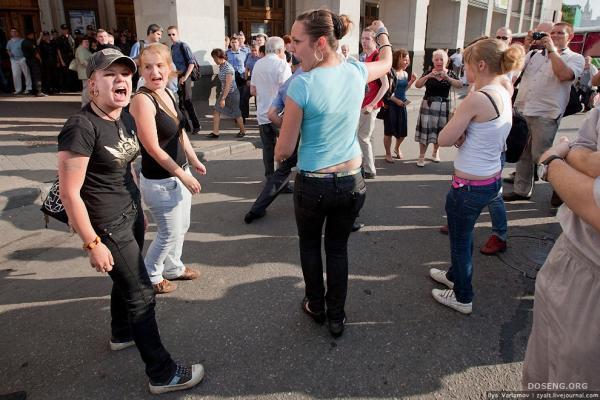 27) And then there were girls in the arena.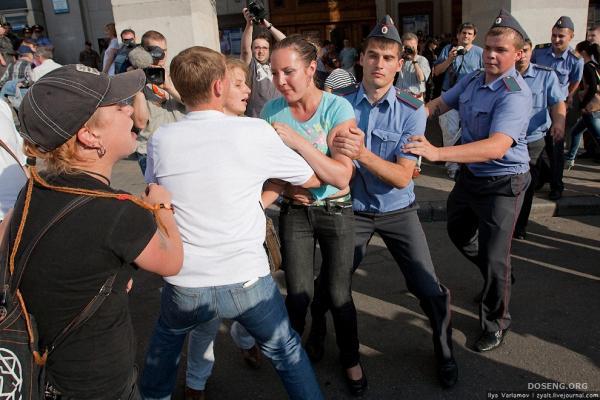 28) They also shouted about the freedom of speech and about the Nazis.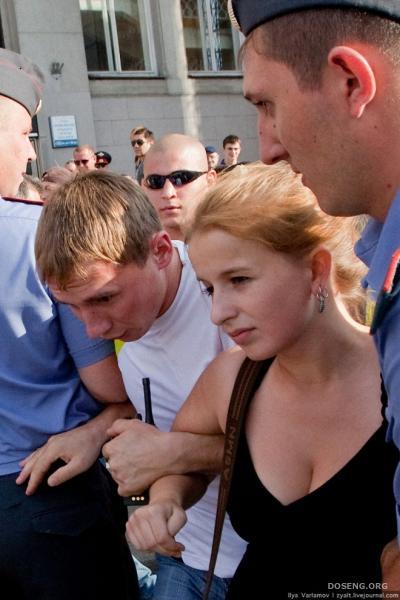 29) They were quickly taken away.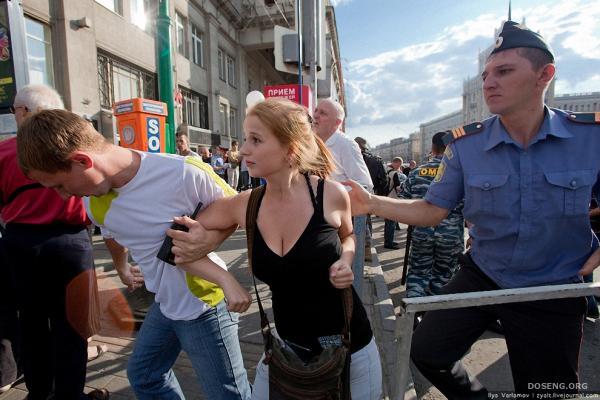 30) Pay attention to the left-employee hard for him to drag the girl;)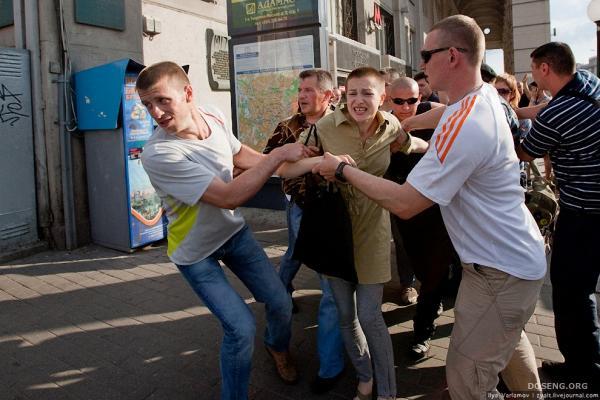 31) Very fast shipping all started, journalists broke up, but I had tickets in the stalls, so I took off almost all excellent.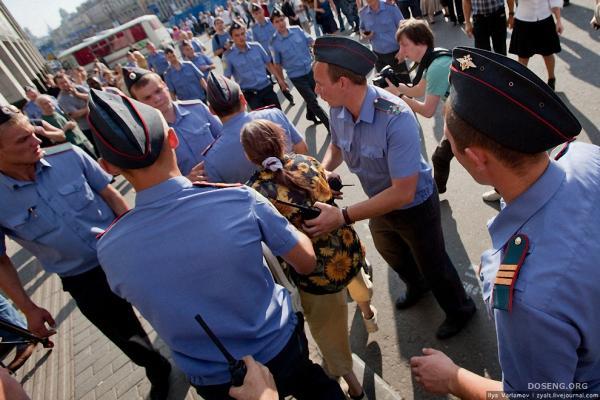 32) By the end of the holiday the number of blue shirts heavily outnumbered journalists and dissidents.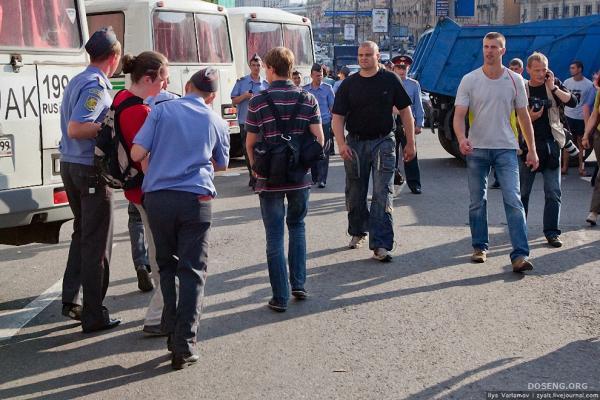 33) Take in the paddy push photographers. And the march of dissent came to an end.