Still fresh in the memories of the March of Dissent in Moscow.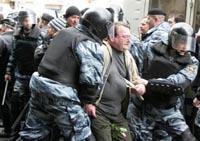 Dissenters April 14 Moskveh & gt; & gt;
But because of protests in South Korea
Learn to protest ...
When the team lost to Korea in 2006 World Cup, the Korean fans attacked calls the Swedish Embassy, ​​crowds attacked the site on FIFA (where he was later banned).
A man just came out and took off his pants. So he expressed his protest against the losing team Korea
But it's flowers ... Now go berries. TIN PARTLY.
In South Korea, to burn the flag of a foreign country - illegally. Therefore, if you want to protest against the actions of another country - just eat flag.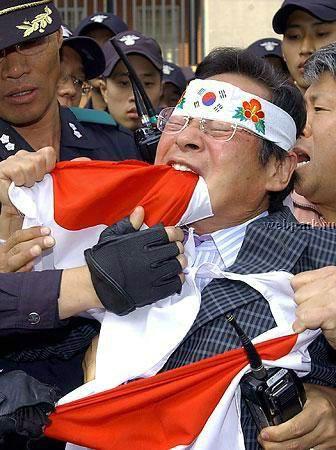 So in 2005, during a visit by the Japanese prime minister to South Korea this despairs Protestant eat flag.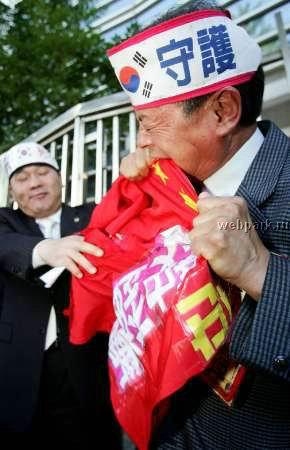 To more radical methods resorted members of South Korean farmers' associations.
When the leaders of a large supermarket chain decided to give up local suppliers and began to sell the meat from the United States - they do not expect the furious farmers flood the shelves with cow dung.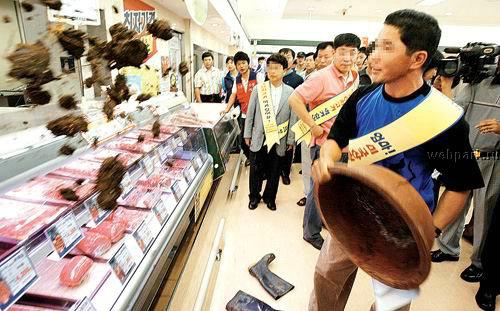 In March 2007, South Korean commandos veterans expressed their protest near the Japanese Embassy in Seoul. In memory of the anniversary of mass demonstrations in 1919 against the Japanese colonization policy, they decided to put a dog on the road and head to pierce them with knives.