A resident of the Slovenian Matevz Logar unexpectedly became the owner of the brown bear, who came to the territory of a garden plot at his home. The family liked it so much that they decided to keep it and even gave it a name "Medo". Bear lives with them for almost a month. The local veterinary service is going to define it in a shelter for wild animals.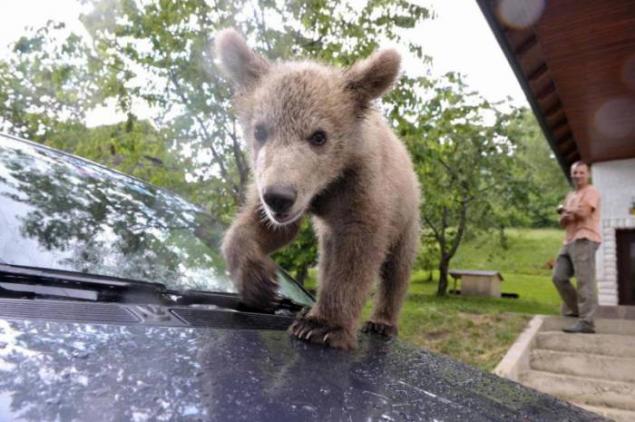 According to the Slovenian bear wandered into the garden to them about a month ago and refused to leave. Presumably, this was due to the fact that the mother abandoned baby, and he was forced to seek a new home. The Bear Garden, which Slovenian family named Medo, climbing trees, playing with the dog and just running around on the grass. Rest Bear prefers the garage, where lies on the couch.
However, the future of an unusual pet, Logar and his family remains unresolved. The fact that officials from the local environmental protection departments have the right to withdraw from the Slovenian Medo family and to decide his fate.
The owners have already sent the bear in the service of a request for a permit for the construction of animal enclosures. However, officials and veterinarians believe that keeping a wild animal near the house is dangerous. They insist on the transfer of Medo specialists from the animal shelter.
While the bear remains in Logar, and as soon as a decision on its future is unknown. In support of the home Medo were several hundred residents of Slovenia.