How to surprise guests at the festive table? Each hostess tries to impress with the strength of her capabilities and imagination. And we suggest that our readers prepare a simple lemon snack with mayonnaise and cheese.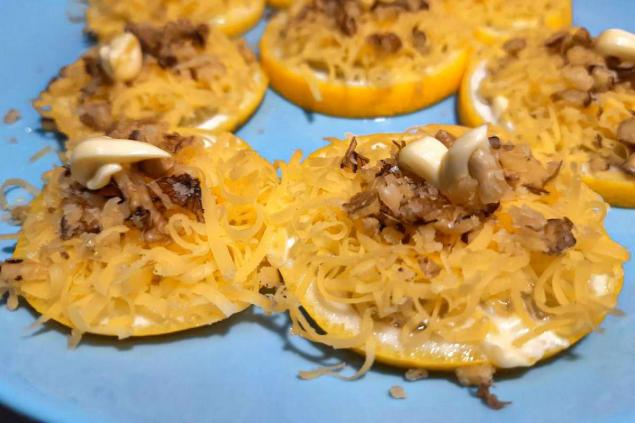 It goes well with fish dishes and will not leave anyone indifferent. After all, the bitterness of lemon in it is perfectly combined with the tart sweetness of walnuts and the soft enveloping taste of cheese.
How to surprise guests at the festive table Ingredients
1 lemon
1 tsp Sahara
4 walnuts
1 tsp mayonnaise
30 g hard cheese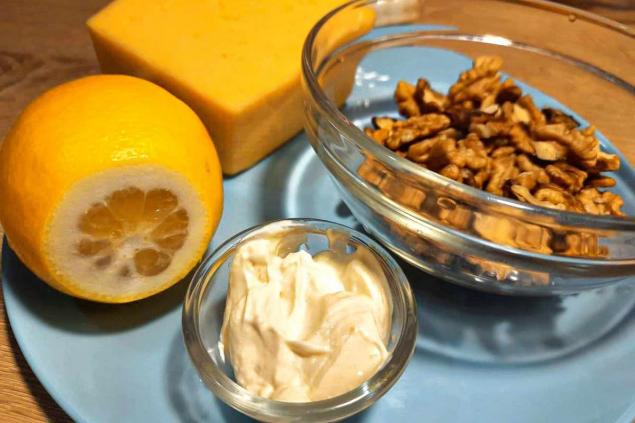 Preparation
Wash the lemon in warm water and cut into 3mm slices. By the way, dried lemon can still be brought back to life. To do this, you will need to place it in a bowl of water for a couple of hours. After that, the lemon will be fresh and delicious again.




Grate hard cheese, finely grind nuts.




Lightly sprinkle sugar on each slice to remove excess acid.
Squeeze a drop of mayonnaise on top. It will become a kind of glue on which the grated cheese will stick.




Pour cheese on mayonnaise.



Garnish with pre-chopped nuts.
That's all! An excellent lemon snack for a festive table is ready.



On the eve of magical New Years, we've shared with you a recipe for an easy-to-make snack that you can enjoy while the holiday main dishes are being prepared.
Now you know how to treat guests even if you haven't prepared anything special for their arrival. Have a snack, enjoy and be healthy!