Want to make the life of his restless bright, fun and diverse? Then buy them an inflatable bed, which will be indispensable in the apartment, and on a trip to the cottage or camping. What parents need to know that are planning to purchase inflatable products for children? What are the pros and cons of children's inflatable beds? Can the children sleep on them constantly? All this we will discuss in this article.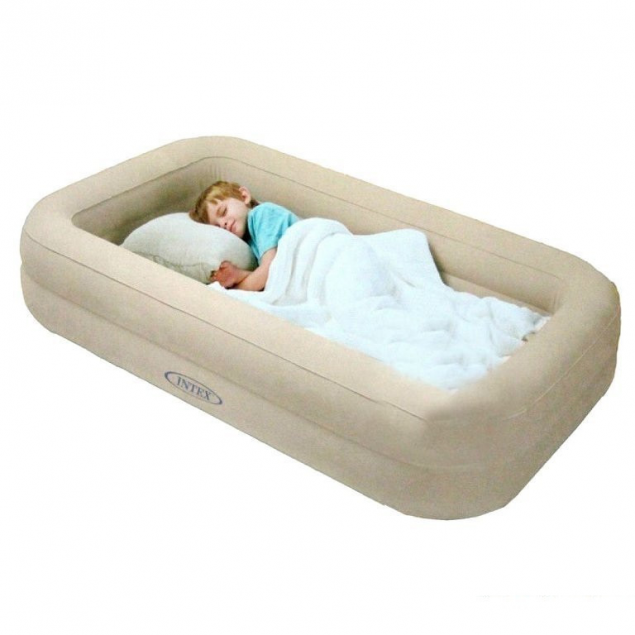 Features of use and choice of inflatable beds
Inflatable bed is a compact bed of rubber, which is inflated by a pump. Before buying this device pay attention not only to the sizes and colors, but also on the pump. Because it determines the speed and quality trucks bed. It is better to take model with built-in pump. Then inflation will take a minimum of time and effort. And for trips to the country or nature is more suitable inflatable bed here with a hand or foot pump.
Pay attention to the design of inflatable beds and as a top coat. For very young children, more suitable models, equipped with protective bumpers.
Than an air bed differs from the usual?
Kids inflatable beds differ in size. In width they can reach 70 cm in length – up to five feet. They are made of durable wear-resistant polyvinyl chloride, which is firmly standing active childish behavior and games. In order to prevent slippage of sheets, the outer cover of such articles slightly velvety texture.
Another useful difference is the presence of bumpers. Don't have to worry about what a child fall off the bed. Also a plus is that this type of children's beds has a small height, so your child will be comfortable to climb in bed and get out of it. This cot can even be used on the street. Even if it is dirty – easy to clean.
The pros and cons of children's inflatable beds
Kids inflatable beds have many advantages:
Easy to use and maintain. They can be easily inflated using a pump and deflate if necessary;

Inflated this bed will occupy a minimum of space;

Inflated the bed can be placed anywhere in the apartment, cottage or camping tents;

The variety of these beds makes them very interesting and attractive to children;

The presence in some models of protective skirting is also an important advantage.

Now let's talk about the cons
Pediatricians and pediatric orthopedists do not recommend sleeping on an inflatable bed constantly. The child's body is constantly in the growth stage and the formation of the musculoskeletal system, so they are undesirable for a long period of sleep on inflatable products;

Inflatable bed, despite its strength, can not withstand too active children to play. Parents will have to watch that children didn't damage the product.

Despite the drawbacks, children's inflatable bed is a useful and much needed invention. This bed will be indispensable if your house guests come with children. On this bed your child will sleep comfortably in the country or in nature.