Not always the number of square meters in the apartment allows you to select an individual area for games, for desktop, for beds with a bedside table. But interior design is not only beautiful pictures in glossy magazines, it is also a reasonable approach to the use of apartment space. Even in a crowded room you can find a place for play areas and for individual drawers, and desktop.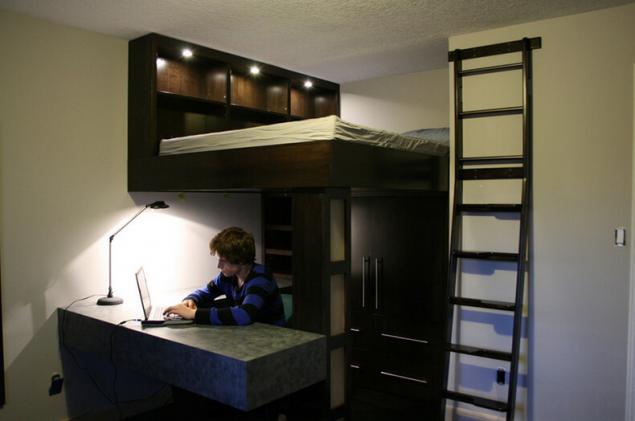 A loft bed with a work area – how it looks?
Furniture manufacturers have found a way to use the same square footage in the apartment several times – that is what makes a loft bed, a close "relative" bunk beds. In this embodiment, the actual bed is only on the second, the "attic" floor, but the first tier is reserved for Desk. This is the simplest option, but in a more complex and interesting models in this design and combined Desk and dresser, and bedside tables, and wardrobe, and sports equipment. In a word, bunk furniture uses space in the room not only in width but also in height.
Thus your child receives much-needed living space, a kind of mini-room. And most importantly – you will not find a kid that doesn't want to literally live in this room.
The principle is clear, that only with the choice of a bed will be much more difficult. Options just do not count! In any case, before you go shopping, you should be very careful to consider how it will be located, how high will occupy. In one word, walk around the room with a tape measure and pencil, and carefully write down all the details.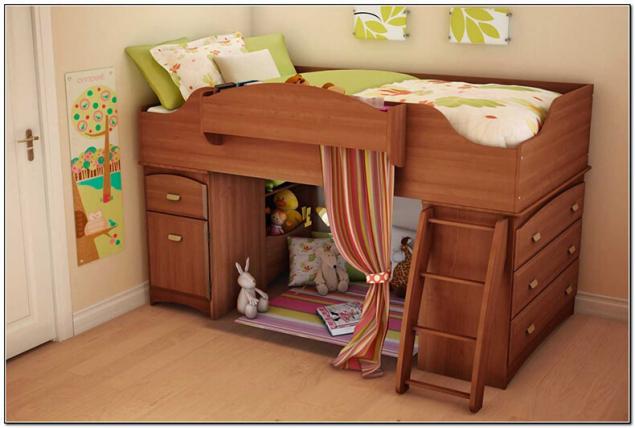 Bed with play area under the bed
Existing proposals can be divided into three main groups:
Bunk beds with work area on the first floor and the bed on the second
Bed-podiums, which represent a higher version of the bed, beneath which are drawers and on the tabletop. The main difference between these models is that the bed is a single plane, as if part of the floor raised to the desired height. One word – the podium!
The complex of beds under the ceiling, and all the necessary pieces of furniture. In this case, the furniture scattered, but folded in such a way that one wall of the room is a mini-nursery. This option is useful if the house or apartment high ceilings. The bed is usually placed above the window to climb back with the help of a tall ladder.