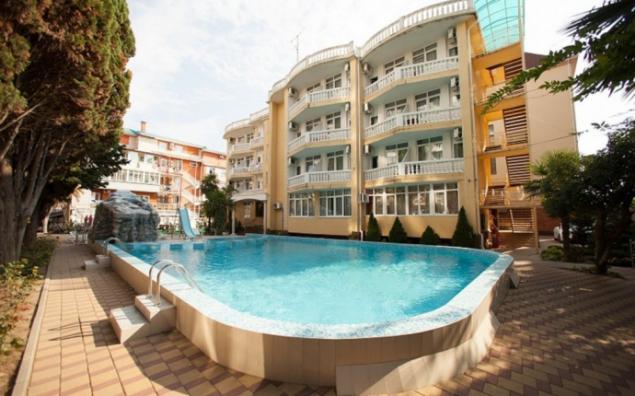 The pearl of black sea Adler – the most southern resort for Russians. Clean, azure sea and the beaches here are bordered by snow-capped mountain peaks. A well-developed modern infrastucture allows not to think about the question: Where to stay in Adler? and limit your stay to three months of summer, and enjoy a round subtropical climate. And such a wide range of opportunities attracts hundreds of tourists. Many pensions, hotels, hostels, comfortable accommodation which blends with acceptable rate.
The southern resort of Adler is not considered a budget vacation spot:
First, high prices are requested for both the accommodation and the food coming to rest in public places. Sometimes eat fast food in Adler equal to the cost of the campaign in a decent coffee shop in your own locality.
Secondly, from the poor quality of food nowadays, no one is immune. But an unexpected health complications, the rest did no good.
That's why, tourists coming on holiday to this place, try to choose a boarding house with meals and on the beach.
Private hotel "Valentina"Very few resorts on the beach with food deserve so much flattering praise as "Valentine". This option is worth considering all the tourists gathered on the road and reflecting on the question: "Where to stay in Adler?" The private institutions is 9.3 of the ball. There is no delineation of categories of rooms from economy to Suite euroalliance.Diet can choose Breakfast only, all inclusive or half Board. On site are two pools. And the sea is a three minute walk away.
Olimp hostel To stay cheerful company perfect low-cost segment of the economy-hotel "Olympus". It is located in the Olympic Park area. Very convenient access to station and airport. The issue of overnight: "Where to stay in Adler?" you don't care anymore. Next come t the track "Formula-1". Budget option offers dormitory and private rooms equipped with TV, air conditioning and appliances for making Breakfast. In addition, you can prepare meals in the shared kitchen or visit the café located in ten minutes walk from the hostel. The nearest beach is a mile away.
The Villa "Dolphin"If you wanted to live by the sea and enjoy the surf, the boarding house "Dolphin", at your service. It is located in the centre of Adler, on the first line. It consists of four modern three-story building, necessary medical equipment, which can be used for a fee. Also the Villa has an outdoor pool, a Playground and a meeting room. Tourists live in bright, clean rooms with full Board on the General menu.