Genre: Comedy, Adventure
On one of the tickets "Sports Lottery" falls big win. However, the ticket is lost. In search of his characters come in a variety of amusing alterations over which the viewer rejoices the heart ...
The film stars Algis Arlauskas, Svetlana Amanova, Michael Pugovkin, Michael Kokshenov, Denis Kmit, Nina Grebeshkova, Andrew Width, Borislav Brondukov Louise Mosendz
Director: Leonid Gaidai
Writers: Vladlen Bahnov, Leonid Gaidai
Operator: Sergey Poluyanov
Composer: Alexander Zatsepin
Artist: Felix Yasukevich
The film premiered August 2, 1982 (Moscow)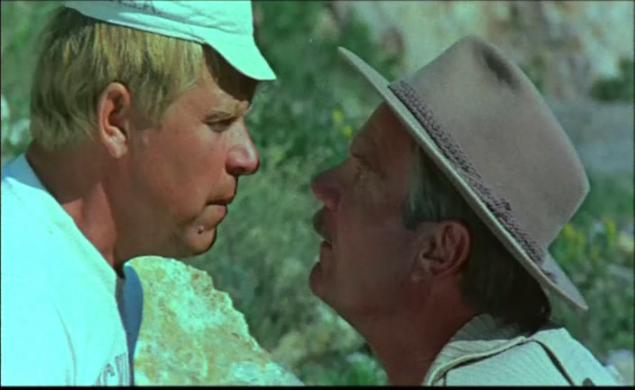 A request for a script called "Sports Lottery-82" and Bahnov Gaidai filed a creative association of comedy and musical films April 24, 1980. There's the idea of ​​comedy on a contemporary theme liking and the author was given the green light to write literary scenario. The work was all summer and autumn of the first half.
The plot of the script was simple: in the train, next to the Black Sea, the passenger Kostya, fascinated by the detective, ate everything that was edible at random fellow traveler Thani - and in gratitude he gave her a ticket "Sports Lottery." By filling out the ticket, Tanya returned it to the store Coast. However, he soon forgot about it and lost the ticket. And it fell between the large cash prize - 10 thousand rubles. And then Kostya, Tanya and Tanya's fiance Pasha began to look for the "lost" happiness.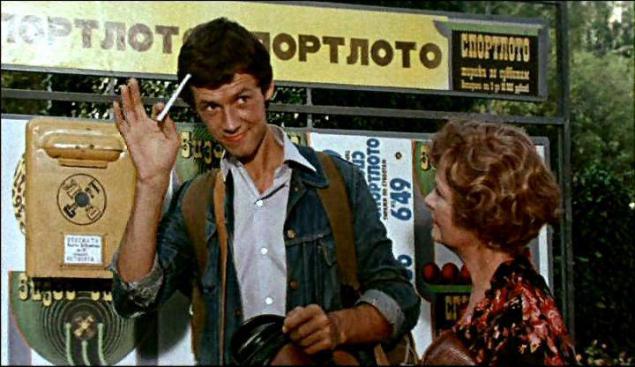 November 4th literary script was tabled in scenario-editorial board of the association. As expressed by one of the participants of the meeting: "The script is built, it is very good, and the picture on it will Gaidai funny and successful." After one month approved the script and scenario Main editorial board.
However, with some amendments, which the authors have been made to the text to the next discussion. As a result, February 25, 1981 has modified the script has been finalized and sent to the director's development. This period lasted until May 7. After eight days, the film was launched during the preparatory period.
In a new swimming Gaidai went with a proven team. As the main operators, he took Sergei Poluyanova (sixth film together) and Vitaly Abramov (second film), the main artist - Felix Yasukevich (third film), sound engineer - Raisa Margachevu (six films), composer - Alexander Zatsepin (ninth film). < br />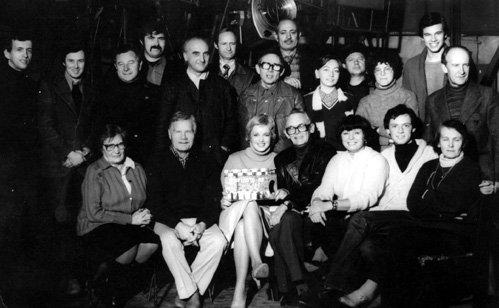 22 - 23 June, the discussion of screen tests performers in the leading roles. Before the eyes of the high commission brought the following artists: Kostya - V. Drevitsky (Stanislavsky Drama Theatre), Gusev (1st year VGIK), Algis Arlauskas (Theatre for Young People); Tanya - Larissa Udovichenko; bride Tanya, Paul - Evgeny Gerasimov, Oleg Izmailov (Studio Theatre actor); San Sanych - Michael Pugovkin; Stepan - Michael Kokshenov, Mikhail Boyarsky, Alexander Rudakov ("thumbnail"), Nicholas Kaptelin (State Circus).
Samples received a mixed reaction from the audience, as illustrated transcript says. Are excerpts from some of the speeches.
R. Budantseva "samples are not typical for Gaidai. Earlier tests have always determined the style, now it is not. No heroine. It is not suitable for age partners. Udovichenko can do nothing in itself to bear for this film. The most interesting and Pugovkin Kokshenov ... »
Semagin: "I have no doubt Udovichenko. She played well in the last film with another director, she has a data ... »
Pillars: "I did not like Udovichenko. Actress to be younger. Arlauskas liked, but I think that we should not take Kokshenova. But Pugovkin suitable ... »
Ossetian: "I really liked Arlauskas. Kokshenov better than Boyarsky. Large doubtful Udovichenko, her character must be under the age of ... »
Ermolin "Udovichenko may be different, but here it is withdrawn so that it looks older. Arlauskas interesting, but it will look very strange next to Udovichenko. Stepan is better to take Boyarsky, Kokshenov be too recognizable. Pugovkin can be ... »
L. Gaidai "Udovichenko I like. But in this case it is necessary to either select all under Udovichenko or go from Arlauskas. Written on the role of Stepan Kokshenova. For myself, I decided to Tanya - Udovichenko, Kostya - Arlauskas, Stepan Kokshenov, San Sanych - Pugovkin Paul - Gerasimov. Although Paul can play and Boyarsky ... »
However, part of the candidates to present Udovichenko Gaidai disagreed, suggesting he look someone else. The director had no choice but to implement this recommendation. As a result, within 10 days of the judgment of the High Commission was represented by another actress for the role of Tanya - a student of the 4th year of drama school Shchepkin Svetlana Amanova.
This nomination liked almost all present, and it was cast. At the same time, and was replaced for the role of Paul - instead they Evgeny Gerasimov was Denis Kmit. Among the other actors, selected on the roles were: Nina Grebeshkova (Aunt Claudia), Borislav Brondukov (Head tourist center), Louise Mosendz (secretary), Andrew Width (blue).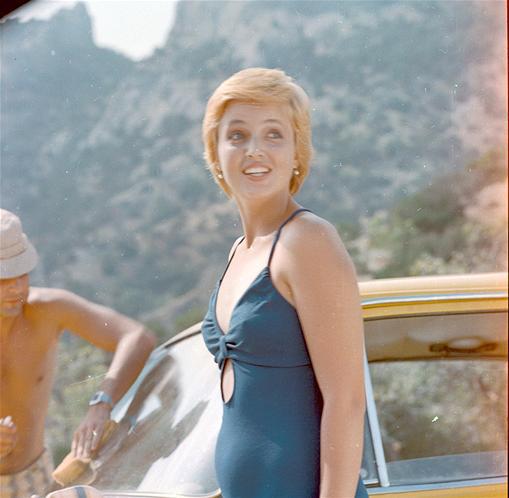 Place location filming new movie Gaidai and his colleagues identified the Crimea, namely, Alushta, Feodosia, Adler. The last time Gaidai shot in these regions (Alushta, Adler) "Diamond hand", that is, since the time to go for 13 years. Under the plan the shooting was to begin August 27 (the Day of the movie), but the group has reduced the term of the preparatory period and start shooting a month earlier - July 20.
Filmed in the Valley of ghosts between Yalta and Alushta - the same place and "Caucasian captive." Weather is not spoiled: it was a terrible heat, when everything dries up, because of what had dosnimali waterfall in autumn (October) in Adler, then a cold wind blew. Collected from the coast "wild" motorists for big money - 25 rubles per day of shooting - and endured the heat and the wind, and filmmakers, which is located on a promontory above the famous beach of Nicholas II and Prince Golitsyn cave where he once kept his famous champagne.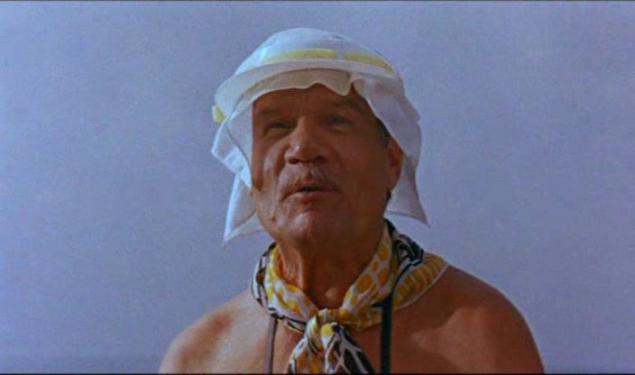 By August 25, were shot several hundred meters of useful film (7 reels) and sent to Moscow for review. This is how one shooting day - August 27 - correspondent of the magazine "Soviet Screen" Alexander Hort:
"Breathtaking cross - rolling down a steep gradient carboy, rushing after her motorcycle. Fugitive escapes all the time at the hands of persecutors, did they fail to grasp it. You need to have driving skills K. Demahina to pass at high speed so challenging tracks.
Playing with a bottle of "cat and mouse" continues more than three hours. Director, stunt (there were three: Yuri Arzumanyan and brothers Demahiny - Konstantin and Sergei. - FR) and the operator S. Poluyanov inventing new tricks to race looked on the screen as much as possible fun. Three hours operator V. Abramov, crouching, sitting in the trunk of the car, which rushes to run against an insidious bottle on the bike. A very fugitive holds on two huge "fishing rods" is located behind the operator's assistant ...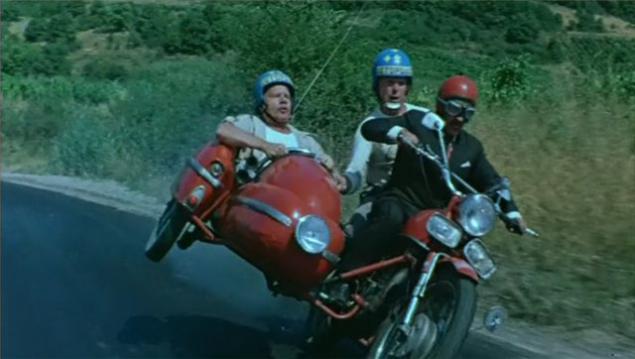 Finally, the day shooting is finished. Ahead - evening. Will be filmed episode of "Marathon Man».
Marathon Man - in this case the steppe. Their desperate search for it leads not only on land but also underwater. And that seems to be on the trail of the owner of the treasured piece of paper.
Jumping out of the water, step into some batches rushes to San Sanych to share his discovery. To the city far away. Night hero finds halfway, step overtakes policeman on a motorcycle. Why, they say, to run in such an exotic form? ..
In a car, which will be the operator, installed bright lights. Calculated every meter distance, the point where a policeman appears (in his role Alushta invited the chief of traffic police captain Zhuravlev), and the place where he catches up with "marathon." Finally everything is ready.
- Undress, Mikhail - gallantly offers Gaidai, tightly wrapping his cloak.
First Cut proved flawed. Everything was going well when suddenly shortly before the "finish line" somewhere on the side of the side of the road emerged unplanned tourist. Shot a second double ... After the third Kokshenov, tapping his teeth, said:
- Seems to have gotten ridiculous.
- Perhaps - agrees director. - But try to do even funnier.
And step back out to the distance ...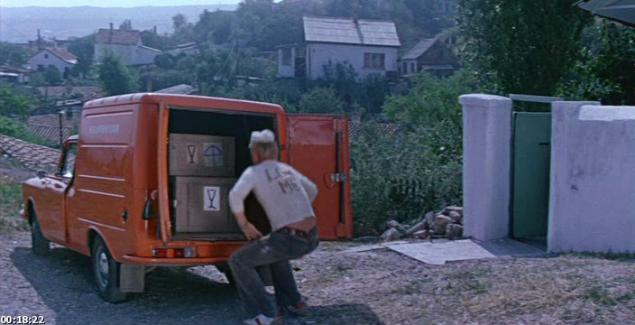 Only at ten o'clock in the evening the crew rolls his farm. Enough for today ... »
And here is how these recalls shooting for the role of San Sanycha Michael Pugovkin:
"My partner was Michael Kokshenov - steppes played. And there was a scene where we race on a motorcycle at a speed of 90 km. When I sat down, I feel - something soft underfoot. I looked, and there is not even plywood and cardboard.
You know, as we have in the movie is: take the collapsed old bike, paint it, and it is like new. And when the operator said: "Mikhail Ivanovich, let's take off just once," I say it without me, go yourself. I think the second leg as a fail - hello, goodbye "Sports Lottery».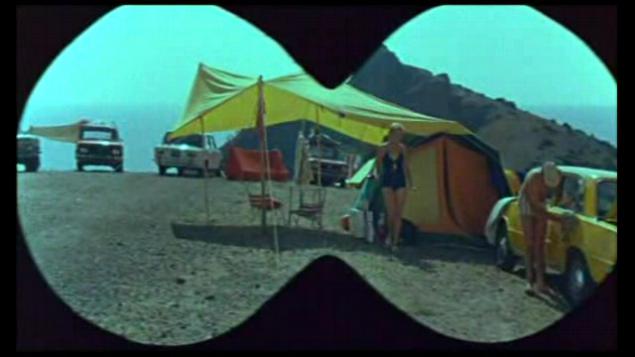 The second story was the same Kokshenovym when he's in the movie on my behalf sells oranges in the market, and I'm starting to feed him. It so happened that at that time in Yalta was not oranges.
And the whole box we had a sham. Present there was only one orange. And I fed him this single orange, and one gets the impression that he was in an episode of half eaten box ... »
From September 10 to October 6, were already shooting in Feodosia, followed by a 18 to 22 October - Adler. The group then returned to Moscow, where from November 25 to December 23, starred pavilions. On December 24 the film editing.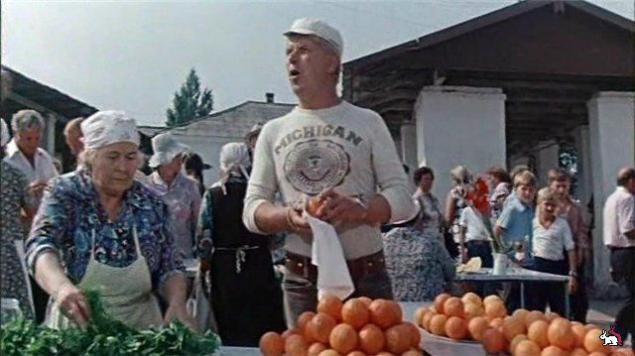 January 11, 1982 hudsovet association looked at the footage and overall was pleased with what he saw. Let me give a couple of statements of some participants.
R. Budantseva: "Comedy is composed, even in this rough assembly seen funny, eccentric" gags "inherent in a creative manner L. Gaidai. Many successful directorial finds ... »
K. Warriors: "Comedy is obtained interesting, bright. But two songs next bad. Moreover, even one song - lyric - it seems to me bad. After all, it (the heroine) declares his love for Paul. This reduces its way ... »
Work on the film was completed on March 18. At the end of the month picture taken in the State Cinema.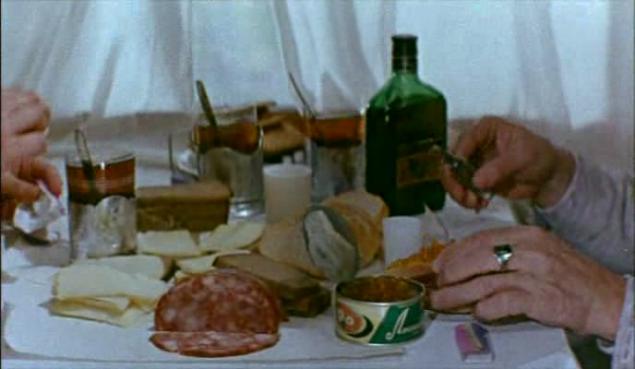 The filmmakers' fees were paid in the following amounts:
L. Gaidai - 5094 rubles plus 2000 for the script;
A. Arlauskas - 1494 rubles;
S. Amanova - 831 rubles;
D. Kmit - 817 rubles;
M. Pugovkin - 3725 rubles;
M. Kokshenov - 2780 rubles.
Premiere of "Sports Lottery-82" was held in Moscow August 2, 1982 at the cinema "October". Due to the fact that long before the movie was released, was successful advertising campaign to notify future viewers that Leonid Gaidai again eccentric comedy takes on a contemporary theme, the people crowded on the picture of what is called the shaft.
Still, despite a series of setbacks that have befallen this director with adaptations of classic works, the audience continued to trust him. As a result, there was something few people expected: at the box office the film took 1st place, having collected 55, 2 million viewers. As we remember, the last time 1st film Gaidai held 13 years ago - it was "The Diamond Arm", which was filmed in the same places as the "Sports Lottery-82".