Think of the proverb about the house-fortress, the British did not know about the Russian way of protecting Windows. Thick oak shutters covering the access people dashing to the master's good, turn the frame into an impregnable Bastion. The love of Russians for beauty and harmony is reflected in this element of protection of the home. Carved Staviski become the hallmark of the skilled master, the final exterior decor of the house.
In our days the shutters on the window to give experience a rebirth.
Metal shutters with electric drive is not to everyone's pocket. But to put on the Windows steel or wood blade may be every person who can hold in their hands the simplest tool.
In our review we will look at the types of device and the basic functions of the shutter, and give practical advice on their self-production.  
The shutters on the Windows. Design and function
There are several designs of window blinds:
Single;
Double;
Folding
Combined (shutters, blinds);
Roller blinds (roller);
Internal shutters.
Single put shutters on a small window. On one side the door is hinged. Closing is performed with a lock or locking latches that are installed on the inner side of the valves.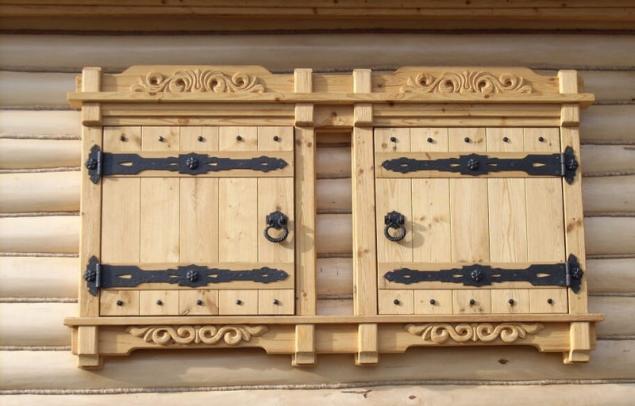 Double metal and wooden storm Windows are the most common. Due to the symmetrical arrangement of the paintings of these designs look better than single. They are lockable from the inside (hinged Windows) or on the outside with a lock (remote Windows).
Folded structures are used to protect window openings in a large area. They consist of several wings, pivoting on the hinges when opening and closing.
Blind shutters protect the Windows, but do not let the sun light in the room. Therefore, in recent years popular combo design (blinds). Swivel mechanism allows the slats to adjust the light beam without opening the shutter. So two tasks are solved: natural lighting without compromising the protective function shutter.
Most adjustable designs on the market there are options plate which is not rotated.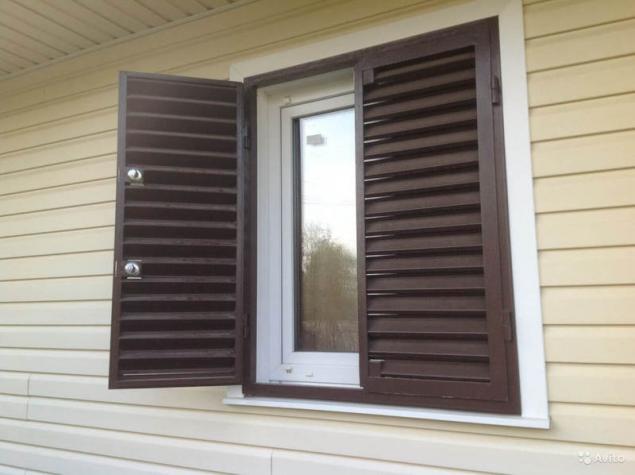 Design roll type (shutters) came to us from Europe. Today they are extremely popular not only among owners of shops, warehouses and offices, but also among gardeners.
Compactness, reliability and aesthetics. These three factors are attracted to shutters attention homeowners. Significant disadvantage — the price of these designs. It is higher than in swing.
Relatively recently appeared on the market shutters. They are used for decoration and light control. The level of protection of a premise from penetration of these structures is minimal.