If you love to receive guests and arrange all sorts of gatherings, such thing you will definitely come in handy!
Mobile bar
is perfect for keeping favorite drinks, and will easily freshen the interior room. And most importantly — to make it easier to get.
Edition
"Website"
once again wants to prove to you that to make something new and exclusive from old things is a very pleasant and exciting experience!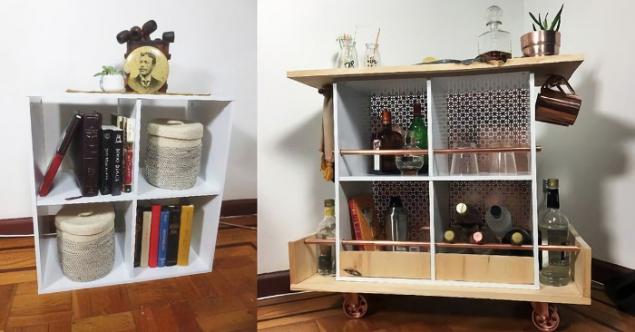 Bar their hands
The first step is preparation of the old shelf to alteration. To begin to bring it in order by clearing away unnecessary stuff. If you want to repaint your next bar in a different color, then get to it first. Next, turn to the design of the rear wall. You can use the decorative metal sheet, securing it with nails.




Next, attach the main work surface (Board) to the top shelf. For this you may use special wood glue or screws. By the way, the length of the table top should not exceed the length of the shelf. It is necessary to expand the operating space, because the lateral surface of the shelves we will certainly come in handy.




Next step: drilled holes for metal pipes. It's not just a design decision, such a tube will protect bottles and glasses from falling. The length of the top tube should be several inches greater than the length of the shelf, but the bottom — to match the length of the countertop, because there we make additional cells for storage.




Prepare the Board for the basics of your bar. Its length must match the length of the countertop. To the bottom surface of screw for 2 pairs of wheels on each side. Your mini bar will be more comfortable and mobile! Fix the Board in the bottom of the shelf with glue or screws required length.




The sides on the bottom Board, attach small sticks to create additional side shelves. The lower pipe should rest against the outer wall of the additional cells. Cool home mini bar is ready!



To make such an exclusive piece of furniture couldn't be simpler. It remains only to Supplement it with details and, of course, delicious drinks. Your guests will love it!
Now everyone can publish articles
Try this first! To WRITE an ARTICLE the Author

Christina Mironyuk Fan of painting, especially Monet and Klimt. Loves movies, appreciates the music on vinyl. The architecture and sculpture that inspires inquisitive personality round the clock! Christina has been studying digital technology for prosthetics in dentistry. The girl chooses minimalism and simplicity in the interior, and in life. Inspiring mountain view and the book "Twenty thousand leagues under the sea" by Jules Verne — that is necessary for the happiness of our charming author!