Bathroom rarely is large. But it need so many to fit in addition to standard plumbing: towels, bathrobes, care products and cosmetics. And this is not the whole list.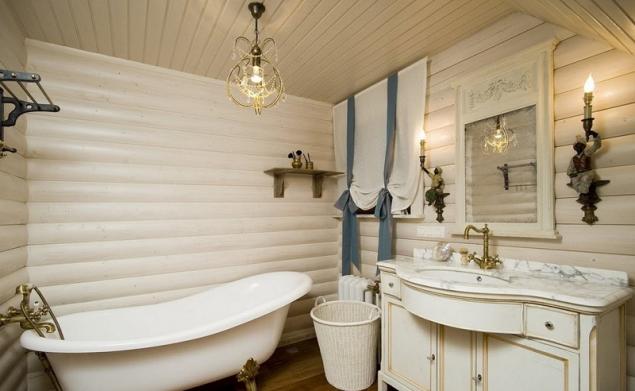 By the best in the world are considered to be the bathrooms of Japan. They are flexible and well-equipped technically. The editors of
the"Site"
appreciated some interesting
ideas for the bathroom
, which hurry to share with you.
Design ideas small bathroom
Very convenient to put a retractable faucet for the sink. So it can be used not only for washing hands but also for bathing of a child or beloved pet.




Well done grate for draining the tub. So you don't have to soak water, which will result in the process of bathing. And the neighbors certainly do not flood!




Cosmetics can be stored on a magnetic Board. Very handy and thus you can free up a shelf for other supplies.




How often we are missing a place near the toilet out of sight. I agree, so much better.




Keep cotton swabs, disks, and, for example, removable soap in pretty jars. So they will not steam. Furthermore, it looks very nice.



Though Japan is rich and high-tech country, but the practicality and economy there are also. If your washing machine be in the bathroom, then this trick is for you. Not drained after bathing the water bath and lay in it the hose that pumps water for the washing machine. And when she has things to rinse, then move to clean water. Very convenient for the owners of private houses that are not connected to Central sewage systems.



Over the bath can be not only small shelves, and a locker.



If you prefer to store your Curling iron and Hairdryer in the bathroom, you can borrow this idea. A lot of places to take will, and most importantly — they will not get wet.



Another great idea of using the cabinets.



And Yes, in Japan no one to spend a lot of time twisting the taps to get the water the right temperature. There is a special fixture.



The Japanese are always one step ahead, so they have something to learn. These are just some ideas that are ideal for our way of life. We give you a video where you can see how the Japanese use the bathroom.
Snazz up your bathroom practical and beautiful! Share ideas with friends!
Now everyone can publish articles
Try this first! To WRITE an ARTICLE the Author

Oksana Dudnik Loves painting, ready to admire the pictures all the time! Oksana knows a lot about perfumes, well versed in fashion trends and will give odds to many well-known beauty bloggers. Her love of sport supported by sports category in sailing! Xenia prefers meat dishes, can not imagine a day without them. Favorite book charming girls — "the Emperor" Niccolo Machiavelli.