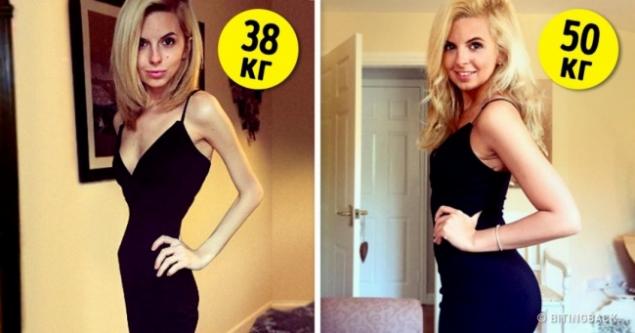 While one half of the women on the planet busy thinking about how to lose weight, the other scratching their heads on how to get better.
The website
impressed with the stories of girls who think it is not lost, and kilos. Despite all the psychological and physical difficulties, they learned to love themselves for who they are. And what you suggest.
Haley Harris
Haley Harris (Hayley Harris) admits that beginning to starve in order to approach the ideal of fragile and slender women from magazines. The account in instagram the girl started, while lying in the hospital, where was treated for an eating disorder. Haley argues that support subscribers helped her cope with the disease. Now she actively opposed the promotion of thinness.
Courtney Black
Courtney black (Courtney white) a couple of years ago weighed about 45 kg. She worked as a fitness model, and she seemed a beautiful relief of muscle visible only when the absolute thinness. She cut his intake to 800 calories and literally starved herself, what drove her to the clinic. Post-rehab Courtney began to consume 2,000 kcal per day. Now she is a successful fitness instructor.
Megan Jane Crabb
Megan Jane Crabb (Megan Jayne Crabbe) 13 years old weighed 28 kg. Teenage complexes led her too far. However much she weighed, was still dissatisfied with her body. Now Megan is not shy of its forms and promotes on instagram the idea that ugly women are not, and sometimes just a lot of complexes.
Sara Ramadan
Sara Ramadan (Ramadan Sarah). The difference between the two photos 2 years and 20 lbs. In 18 years she had suffered from depression, which led her to anorexia. "I have lived too long, apologizing for the extra calories that were consumed," — says Sarah on my instagram. Now she is doing body-building and absolutely happy with my body.
Margherita Barbieri
Margherita Barbieri (Barbieri Margherita) was a dancer. Several times having failures at an important audition, she decided due to the fact that she is not thin. And began literally to starve. In the end, brought his weight up to 25 kg. Margarita Now realizes that health is above all, and claims that a new body like her much more than the former.
Arusha To Nekonam
Today Arusha to Nekonam (Aroosha Nekonam) is a successful fitness blogger and personal trainer, to which queues. But in her instagram she said: "Dear my body, I'm sorry I mistreated you". After graduating from College, Arusha, perfectionist by nature, I decided to go on a diet, which later turned into starvation.
Horses Inglis
Horses Inglis (Inglis Connie) suffering from anorexia in adolescence, that is, for 10 years. She then turns to recover, then again there is a recurrence of the disease. That's why she started the instagram account. Here she receives support from its users and publishes motivational posts. For example, a photo of the sweets that she tries to eat more.
Eric "The Tiger"
Eric "the Tiger" (The Tiger Erika) suffered from anorexia and bulimia since I was 16. Like many young girls, she considered herself too fat and one day stopped eating. Then started to hate their thinness and hide it under the robes. To cope with the illness, Erika started to exercise, got married and stopped being ashamed of my body.
Photos on the preview bitingback
See also
How to look like a fitness model, when not posing for instagram
5 companies who have proven that EACH can become a model for the ideal underwear
via www.adme.ru/tvorchestvo-reklama/5-kompanij-kotorye-pokazali-chto-takoe-po-nastoyaschemu-smelaya-reklama-belya-1429665/