It all started with the fact that six months ago, I read about the study researchers from abroad about the children's reactions to publications parents about them in social networks. Held a small focus group – among the children of acquaintances.
15 children from 8-15 years were asked the following question – "how do you feel about the fact that your parents are spread in social networks information about you, your photos". Only children aged 8-9 years (2 children) answered that they like it and they agree. 13-15 year old was opposed.
It was even said – he didn't trust and spend time with their parents, not to get in sight of their phone. "I have my instagram, my profile in VK and my channel, where I post what I want".
And then I found out that Australian girl sued the parents to court because they had published pictures of her that her "be compromised". In November a trial, will see what the outcome.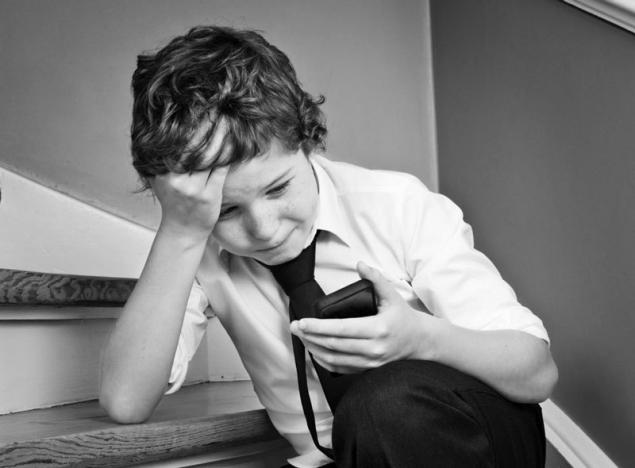 The current generation of children will surprise us and develop. Together with them we will have to learn to feel the boundaries of his personal territory and learn to respect the right to personal boundaries of children. And I do a lot of writing about it, and speak....
I decided to do some research. The parents (my friends and subscribers) have asked their children from 7-17 years question "How do you feel about the fact that I am without your knowledge, publish your pictures and information about you in FB?..
Possible answers:
1. I don't care.
2. Bad.
3. Good."
It should be understood that the answer is "all the same" – "calibration".
At the age of 9 – he means "as a mom easier and more correct — so good. I trust them. I feel good that chooses the mom-dad".
At the age of 12-16 is "probably not. I'm not ready to tell the truth, I'm afraid to hurt you, I'm not ready to think about it, leave me alone" it's like that adult response – masking – "normal".
After 16 years – "I don't care" is a possible answer – "for me it is not as important, I have other priorities".  
The survey involved 217 children.
From 5 -17 years (several parents responded on 5-year-olds. I decided to include them in the survey).
I divided the children into groups:
1. older preschoolers and Junior schoolchildren;
2. middle and senior school children — preteen, teen-age and "post adolescence".
Tasks and reactions of these groups are quite different.
You can look at the charts.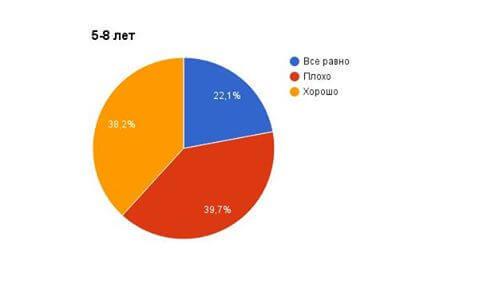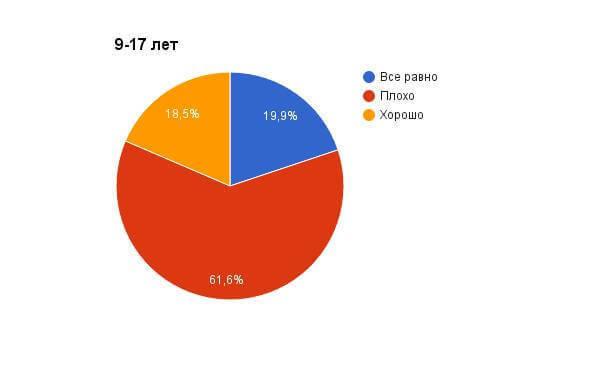 61% of children 9-17 years — the publication of them parents believe the invasion of personal territory and disrespect. If you accept the answer "I don't care" as "transitional" — potentially is a much larger number of children.
39% of children 5-8 years old — said "bad"
Among 12-14 year-the largest percentage of responses "bad" — almost 80% (and this age is the risk in "care based").
Comments children 5-8 years old if you answer "good" or "I don't care": I don't mind (to me anyway), but you still ask; you're my mom — I'm part of you, you bad things about me will not write; I don't care but you still think what you publish, Yes, but you're the best photo exhibit; I want to be famous and popular.
Comments children 9 — 11 years old if you answer "well": I trust you; it depends on what photos you publish, Yes — I'm becoming popular; well, more people will be able to learn about me. That means I'm important to you and you love me. Did you post without permission?
I like when I know a large number of people.
Comments children 12 -14 years old if you answer "well": well, you're badly of me not to say; depends on which photos and what information; you publish, so you want to make other people proud; you can, if not compromising.
Comments 15-17-year-old: if not compromising. Me and "my" is still there in se; not against, but it is better to ask; why not — I can be proud of.
Some parents (and a lot of them) wrote: what if my child is on the contrary asks that I wrote about it and then verifies that said about it, how many "likes" put...
I have face-to-face paper survey results. 215 students from class 1 to class 9, thanks, Larisa Cernokrak gave their answers. The balance of responses is very similar.
WHAT IS IMPORTANT FOR US TO REMEMBER:
The current generation of children is more sensitive to the limits of your personal site. Ready to protect her. Aggressively.


Personal territory is the body that touches the body, the world of emotions and intentions. All we can say is MINE.


All living organisms are "marked" its territory "productive" or "unproductive". Including loud music, throwing toys and socks, in the end, — putting on headphones, rude, swearing...


Or "fleeing" in any virtual worlds.


From the moment when the child said about himself "I am" (2-4 years), the boundaries of his personal territory made manifest (the word we accompany such friends, "MY", "NO"). In his room, in his space, it is important to learn to log with a thud. And things that are important to take or to third parties with his permission.


Need in children 7-9 years old: intimacy, acceptance, security. Adolescents: respect, freedom, recognition and security. "If the parents me insecure – I won't be able to relax. I will seek this security." But the question is – where and what? (computer, drug, etc.).


Sometimes, without realizing it, we sits children "likes". If I can't rely on domestic territory, on their quality, if I do not feel its importance, "your place", then I fill inside the void of the opinions of others. And depend on these views.


Our every action is a need.
I tell my students all the time to ask yourself the question – WHY? Why I do a particular action. What need I satisfy. Sometimes we satisfy their need for attention and significance, using children.
When parents fill the space of social networks of information about their children, this suggests that they are trying to present themselves in the world through the children. They are, as a rule, and in the speech used, for children the pronoun WE. And the meaning of life — in children – and it is always an additional burden on the children themselves. This is valid for children 3 years of age. But, we remember, as soon as the child itself has zakazal I – the boundaries of his personal territory began to postraumatice.
Why are we this insensitive, why is this topic even arises.
Our generation is the generation with nepostroennye personal boundaries. We have, as a rule, was not of what you can say MY (his room, his personal belongings) and our opinion is not very considered. Children now have personal phones, their rooms, and we are important their feelings.
When parents ask the children to tell me about them, is it possible to publish information at least is a manifestation of respect. It's always the children appreciated. and it helps to maintain trust and intimacy.  
5 educational YouTube channels, after which the child will want to learnSteve Biddulph: Most people are simply programmed to unhappiness
Sometimes, publishing information, we do not think that it can hurt children. For example, if they become presidents, or this information can be read and photos to watch their boys-girls or their parents, teachers, employers. What to us may seem to be a manifestation of tenderness and mi-mi-lichnosti for them subjectively, may be the feeling of intrusion and betrayal.
I don't know, and hardly anyone will say that is exactly right for your particular family, but try to ask your child how he relates to what you without his knowledge, published information about it. He does not care? He is against? Or he wants it? published  
Author: Svetlana Roiz  
Source: www.facebook.com/svetlanaroyz/posts/1388464531187148