Probably many of you know that sprouted seeds and grains are very good for health. They are used as food 5,000 years ago. This food has a unique medicinal properties. If you eat sprouts regularly, you will notice soon that your health is strengthened and you become less sick.
Sprouts help to improve metabolism, enhance immunity, normalize the acid-alkaline balance of the stomach. They also cleanse the body of toxins. This is not a complete list of useful properties of sprouted seeds and beans.
We have prepared for you information about how to grow this useful product at home.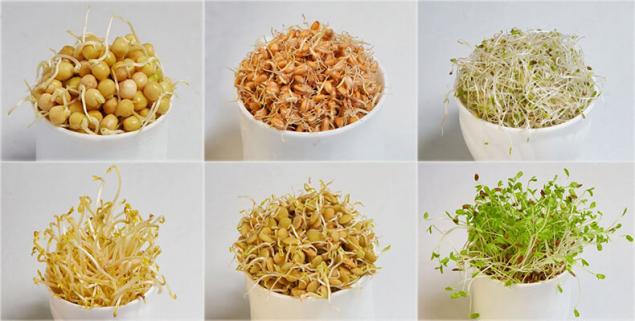 Wheat
The wheat germ contain many nutrients and vitamins. They contribute to the improvement of mental activity, strengthens the heart, and regulate intestines and stomach, improve the condition of the skin.
For germination carefully climb the grain, rinse, pour water and leave overnight. In the morning rinse the beans and put them on the plate. The next day can be consumed.  
Buckwheat
Sprouted grains buckwheat strengthens the walls of blood vessels, purify the liver and intestines. As well as normalize the metabolism, excrete toxins and "bad" cholesterol.
For germination need only green grain buckwheat. Climb them, rinse and fill with water for four or five hours. After rinse again and put it on the plate. Grain buckwheat sprout very quickly.  
Lentils
Lentil sprouts are rich in iron. They help to maintain normal level of hemoglobin. The sprouts lentil potassium is present, therefore they are recommended for heart disease. Use them for normal metabolism and good functioning of the nervous system.
Sprouting lentils is easier than wheat. Rinse, soak for 8-9 hours in the water, and in the morning rinse again and leave for 3-4 hours without water.  
Sesame, flax, sunflower and pumpkin
The sesame seeds contribute to the rejuvenation of the body.
In seedlings of flax has a large number of carotene and carbohydrates. Flax seeds useful in diseases of the stomach and intestines, and they are able to reduce cholesterol.
Sunflower seeds prolong youthfulness of the body. It is also used to prevent a heart attack. Sunflower seeds strengthen the nervous system, improve eyesight and skin condition.    
You will be inetersno:Propolis — a magical cure 100 diseasesSaving disease it is VITAL to know about the flu and colds
Pumpkin seeds improve digestion and intestinal flora. Also, they are useful to men for the prevention and treatment of prostatitis.
Sprout these seeds as well as grain buckwheat.
If it is correct to sprout the grain and seed, they'll give your body a lot of strength and energy! As well as improve health.published    
Source: vk.com/home_garden?w=wall-44431169_424656