Grater with a romantic name Flexita – standard kitchen tool that makes grating foods a simple procedure. She transformered from two-dimensional to three dimensional and back for easier rubbing and a more effective cleaning and compact storage. When not in use, you can simply level up, giving it a shape of Board, and when you need something to grate enough to hold it with two fingers of one hand around the comfortable handle. This grater was created from thin steel which has a "memory", so she automatically returns to its original flat condition.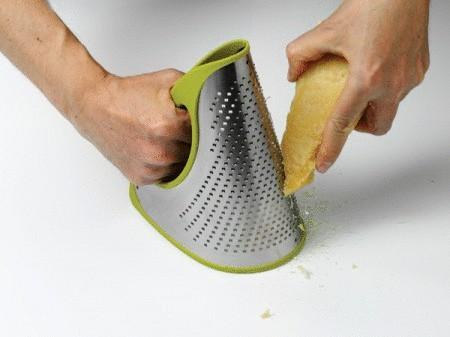 Its author, designer Ely Rozenberg (Ely Rozenberg), created a handle that floats and its rim made of polyethylene, is introduced into the silicone form. These elements float recyclable, which corresponds to the currently fashionable trend to do the most environmentally friendly and useful things.
The steel from which made the working part, incredibly thin (only about 0.2 mm), and it is made not casually. Use superfine steel makes it possible to save up to 50 % of the materials used for the production of its more traditional counterparts.
Additionally, the ease of cleaning flat shape can reduce the consumption for this purpose water by as much as 80 % compared to conventional cleaning graters. And the minimum weight of this Sveshtari and its unusual shape is due to its easy transportation.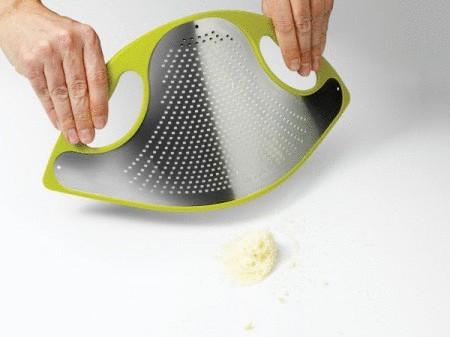 Obviously, this is easy, convenient, economical, environmentally friendly and compact grater really deserved to be one of the winners of the Red Dot Award: design concept this year that will surely contribute to an early implementation and first appearance on store shelves, and then in the kitchens of many Housewives who are sure to become loyal fans.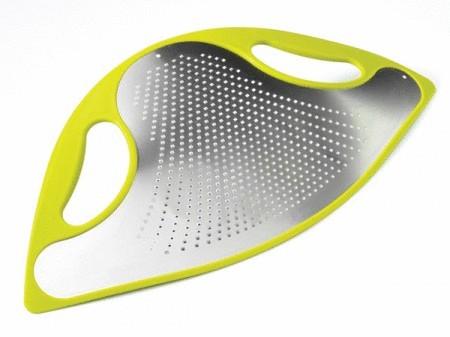 Source: /users/104