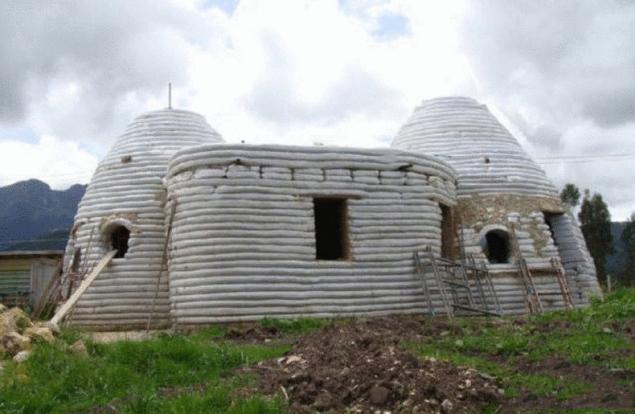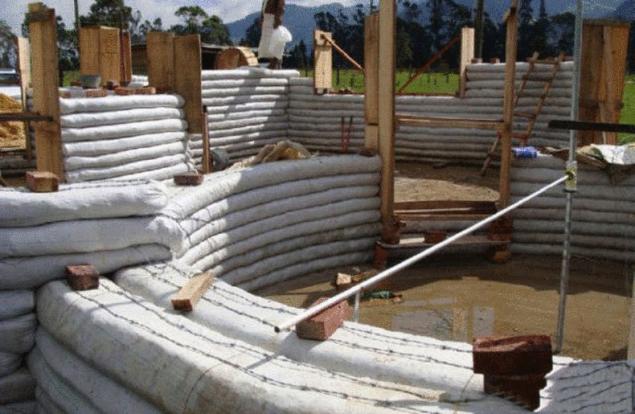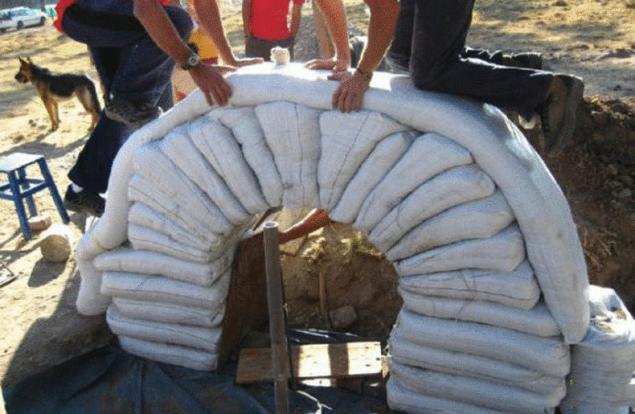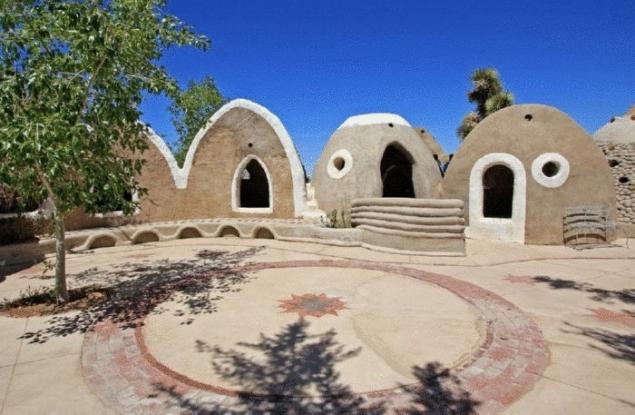 The construction of the bags with the earth is undoubtedly one of the least expensive and most practical methods of construction of houses. Initially, this technology was used by the military to create durable, bullet and blast-proof structures. Currently, this method dramatically gaining popularity among those who want to build an eco-house with his own hands or a passive house. At the moment there are about 1500 constructed using bags of earth buildings, including housing, offices, workshops, schools, churches, hospitals, orphanages and even entire villages. Availability is the main factor affecting the choice of this technology. A small dome, when used, for example, used grain bags and earth will cost about $100. More spacious and comfortable house will require from $500 to $1000.
Bags of soil – the perfect technology for those who build houses for themselves. The skills required for each stage of construction can be obtained in a few minutes. They boil down to filling bags with a suitable material and compacting. What could be easier? In addition, to work you need very few tools – shovels, buckets, garden hose. Additional tools, such as rammer, you can make yourself.
Because of the building of the bags with the ground is made of a material present on site, this eco-house will be environmentally sustainable. In the construction process, not used wood, which is beneficial to forest resources. In most cases, no need for a Foundation of expansive concrete – just the same bags filled with gravel. It is important that such buildings are safe, non-toxic, non-flammable, not afraid of flooding, rodents and have a high level of sound insulation.
Energy efficiency is another fat plus the construction of the bags. Massive earthen walls to keep cool in hot climates. As in hot and in cold latitudes, the bags can be filled with insulating material, such as porous volcanic rock, pumice, vermiculite or perlite. Some builders have experimented using rice husks as insulation. Generally, the use of lightweight aggregate requires much less labor and allows you to feel comfortable in the house as the harsh winter and hot in summer.
Bags of soil can be used to create recessed or bulk cellars, walls and retaining walls, pots for houseplants, furniture (built-in benches, etc.) and much more. The technology allows building of the bags as dome structures and structures with vertical walls. Bags are indispensable for the creation of custom shapes, curved structures.
This principle of construction is increasingly being used to create emergency homes have suffered from military operations or natural disasters. Being stronger and more comfortable tents home tents of the bags can be erected quickly by unskilled workers, without compromising the environment. Illustrations cannot convey the variety of shapes and sizes of similar structures. The limit can be only Your imagination.
Source: ecoafisha.ru