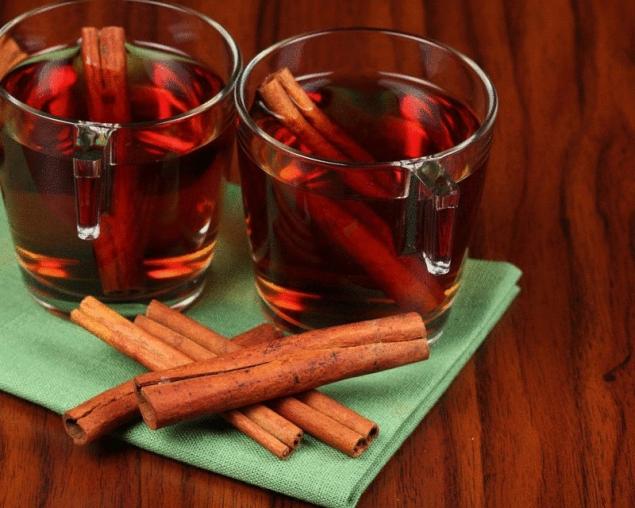 The bark of cinnamon tree has many useful properties – it can be used to address various health problems. Tea with cinnamon is often used for weight loss about the rules of preparation of the drink and will be discussed further.
HELPFUL Informationize improves the digestive tract and has antimicrobial action. Thanks to the ability to reduce the blood sugar level cinnamon helps control appetite, prevents the formation of new fat deposits. Spice warms the blood, speeds up metabolism (and, therefore, contributes to stable weight loss). It is important to remember that for optimal weight it is necessary not only to drink cinnamon tea, but also to observe certain dietary restrictions.
RECIPES Koritsaki TEA WITH cinnamon for weight loss can be prepared using different recipes.
1. Brew 1 tsp of black or green tea, adding 0.5 tsp of cinnamon powder. Allow the tea to steep.
2. This recipe combines honey and cinnamon (2:1). First brew 1 tsp of cinnamon with boiling water (1 tbsp.), and then, in the cooled drink, add natural honey (2 tsp).
3. The recipe is almost similar to the previous one, changes only the technology of preparation of the drink. Mix honey with cinnamon powder (2 tbsp/1 tbsp). Pour a mixture of warm (not hot) water (1 l) and the drink put in the fridge.
4. 4 tbsp of lime and 1 tbsp of cinnamon powder put it in a thermos and pour boiling water (2 l).
5. 2 tbsp chamomile, 1 tbsp cinnamon and oregano fill a thermos 2 liter of boiling water.
6. 1 tbsp of cinnamon, the leaves of currants and raspberries, and 2 tbsp stevia brew in a thermos with boiling water (2 l).
7. Combine in glass jar 1 tbsp cinnamon, 2 tbsp. of tea and 1 tsp turmeric. A liter of skim milk will precipitate, boil them with the mixture. Place container in a water bath, warm up for 10 minutes and let cool.
SCHEME DRINKING TEA WITH Koritsaki on the basis of cinnamon are commonly consumed in the morning and evening (1 tbsp.) – it helps to control appetite. Another option is the use fat burning drink – fasting day. It is recommended to arrange 1 time a week. You can choose any recipe (it is permissible to use different options). Ideal option is cinnamon tea on the basis of low-fat milk (the drink should be further diluted with boiled water). On the day of discharge should drink tea and water – solid food either completely eliminated or is present in minimal amount (you can eat a little vegetables or fruits).
Protivopokazanii cinnamon should not be used under salt-free diet. It is not recommended to drink this drink for serious diseases of the kidneys, heart, liver, and in disorders of the gastrointestinal tract. Cinnamon is contraindicated in the propensity to bleeding, as well as at high pressure. Can't drink cinnamon tea during pregnancy.
Otzvuki cinnamon for weight loss almost not effective in the absence of a diet – this drink just helps control the appetite. Pronounced effects on adipose tissue the bark of cinnamon tree has not. published
Source: updiet.info/