As reported by German news publication Der Spiegel, citing a new batch of documents provided by former NSA employee Edward Snowden, the five major intelligence agencies, including the American NSA and British GCHQ, working together to create a visualization of the Internet in real time in the framework of the intelligence NSA's "Treasure Map" ("Map of Treasures"). This program also dubbed the program "Google Earth".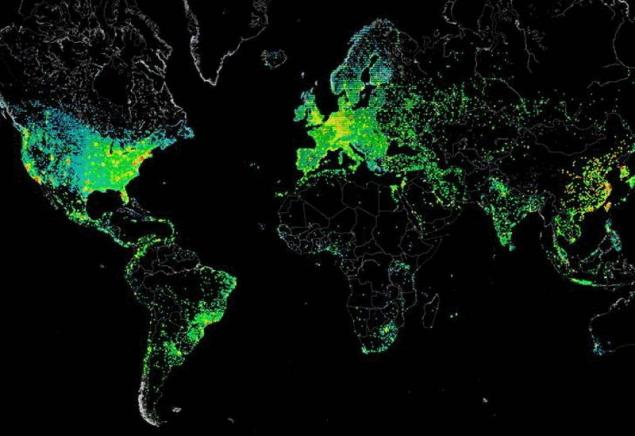 The staff of the national security Agency of the USA and their British colleagues from GCHQ and similar services of Australia, Canada and New Zealand, received a secret access to internal networks of German Telecom companies, including Deutsche Telekom and NetCologne. The program seeks to map and track "any device, anywhere and all the time."
Data collected by the intelligence services, not only include information from channels with high traffic like telecommunication cables. They also collect information from each device connected to the Internet, around the world – whether it is a smartphone, tablet or computer.
Information about the program was first published in the New York Times report late last year along with the other documents Snowden.
The program "treasure Map" is described Snowden as "a view of the Internet from a height of 10,000 meters", as it allows intelligence agencies to collect data Wi-Fi network and geolocation data from around the world with about 30-50 million unique addresses of Internet service providers.
But at the same time, according to a report by the NY Times, NSA officials claim that the program is not used for surveillance purposes — and only as a visualization for the needs of the Ministry of defense and "limited in amount of data received by the Agency."
German parliamentary investigators plan to question executives of telecommunications companies on the programme, under which the intelligence agencies have penetrated their network and deployed system monitoring. Thus in Deutsche Telekom reported that it found no evidence of manipulation or external access to their networks.
The Commission for the investigation of NSA in Germany was established in March this year after the statements by Edward Snowden that the US government listens to German citizens and even listening on the cell phone of Chancellor Angela Merkel.
published
Source: gearmix.ru/